The 2017 Nissan Frontier mid-size pickup may be outdated and in need of a remodel, but that isn't stopping truck buyers in Tennessee from Googling the pickup more than any vehicle in America. This is according to Google Search Volume Data.
Frontier is competing in a tough market with the newly-remodeled Toyota Tacoma and Chevy Colorado and it needs a remodel. The top-selling Toyota Tacoma is the most-Googled mid-size truck in three U.S. states, Arizona, Nevada, and Hawaii. The Chevy Colorado and Honda Ridgeline are missing from any top searches.
Tennessee likes the 2017 Nissan Frontier even though it's aging and needs a remodel. The truck is manufactured nearby at Nissan's plant in Canton, Mississippi, and other Nissan models are built in Smyrna, Tennessee which may have something to do with it.
When the new Frontier does arrive, it will get much-needed exterior and interior styling changes along with Nissan's latest NissanConnect and mobile apps. It will also feature new engines.
The Toyota Tacoma and Chevy Colorado have received major updates, and are selling well. Look for the newly-remodeled Nissan Frontier to be a major player in the competitive mid-size pickup market and be a top-Googled mid-size truck in more states when it arrives. Stay tuned.
Here's the most Googled vehicle in every state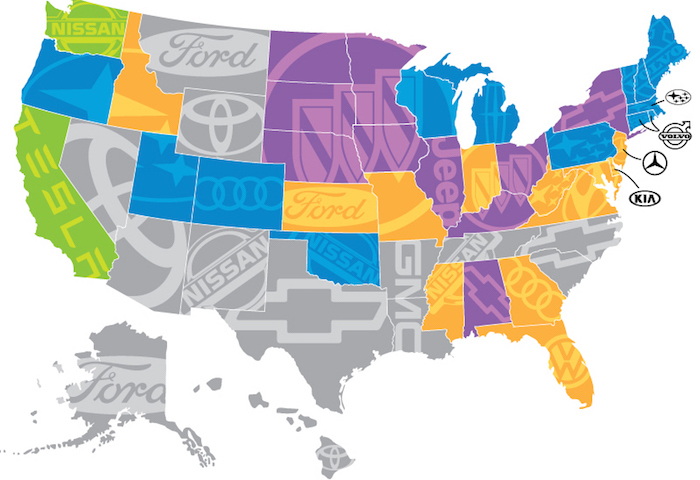 Alabama – Chevrolet Tahoe
Alaska – Ford F350
Arizona – Toyota Tacoma
Arkansas – GMC Sierra
California – Tesla Model 3
Colorado – Audi Allroad
Connecticut – Volvo XC70
Delaware – Kia Cadenza
Florida – Volkswagon CC
Georgia – Audi A7
Hawaii – Toyota Tacoma
Idaho – Subaru Legacy
Illinois – Jeep Grand Cherokee
Indiana – Buick Cascada
Iowa – Buick Enclave
Kansas – Ford Taurus
Kentucky – Buick Enclave
Louisiana – GMC Sierra
Maine – Volvo XC70
Maryland – Hyundai Equus
Massachusetts – Subaru Impreza
Michigan – Lincoln MKC
Minnesota – Buick Enclave
Mississippi – Nissan Maxima
Missouri – Buick Cascada
Montana – Ford F350
Nebraska – Buick Enclave
Nevada – Toyota Tacoma
New Hampshire – Volva XC70
New Jersey – Mercedes Benz C Class
New Mexico – Nissan Titan
New York – Chevrolet Suburban
North Carolina – Chevrolet Silverado
North Dakota – Buick Enclave
Ohio – Buick Enclave
Oklahoma – Nissan Juke
Oregon – Subaru Outback
Pennsylvania – Subaru Impreza
Rhode Island – Volvo XC70
South Carolina – Chevrolet Silverado
South Dakota – Buick Enclave
Tennessee – Nissan Frontier
Texas – Chevrolet Silverado
Utah – Subaru Crosstrek
Vermont – Volvo XC70
Virginia – Hyundai Equus
Washington – Nissan Leaf
West Virginia – Subaru Legacy
Wisconsin – Buick Encore
Wyoming – Toyota Tundra
Photo credit: Nissan