When you buy a new vehicle, it may or may not come with included maintenance for a period of time. The best plans offer maintenance at no added cost for as long as five years! Whether you drive a conventional car or an electric vehicle, this can save you hundreds of dollars in ownership costs. Here is a comprehensive listing of the brands that include maintenance in their new car purchase prices.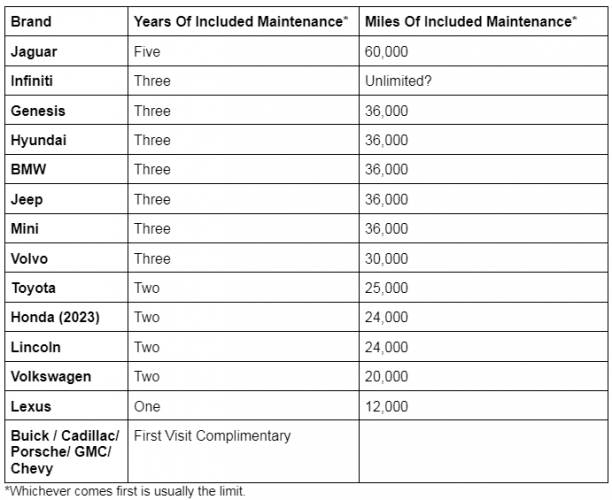 Related Topic: Consumer Reports: PHEVs Like RAV4 Prime Have Lower Maintenance & Repair Costs Than BEVs Like Tesla Model Y
Special Mention - Jaguar
It would be unfair not to point out that Jaguar leads the automotive industry in including maintenance. Part of what Jaguar calls EliteCare, the plan includes a Passport to Service for five years or 60,000 miles, whichever occurs first. No other plan we know of offers anything better.
Which Notable Automakers Do Not Include Maintenance?
Some vehicle brands don't include routine maintenance. For example, Tesla doesn't but does list required maintenance for its popular models. There are no oil changes required, duh, but Tesla vehicles have recommended tire service intervals of as few as 6,250 miles and brake service requirements of as little as 12,500 miles. Kia, although a sibling company to Hyundai, doesn't include maintenance.
If you are shopping for a new or used vehicle, be certain to ask your dealer about included maintenance and confirm that our information is up to date.
Resources For More Information
Jaguar Elite Care
Hyundai Included Maintenence
Jeep Wave Program
ToyotaCare
VW Carefree Coverage
BMW
Volvo FSM Program
Image of auto service area by John Goreham.
John Goreham is a long-time New England Motor Press Association member and recovering engineer. John's interest in EVs goes back to 1990 when he designed the thermal control system for an EV battery as part of an academic team. After earning his mechanical engineering degree, John completed a marketing program at Northeastern University and worked with automotive component manufacturers, in the semiconductor industry, and in biotech. In addition to Torque News, John's work has appeared in print in dozens of American news outlets and he provides reviews to many vehicle shopping sites. You can follow John on TikTok @ToknCars, on Twitter, and view his credentials at Linkedin
Re-Publication. If you wish to re-use this content, please contact Torque News for terms and conditions.