Torque News is presently testing the new CTEK CSFREE adaptive battery booster. The unit is a better way to "jump start" your car, maintain the strength of your battery, and perform maintenance charging. As a bonus, the CTEK CSFREE is also a high-capacity power bank that can top up your laptop, smartphone, tablet, and camera whenever you need power.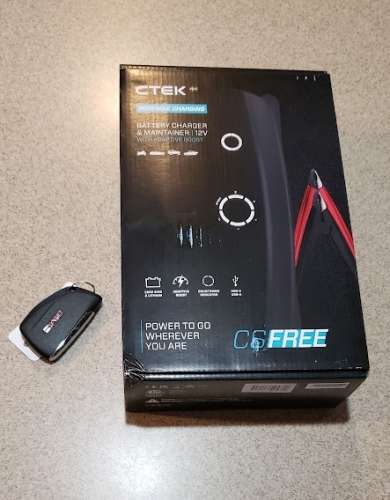 CTEK CSFREE - What Is It? Why Do You Need One? Jump starting is dangerous to your vehicle, is prohibited by many manufacturers, can void your warranty, and is also bad for the battery of the vehicle being jumped. A better way to manage a dead or flat battery is to boost it with a smart charger. The CS FREE is a smart way to boost your battery so you can start your car. The CS FREE can also help you to maintain the health of your battery.
CTEK CSFREE - How Much Does It Cost, and Where Can I Get One? The CS Free has a retail price at Amazon of $300.81. It is available at Amazon, through the manufacturer's website, and via other retailers.
Would you like to see an unboxing video? Click Here. CTEK CSFREE - How Does It Work? The CS FREE is a device about the size of half a shoe box. It contains a booster battery and smart electronics. You plug it in, and it charges up. Now you can use it to charge up your car's battery. It can also be used when plugged into an AC outlet.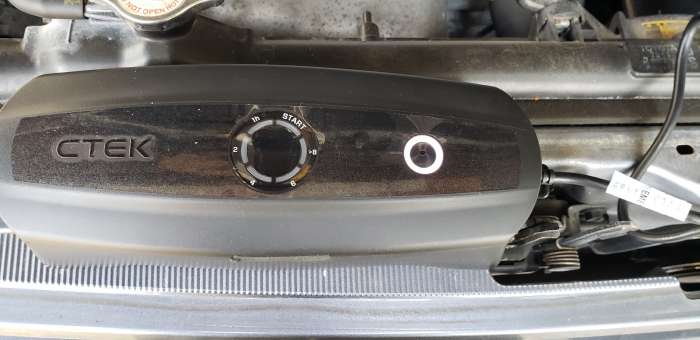 You charge up the CS FREE, attach the provided charging cables, connect them according to the simple instructions, and then turn it on. It has a battery state of charge meter on its face that will tell you when the battery you are charging is ready to be used to start your car. When you are done, you turn off the CSFREE, remove the cables, and pack it up. The CS FREE can also be charged up by your car when it is running via your 12-volt power socket (think cigarette lighter). Or you can charge it with accessory solar panels.
CTEK CSFREE - Our Testing We wanted to try out the CSFREE but didn't have a car with a dead battery on which to experiment. However, we did have an older Toyota Highlander that had been sitting for some time in record-cold temperatures. I know this car like the back of my hand, and in such conditions, the battery usually struggles when I try to restart the car after having sat. We used the CSFREE to "smartly" boost up the battery. It worked perfectly. The car turned over with gusto, quite a contrast to how it would normally weakly start after sitting for a while in the cold weather. By "a while," we mean more than a week.
Would you like to see a test video? Click Here. CTEK CSFREE - Accessories Accessories to the CSFREE include a wall-mount kit, a set of charging solar panels, and a carrying bag.
CTEK CSFREE - What Do Other Owners Say About This Product? On Amazon, we see 178 ratings with a total average of 4 stars. One five-star review said, "Have several vehicles sitting around in storage with no power supply, so using this to keep batteries topped up. Very easy to use, quick to charge." Other reviewers point out that it is not a constant-connection trickle charger. Which it isn't intended to be.
CTEK CSFREE - Our Initial Impressions We have just received the unit and used it once, as we described above. Thus far, all of our impressions are positive. The unit appears to be of high quality, and it definitely seemed to help energize our "struggles-to-start" old Highlander. We will look for more testing opportunities and report our findings.
Test Notes From Author - This is not an advertisement. Torque News was not paid for the publication of this story. The CSFREE was provided at no charge by CTEK. However, we have offered to return it at the end of our testing.
Safety Notes Always follow your owner's manual instructions when boosting or jumping a battery. Read and understand the CSFREE's manual. Our best practices include; Removing rings and loose clothing. Wearing safety glasses, and placing a cloth over any battery being boosted or jumped. The CSFREE manual has a longer list of safety precautions you should read and understand. Images by John Goreham.
John Goreham is an experienced New England Motor Press Association member and expert vehicle tester. John completed an engineering program with a focus on electric vehicles, followed by two decades of work in high-tech, biopharma, and the automotive supply chain before becoming a news contributor. In addition to his ten years of work at Torque News, John has published thousands of articles and reviews at American news outlets. He is known for offering unfiltered opinions on vehicle topics. You can follow John on Twitter, and TikTok @ToknCars, and view his credentials at Linkedin