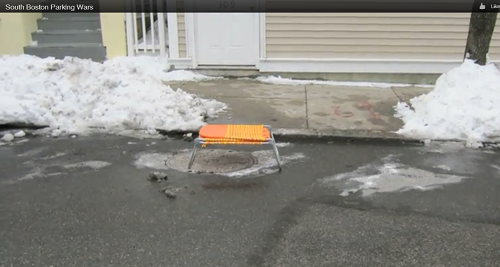 Parking in Boston costs more than the car itself - part 2, the 99%
Please
SHARE
with friends and include TorqueNews in
Google Alerts
for tomorrow's interesting stories.
In Boston, the only thing harder than a diamond is paakin' ya caa. In part one of this story, we examined how some working-wealthy Boston residents deal with the challenge of city car ownership. Buying a space, then paying taxes on the ownership of the space, and also HOA fees to maintain the space, are just part of livin' laaaj in Boston. Here's how some other people manage parking in the Hub. (Which is short for Hub of the Universe, I kid you not)
Logan Airport
Those who have flown from Logan Airport during a school vacation week know that the airport does not have enough on-site parking to accommodate the number of travelers. Nothing is more fun than arriving at the airport on the way to Disney 2 hours early only to be turned away at the parking lot and told to follow the signs to the off-site lot, which is also the economy lot where you get to pay $18.00 per day. Then, unload all your car seats, strollers, bags and kiddies, and hop on the little bus that will take you all the way back to the same spot you were just at. Guess what? You're not going to be at the ticket counter for a long time mom and dad. Those lucky enough to find a space in Central parking will pay about double the economy rate for the day. If you're a frequent flyer and you don't want to worry about it, Logan will help you join the Lexus Parking PASSport Gold program. After your initial joining fee of $200.00, the Commonwealth's airport will allow you to have a reserved spot at the airport. Then you will pay $49.00 for day one and then the low, low rate of $32.00 per day. The best way around all this is to buy a Fisker Karma for about $125,000.00. If you do, you can park right up front next to the terminal doors in the reserved "clean air vehicle" spots that those able to afford electric toy supercars get to use. Chargers are available of course.
Southie
In Southie (South Boston, which is not all the same as the South End) if you break the unwritten rules your car will have all the tires slashed. Or it might be you that is slashed. In this tough neighborhood where blue collar, low income, and yuppie newcomers coexist (not) there is a longstanding tradition of double parking, and reserving your space in the winter. The way that you reserve your space is this: First your grandparents come to America from Europe, preferably Ireland, and they rent a triple decker home, or buy the home. Then cars become popular. Next you are born and grow up in the house. The space outside is yours if you claim it in the winter by shoveling it and then putting a baby stroller or a cone, or a garbage can, or a lawn chair in the spot you leave. If anyone ever touches your lawn chair, or parks in your spot – see first two sentences of this paragraph.
Pages
Please
SHARE
with friends and include TorqueNews in
Google Alerts
for tomorrow's interesting stories.