General Motors is a brand that constantly surprises us. We still think the Bolt EUV is hands-down the best affordable EV ever made. Can the Corvette be beaten in its class in any regard? Add the Silverado to the list of GM vehicles that have made us step back and re-think a segment.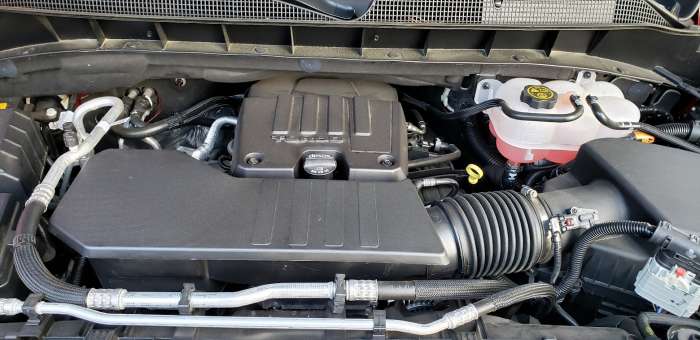 The Silverado LT we had a chance to spend some time behind the wheel with came equipped with the 2.7-liter engine. It's a four-cylinder, turbocharged engine mounted longitudinally above and behind the front axle. Meaning it is in line with the vehicle, not mounted cross-ways like most four-bangers are in cars. It looks really little in there. However, it sure doesn't feel little. Quite the opposite.
In normal driving, the 2.7 is fantastic. It offers - you won't believe this - 430 lb-ft of torque. That's a tremendous amount of torque for an engine this size. And it's really there. The torque is felt from a very low RPM point. The truck pulls hard and smooth. Even better, the truck can scoot. On a dry summer day, we used 2WD and found the truck wanted to spin the tires if we gave it the boot from a stop. Accelerate up an on-ramp, and the truck feels very fast and very satisfying.
On the highway, passing power is more than anyone will ever need. We observed a 22 MPG result from highway driving and around town the average would drop to 18 MPG. The truck works happily on regular unleaded.
The Silverado LT is a great truck in so many ways. The front bench seat makes the truck a 5+1 passenger vehicle. The corner step and handrail are great for getting into and out of the bed. The overall look of the truck is great, even in the LT trim.
As good as the Silverado is overall, we can't say enough about this amazing engine. We would recommend it to anyone who plans to buy a truck but doesn't plan to tow massive loads all the time.
Chevy Silverado images by John Goreham.
John Goreham is a long-time New England Motor Press Association member and recovering engineer. John's interest in EVs goes back to 1990 when he designed the thermal control system for an EV battery as part of an academic team. After earning his mechanical engineering degree, John completed a marketing program at Northeastern University and worked with automotive component manufacturers, in the semiconductor industry, and in biotech. In addition to Torque News, John's work has appeared in print in dozens of American news outlets and he provides reviews to many vehicle shopping sites. You can follow John on TikTok @ToknCars, on Twitter, and view his credentials at Linkedin
Re-Publication. If you wish to re-use this content, please contact Torque News for terms and conditions.