Honda's new 2019 Passport is a winner. Although it surely shares much with its sibling the Pilot, the vibe is entirely unique in this new two-row, full-size crossover. We drove the new Passport and gave it very thorough going over this week and our first impressions were 100% positive.
Passport - The Look
Before we went too far, we began with a long walk-around of the exterior of the Passport. We love it. There is no hint of minivan to be found to our eye. Also, the black rims are bad-ass. We thought the darkened grill and black strip just below the hood look very good on the vehicle. The roof racks also have a good look in black.
Passport - The Drive
We felt the Passport had a great ride. We only sampled it on paved roads, but over potholes it was never jarring. We would say the ride leaned toward firm. This is how we assume many Honda owners prefer a crossover to feel when driven.
The V6 is smooth like only a Honda's can be. No small turbo here. The engine had plenty of pull for the size of the vehicle and we think Honda made a smart decision not to use the turbo.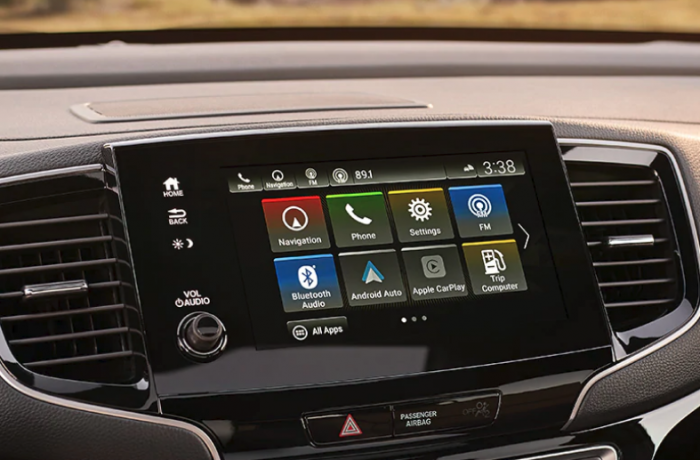 Passport - The Features
We loved the touch-screen (as opposed to a remote touchpad) and were happy to see the Android Auto and Apple CarPlay. Call us crazy, but we don't like panoramic moonroofs in our crossovers. They negate the option of using a soft storage bag on the roof, something our family used often with our 2007 Highlander. The Passport has a smaller moonroof, which is a plus in a utility vehicle to our mind.
Next up, the cargo area. We loved the storage under the cargo floor and - hey look a spare tire! You won't find that in an Acura RDX A-Spec.
Passport - The Off-Road Promises
The Passport has snow, mud, and sand modes and will get you and your family to the ski lodge in any weather. It will be perfect for fishing and camping and will take you anywhere you really need to or want to go. The goofball enthusiast publications will find a way to take one way past its expected limits, but no Honda crossover buyer ever will. The Passport is all the off-roader 99.9% of Americans will ever need. We watched Honda's promotional video on its shopping page and didn't see anything there we have not done in a Forester.
Watch one thing you can do with Honda Passport that you can't do with most other cars and click to subscribe to Torque News Youtube Channel for daily Honda and automotive news analysis.
The Passport has an attitude and personality all its own. One that we think will appeal to Honda fans. We look forward to a full week of testing, and hopefully some winter conditions testing if the timing and weather cooperate. Check back for more updates soon. More details on the 2019 Passport can be found here.
Top of page image by Torque News. Smaller images embedded in the story courtesy of Honda.