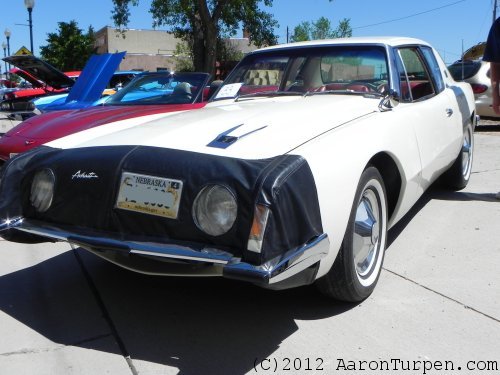 The Studebaker Avanti, the car that never dies
Please
SHARE
with friends and include TorqueNews in
Google Alerts
for tomorrow's interesting stories.
A few days ago, at the Burns Day Parade in Burns, Wyoming, I saw something that amazed: a 1963 Studebaker Avanti cruising down the parade route with the other classic cars. This car is the most elusive of collector cars and one of the most classic American car designs to have ever been produced. The car's design is breathtaking on its own, but the legends and controversy surrounding it only add to the appeal.
The Avanti was Studebaker's last grasp for revival and was meant to be the automaker's savior on the market. Ostensibly designed by the legendary Raymond Leowy, to say the Avanti was a fast-track design-to-production is like saying Michael Jordan was a pretty good basketball player. The Avanti went from Studebaker CEO Sherwood Egbert's sketches hastily scrawled on paper to a full-fledged production car in just over a year. The design was largely thanks to a 3-man crew assembled by Leowy and the internal chassis and power plant teams at Studebaker.
In 1961, in deep financial trouble, Studebaker's new chief executive was desperate to bring the company around and knew that they needed something dramatic and powerful to pull themselves up and back to greatness. By then, the automaker was already fifty years old and was one of the oldest car builders in the United States. The venerable giant had been losing out to Ford and Chevrolet for years and by 1961, Studebaker was hovering on insolvency.
From desperation can come greatness. The Avanti was introduced in April of 1962 at the New York auto show. The fiberglass-bodied luxury car was an immediate sensation, the four-seat personal luxury car had a price tag more than double the Chevrolet Corvette and competed with the then-new Buick Riviera at $4,445. The Avanti was very well-received, however, and the few Studebaker dealerships still remaining were flooded with orders for the car.
Egbert hoped to produce 20,000 of the cars that first year (1962, model year 1963) in the three variations offered - a base V8 in 289 cubic inches, and a Paxton supercharged R2 or R3 model. Many collectors say that the Avanti was not just a personal luxury car, but was the first of the pony cars that would dominate the blue collar muscle car scene a few years later.
Pages
Please
SHARE
with friends and include TorqueNews in
Google Alerts
for tomorrow's interesting stories.