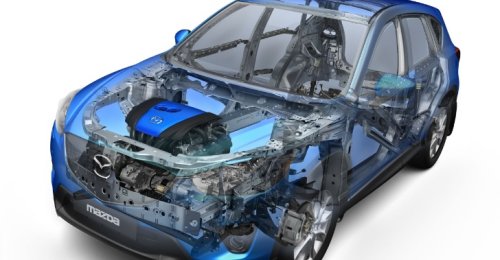 Mazda doubling production of SKYACTIV engines
Please
SHARE
with friends and include TorqueNews in
Google Alerts
for tomorrow's interesting stories.
Mazda has announced that they plan to double SKYACTIV engine production from the current 400,000 units for global distribution to 800,000 units in October and is tooling factories to make this happen. With this taking the role as the flagship for their efforts to increase fuel efficiency by 30% by 2015 for all of their vehicles, globally.
Currently, the 2012 Mazda3 and 2013 CX-5 in the United States feature SKYACTIV technology and the upcoming 2014 Mazda6 will be the next vehicle in this market to see it added. The 30% global goal will correspond with a 23% fuel consumption drop in the U.S. and the lower CO2 output that goes with that.
In June, more than 55% of Mazda's total U.S. sales were in vehicles that included SKYACTIV technology and the company wants to see that grow, says Jim O'Sullivan, president and CEO of Mazda North American Operations. This increase in sales will be spearheaded by the CX-5 with its best-in-class fuel economy.
The SKYACTIV system consists of a re-think of the entire vehicle. This starts with engines, including the SKYACTIV-G and -D lines (for gasoline and diesel respectively) coupled to SKYACTIV-DRIVE and -MT transmissions all nestled in a SKYACTIV-BODY riding on a SKYACTIV-CHASSIS.
The Engines
In the gasoline engine, the SKYACTIV system consists of a high-efficiency direct-injection block with the world's highest compression ratio for a production gasoline engine at 14:1. This increases fuel efficiency by 15% and boosts torque by the same, while spreading the optimum torque RPM to lower ranges, improving low- and mid-speed power and efficiency - the areas where most passenger vehicles do most of their work.
Please include TorqueNews in
Google Alerts
to receive tomorrow's stories and
SHARE
this with friends if it was interesting.
In the diesel engine, the opposite effect is called for. In diesel, the lower the compression, the better the efficiency, so by lowering the diesel engine's compression to 14:1, a 20% fuel economy was gained and aftertreatment systems are not needed thanks to the side benefit of this ratio's low NOx emissions. A two-stage turbocharger boosts low- and high-end torque to counter the stutter a low-compression diesel often has.
The Transmissions
In the MT line, which is the manual transmission line for SKYACTIV, Mazda lowered weight and shrunk the size of the units to better economy. Ratios learned from the company's sporty MX-5 line give the MT's a shorter shift stroke and reduced weight by 16% as well as less internal friction loss.
http://www.newspressusa.com/public/ViewPressRelease.aspx?pr=28866&pr_ref=2935
http://www.mazda.com/mazdaspirit/skyactiv/
Pages
Please
SHARE
with friends and include TorqueNews in
Google Alerts
for tomorrow's interesting stories.