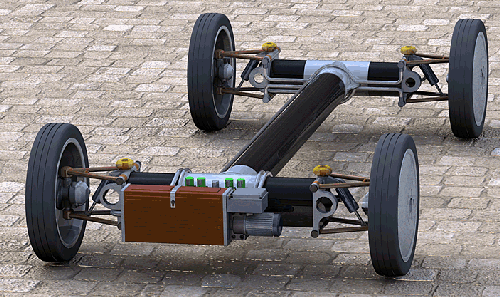 INGOCAR from Valentin Tech shatters the way we think about cars
Please
SHARE
with friends and include TorqueNews in
Google Alerts
for tomorrow's interesting stories.
If you're into automotive, then you think of a car as being a frame onto which an engine (or motor) is mounted along with a transmission, some body work, four tires, and a windshield to make a complete vehicle. The driver climbs in, starts up the engine or gives power to the motor and drives off. Now take all of that, except the four wheels, body work, and windshield and throw it out. A car, says Ingo Valentin, inventor of the INGOCAR, is just a vehicle we get around in. It's how the car gets around that we need to rethink. Totally.
And he's done so. For years, Valentin has been working on a design in his own field of expertise: hydraulics. His idea? Toss the frame, the engine, the transmission, the brakes, and all that goes with them and replace them with hydraulic cylinders and motors.
What Valentin has done is strip modern vehicles of all of their complex systems and replaced them with pure simplicity. Electric cars are simple, but still complicated thanks to the electronics required to control them and the heavy batteries needed to store their energy. A hydraulic car is even simpler, with few (if any) control electronics required and with the hydraulic storage system itself doubling as the framework for the car. Saving space, complexity, energy, and weight.
The frame for the INGOCAR is simply an I-shaped tubular form onto which front and rear chassis components are bolted (see photo). The frame and chassis are not only modular, but scalable, so they can be up- or down-sized to create any type of vehicle preferred, from a compact car to a heavy big rig. Inside each wheel is a hydro-propelled motor with reversing valves. These motors propel the car forward or are reversed to act as brakes. When braking, they return hydraulic pressure to the tanks (frame tubes) for future use.
That's right, the Valentin design relies on compressed hydraulic fluids to store power and provide propulsion. No batteries, no oversized engines, and this braking system is capable of restoring 70-85% of the forward motion back into the car's energy storage. Compare that to electric regeneration, which is usually capable of about half that (or less).
Pages
Please
SHARE
with friends and include TorqueNews in
Google Alerts
for tomorrow's interesting stories.