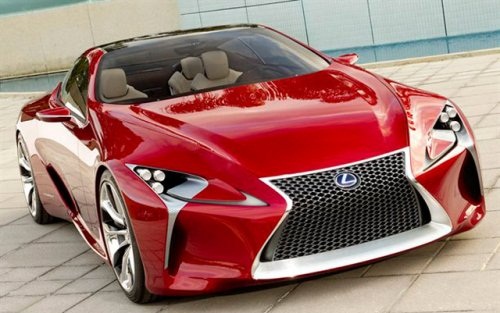 Green Car Concepts of Note Coming to 2012 Detroit Auto Show
Please
SHARE
with friends and include TorqueNews in
Google Alerts
for tomorrow's interesting stories.
The 2012 North American International Auto Show (NAIAS) opens tomorrow and this year, Detroit will be featuring more green automotive concepts than ever before.
Some will have wild styling, others will have far-out drive train technology, still others might be George Jetson fare. Some, however, aren't so far fetched that they are outside of realistic. Here is a roundup of the green car concepts to be showcased in Detroit this year.
Hybrid Electrics in Detroit
Most automakers have at least one hybrid in their current or planned lineup. Toyota is the most well known with the Prius, of course, but their luxury arm, Lexus, is also moving ahead with hybrids. Their latest concept, the Lexus LF-LC Hybrid, will be showcased in Detroit this week.
This one is hotter than hot. It's styling is based on the company's first super-sports car, the LFA, which debuts this year at a cool $350,000. The LF-LC utilizes a hybrid drive train, so its economy should be much better than its sports car parent. Details won't be forthcoming until the show.
Honda, Toyota's greatest hometown rival, will be showcasing their 2013 Accord Coupe concept, which will include a hybrid option. So far, the company has held images of the design close to the vest, releasing only teasers, but the car is generally expected to point viewers towards how Honda plans to style the high-selling Accord line in the near future. This one might be very near its production version, as its expected to release later this year.
Plug-in Hybrid
Only one plug-in hybrid concept is expected for NAIAS. The Toyota NS4 has been a very talked about car since its announcement last year. Teaser photos have had the industry buzzing, but no concrete pictures of the actual car have been released. It is expected that the design of the NS4 will show styling elements from other recent Toyotas such as the GT 86 sports car and the Lexus LF-LC (above).
The car will be using the latest Hybrid Synergy Drive technology shared with the Prius and other plug-ins in its line. It will also likely showcase a few new mechanical and electronic pieces that will be coming to the manufacturer's lineup in the near future, including a new switchgear and in-cabin controls.
Full Electrics
Three new pure electric concepts will be showcased in Detroit. The most-anticipated is probably the Volkswagen Pure, which is based loosely on the popular Beetle as a battery electric car. This will be a pure concept and is not likely to make production, but will showcase where the "People's Car" company plans to go with their electric vehicles.
Pages
Please
SHARE
with friends and include TorqueNews in
Google Alerts
for tomorrow's interesting stories.