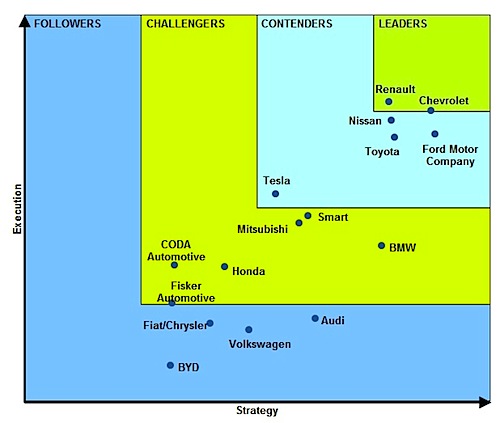 Top 10 Plug-In Electric Car Makers
Please
SHARE
with friends and include TorqueNews in
Google Alerts
for tomorrow's interesting stories.
Pike Research has published a report giving us a global view of the plug-in electric vehicle, PEV market. While the market truly began with Tesla, Nissan and GM, respectively with the Roadster, the Leaf and the Volt, other mainstream manufacturers joined the race and are starting to challenge them.
The Pike Research Strategy. Pike Research rates manufacturers using a 12 criteria system for strategy and execution. This includes vision, go-to-market strategy, partners, product strategy and roadmap. Geographic reach is also taken into consideration, as well as market share, sales and marketing, product performance, product quality and reliability, pricing, product portfolio, and staying power. Using this methodology, vendors are profiled, rated, and ranked giving us what the research center hopes to be an objective assessment of these companies' relative strengths and weaknesses in this growing market.
GM Chevrolet Earns Top Position. Although many consider the Volt a plug-in hybrid, PHEV instead of an electric car, the ratings show that Chevrolet is in the current top spot in the PEV market. Pike Research also this is largely due to its high ratings in both strategy and execution.
Please include TorqueNews in
Google Alerts
to receive tomorrow's stories and
SHARE
this with friends if it was interesting.
Renault, Toyota and Nissan are very close contenders for leadership, although both have missing products in their portfolio and, or pricing issues that have affected the results. Interestingly, Ford is the sleeping giant in this market. While Pike Research feels the company has a strong strategy, it has unproven products that have yet to launch. It's true that the Ford Focus Electric is barely out the door but so far, feedback has been very positive.
The List. So who makes up the rest of the list?
2. Renault
3. Ford Motor Company
4. Nissan
5. Toyota
6. Tesla
7. BMW
8. Smart
9. Mitsubishi
10. Honda
Surprises anyone? Pike Research does show one consistent trend, the big car manufacturers still commend the biggest part of the Lion's share. One interesting tidbit is to see a startup make the top ten list. Tesla after all, has defied all logic and is now up to its second generation of electric vehicle, EV uses nothing less than regular and commonly available lithium-ion battery technology. It's interesting to see the company make it to the halfway bar.
Pages
Please
SHARE
with friends and include TorqueNews in
Google Alerts
for tomorrow's interesting stories.