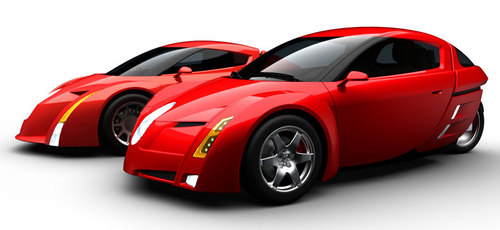 ZAP Jonway promises long awaited Alias will be produced this year
Please
SHARE
with friends and include TorqueNews in
Google Alerts
for tomorrow's interesting stories.
Those of us wanting a sleek looking three wheeled electric "car" and disappointed over the recent death of Aptera may find satisfaction at the other end of the alphabet. ZAP Jonway, the joint venture between ZAP and Chinese automaker Jonway, announced on Friday that they would launch production of their long-awaited three wheeler electric sports "car", the Alias. The company says they will make a limited production run in the fourth quarter of 2012, with no word on pricing or sales details.
The ZAP Jonway Alias has been a long time coming, first being announced in 2008 (or so). It was one of the vehicles in the Progressive Automotive X-Prize contest, making it to the final round before being eliminated. It has a sleek looking sports car look that could also remind one of the Batmobile. It was originally planned for production in 2009 with respectable performance specs of 0-60 mph (97 km/h) mph in 5.7 seconds, a top speed around 150 miles/hr and a range of 100 miles. The model they showed at the 2010 Detroit Auto Show, still not in production, had lower performance specs, of 0-60 mph (97 km/h) in 7.8 seconds and a top speed around 150 miles/hr. The announcement on Friday did not give performance specs, and instead says it will have a 200 kilowatt drive train featuring an AC motor from Remy Motors and a 150 mile range.
At 200 kilowatts of power (theoretically 266 horsepower) this is quite a lot of power for what should be a lightweight vehicle. Remy is an auto parts maker which builds electric motors primarily used in U.S. made hybrid cars. Their motors also power the top end electric motorcycles from MotoCzysz and Lightning Motors, which means Remy is experienced in delivering electric motors with high performance levels.
The ZAP Jonway Alias falls into a vehicle class that's curiously between cars and motorcycles. It looks like a car in that it has a passenger cabin, seating two people sitting side by side. But it has three wheels which makes it, technically and legally, a motorcycle. That fact means it is not required to undergo crash testing, because it's a motorcycle.
The press release describes it as a "3-wheel version of the Alias", which may mean ZAP Jonway plans a future version having four wheels. The release goes on to say the Alias is "designed to be highway safety compliant" while being able to "expedite the long type approval testing process for entering into the U.S. market". What this says is that, because it is a motorcycle (3 wheels), ZAP Jonway is able to avoid the long approval process required to get certification to build a car. The certifying process for motorcycle manufacturers is much simpler.
Pages
Please
SHARE
with friends and include TorqueNews in
Google Alerts
for tomorrow's interesting stories.