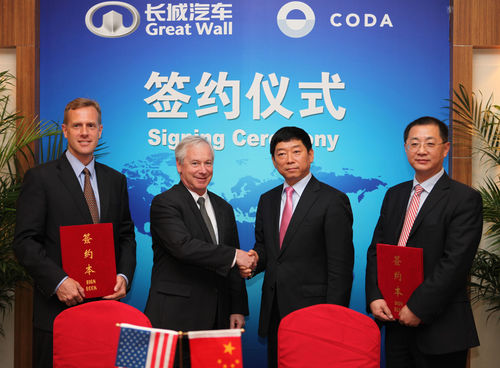 Coda announces deal for affordable electric cars with Great Wall Motors
Please
SHARE
with friends and include TorqueNews in
Google Alerts
for tomorrow's interesting stories.
Coda Automotive announced today, from the Beijing Auto Show, that parent company Coda Holdings had signed an agreement with Great Wall Motors to co-develop what the company claims will be the most affordable electric car on the market, with a price "comparable to entry-level internal combustion engine vehicles". Which means the company's goal is to shrink the price premium over equivalent gasoline cars.
Almost no information about this new car has been released at this time, other than it being affordable. Coda's partner in this venture, Great Wall Motors, is a large and fast-growing Chinese automaker, which delivered nearly 500,000 vehicles in 2011. The two companies say this will be "the first all-electric vehicle for worldwide development and distribution."
Great Wall already has distributors around the world, and recently opened a manufacturing plant in Bulgaria, but the company does not have any operations in the U.S. or Canada. Coda will handle distribution of the resulting vehicles in the U.S., while Great Wall will do so elsewhere. The initial target markets are Europe, China and U.S.
The agreement covers not only development of one car targeted for delivery in mid-2014, but to go on to developing other vehicles from Great Wall's product line. A peek on the Great Wall Motors website shows the company manufactures a full range of vehicles from compact cars to SUV's. For example, the Voleex C10, is the company's compact car. As a gasoline car it comes with either a 1.2L or 1.5L engine, has an 8 foot wheelbase, and is a four seater with a tiny cargo area (330 liter) unless the rear seats are folded down (1100 liter).
Please include TorqueNews in
Google Alerts
to receive tomorrow's stories and
SHARE
this with friends if it was interesting.
"This marks the launch of our partnership with Great Wall Motors that will enable us to bring EVs to global markets in a very efficient and cost effective manner," said Phil Murtaugh, CEO, CODA Holdings. "We're excited to work with Great Wall Motors to develop the second product in Coda's portfolio, to bring another solution to a global problem and together make high-quality clean technology accessible. Ultimately, this will enable drivers worldwide to go electric affordably and support our mission of putting an EV in everyone's garage."
Coda is already experienced in manufacturing an electric car in collaboration with an automaker. The basic idea is to locate a manufacturer making a suitable gasoline powered car, and develop with that manufacturer modifications enabling it to be built as an electric car. For example, Tesla Motors started this way, working with Lotus Engineering on modifications to a Lotus sports car, enabling Tesla to build it into the Tesla Roadster. Coda's electric sedan is manufactured using a similar process.
Pages
Please
SHARE
with friends and include TorqueNews in
Google Alerts
for tomorrow's interesting stories.