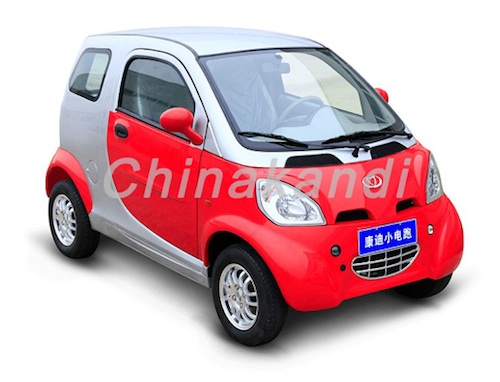 China to build largest electric car and smart grid deployment ever in Hangzhou
Please
SHARE
with friends and include TorqueNews in
Google Alerts
for tomorrow's interesting stories.
In what may be the largest single electric vehicle order ever, the city of Hangzhou, China, has signed a deal with Kandi Technologies, and 9 other companies, to supply 20,000 electric vehicles for a large electric car leasing/sharing program. It's claimed that when the project is running, in 2013, it will be the largest pure electric car rental project anywhere. Additionally it will be the largest deployment of vehicle-to-grid (V2G) technology anywhere.
Hangzhou is being treated by China as a "new energy vehicle demonstration" pilot city, putting the city at the vanguard of the promotion of electric vehicles in China. The State Council Development Research Center of Enterprise Institute see's the project as a path to explore business models for a Chinese domestic electric vehicle market. The State Council also issued a "Energy-saving and new energy automotive industry development plan (2012-2020)" for the next eight years, to guide the development of electric vehicles, and explore the requirements for commercial viability.
Implementation of the large-scale electric vehicle leasing program is expected to begin in August 2012, and to be completed in 2013. There will be an effort for companies and locations across China to cooperate in learning from this pilot project.
The electric rental cars, supplied by Kandi Technologies, are positioned as a means of green transportation for Hangzhou residents, to provide for their driving needs within the region. It will allow consumers a chance to experience electric cars, at a very low cost, without having to make a purchasing or leasing decision.
Kandi Technologies is the only EV manufacturer out the 10 companies involved in the project. Other companies are supplying other components, such as the battery packs. The Hangzhou electricity utility will build a network of EV charging and battery swapping stations, and will own the batteries.
Please include TorqueNews in
Google Alerts
to receive tomorrow's stories and
SHARE
this with friends if it was interesting.
The battery packs will additionally be used for grid stabilization using Vehicle-to-grid (V2G) technology. The batteries will be financed through revenue earned via this smart grid technology, and the project will also be the largest scale trial of using electric car batteries in V2G services. V2G has so far just been a concept bandied about, with several small pilot projects in the U.S. and other Western countries.
Pages
Please
SHARE
with friends and include TorqueNews in
Google Alerts
for tomorrow's interesting stories.