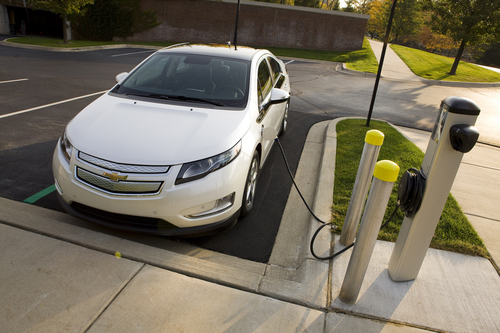 Arizona legislature looking to tax electric cars to help pay for highways
Please
SHARE
with friends and include TorqueNews in
Google Alerts
for tomorrow's interesting stories.
Pop quiz: Who pays for building and maintaining the highway system? It's largely paid for via gasoline taxes. Another pop quiz: How much gasoline does an electric car burn? Zero. That is unless that electric car is a Chevy Volt. Last pop quiz: How will road building and maintenance be paid when all the cars are electric? Well?
Last month Arizona Representative Steve Farley proposed HB #2257 as a way to solve this conundrum. It imposes a vehicle mileage tax on electric vehicles to the sum of $.01 per mile driven. HB 2257 also empowers the Arizona highway department to collect the tax and adopt necessary rules. The tax is also tied to economic activity so that it will go up over time as GDP increases.
The issue is not new and other states are considering similar legislation. Over the years several biodiesel activists have been arrested for failure to pay road taxes, because home-brewed biodiesel is similar to a home-charged electric vehicle in that the vehicle is fueled outside the existing system for collecting road taxes.
Arizona law requires the measure achieve a 2/3rds majority to be enacted.
Another proposed law in Washington State (SB 5251) imposes a flat fee of $100 per year per electric car on top of existing vehicle taxes. This is in lieu of determining the number of miles driven per year.
There's no doubt that electric vehicle owners must pay their fair share of the cost of building and maintaining the road system. The roads don't build themselves, and they must be paid for in some way.
The existing gasoline tax is an eminently fair method to collect user fees. It's entirely anonymous and directly ties the fees paid by each individual to their actual use. Those who drive more use more gasoline and end up paying more gasoline taxes. The fairness of the system does begin to falter a bit with hybrid car owners because their cars are more fuel efficient, meaning hybrid car owners will pay less road fees per mile driven than a non-hybrid car owner.
Where the system falls completely apart are the pure electric vehicles with no gasoline engine. Today road use fees are collected based on gasoline consumption, and because a pure electric car doesn't consume electricity, no road use fees are collected.
As Jim Stack, president of the Phoenix chapter of the Electric Auto Association, said "Someday it's all going to be hybrids and electric vehicles, it wouldn't do us any good if we didn't have any roads."
However Diane Brown, executive director of Arizona Public Interest Research Group, has a warning. "Any policy that is accounting for electric vehicles should be incentivizing, not discouraging." Most government policy on electric vehicles today is meant to incentivize their purchase, and no matter how logical it may be to require electric car owners to pay some sort of road use fee, it could be off-putting to do so.
Pages
Please
SHARE
with friends and include TorqueNews in
Google Alerts
for tomorrow's interesting stories.