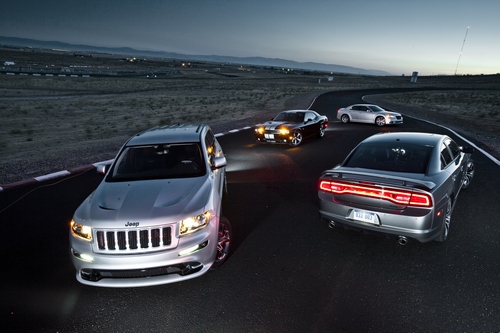 Chrysler's uncertain profits cause UAW to near a deal
Please
SHARE
with friends and include TorqueNews in
Google Alerts
for tomorrow's interesting stories.
Additionally Michele Martin, a UAW spokesperson, confirmed that leaders of Chrysler and the UAW are in talks this weekend.
The UAW is trying to match agreements similar to Chrysler's two other long time Detroit rivals, General Motors and Ford Motor Company. This is reported by the Detroit Free Press. GM and the UAW have agreed to a four-year contract, reaching an agreement in September.
The UAW has reached a deal with Ford. Workers at the company are currently voting on whether to approve the deal. Ford's hourly labor costs, which include wages & benefits, are estimated to average $58 for 2010. Compared to General Motor's hourly wages & benefits which are $56, and Chrysler's $49.
The new agreements have profit-sharing rather than raises for most UAW members. UAW members are also eligible for signing bonuses. Most importantly the Big 3 have promised to add thousands of new jobs for the UAW.
Supposedly for Chrysler and the UAW this is where talks are stalled. The amount on profit-sharing checks and the number of entry-level workers the union can hire, are still under debate amount both sides.
"GM and Ford deals may be too rich for Chrysler" said Sergio Marchionne on Friday, CEO of Chrysler and Italian automaker Fiat. Chrysler has been losing money for the first half of the year. While Chrysler's two rivals, GM and Ford, have been profitable.
Marchionne is hoping a new deal can be reached soon. He does not want to have to enter binding arbitration. It is important to note that Chrylser workers do not have the right to strike over wages. This is due to the 2009 government bailout terms. However, the UAW and Chrysler can settle disputes with an arbitrator.
Summoning UAW leaders to Detroit is considered a fairly good sign though, that an agreement is in the near future. Leaders from the union were called by Ford last week before a deal was finalized.
It was actually a surprise that Ford and GM, reached an agreement before Chrysler. The UAW shifted its focus on talking with GM as a September 14 deadline approached for making a deal.
In late September, talks between the UAW and Chrysler got stalled again. The UAW demanded that the Chrysler cap the amount of employees who are paid a low wage. This caused talks to move over to Ford, where they were able to come to an accord on October 4. Chrysler has a contract extension that expires on October 19th, which is why production at the companies facilities has not come to a halt.
Chrysler's chief negotiator, Al Iacobelli, started negotiations back in July. He was enthusiastic about rewarding workers, but said the company could not add costs or it would be uncompetitive in the market against Chrysler's rivals.
http://www.google.com/hostednews/ap/article/ALeqM5jTG7GWGvmGikYzQ3kTY8hqSuRtcQ?docId=8ffb6325184a4b0a92019183f35389c0
Pages
Please
SHARE
with friends and include TorqueNews in
Google Alerts
for tomorrow's interesting stories.