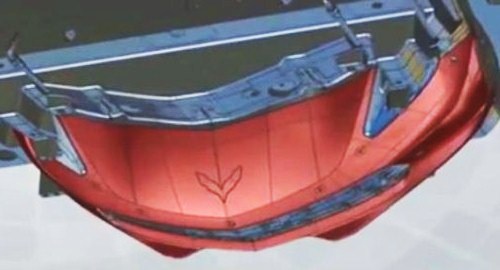 Next generation Chevrolet Corvette C7 front fascia design leaked
The Omega Tool Corporation issued a video showing a front fascia being stamped – first in computerized models that show the various functions of the stamping machinery and later an actual look at a fascia being removed from the machine – and upon close inspection, it appears that the fascia shown being produced is the new nose of the 2014 Chevrolet Corvette. The image on the right is a screen grab from the Omega Tool Corp video and while this is technically an unidentified front fascia, the indentation of the Corvette logo and the general shape of the piece makes it impossible to identify as anything but a Corvette. (The full video is available at the bottom of this article courtesy of the folks at CorvetteOnline.com.)
Should this be the 2014 Chevrolet Corvette front fascia, it looks as though the C7 generation of the Corvette will sport more angular molded-over headlights and a larger lower fascia opening that will allow plenty of air to channel through the radiator. There also appears to be a pair of points along the lowest portion of the front fascia that aids in the aggressive new design, almost providing a "fang" look. Interestingly, there does not appear to be openings in the outer edges of the fascia for fog lights so perhaps the fog/driving lights of the C7 Corvette will be incorporated into the new, larger cooling opening. Overall, the Corvette front fascia shown in the Omega Tool Corp video appears to be far more angular and "sharper" than the design of the current C6 Corvette. It also looks like it could be a bit lower and wider than the current Corvette front end with a dished shape to the center section that sits at the end of the hood.
Now, it should be noted that there is no guarantee that this is indeed the front fascia of the 2014 Chevrolet Corvette C7 but there is no question that the front fascia shown in the video is NOT the front end of the current Corvette. This video could be showing something as simple as a mock up with unique design features…essentially a fake front end…that has been created to show the function of the Omega Tool Corp stamping device. However, when you consider the fact that Omega quickly removed the video once the news hit the internet that the first Corvette C7 images had been leaked – it would lead us to believe that this is indeed the front fascia of the next generation Chevrolet Corvette.
Please
SHARE
with friends and include TorqueNews in
Google Alerts
for tomorrow's interesting stories.