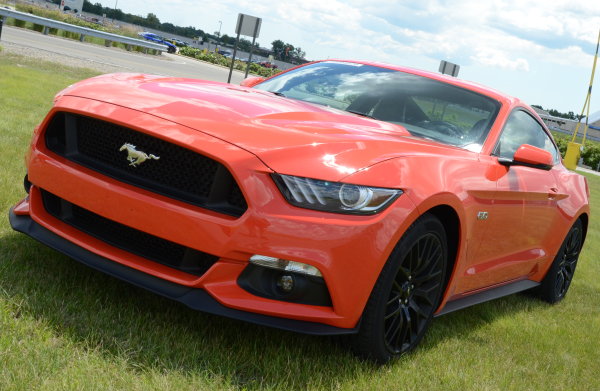 The 2015 Ford Mustang Gains Way Less than 300 Pounds
Please
SHARE
with friends and include TorqueNews in
Google Alerts
for tomorrow's interesting stories.
When the 2015 Ford Mustang was introduced, the performance world was quick to speculate as to what kind of curb weight we would see from the next generation Mustang. Early rumors suggested that the slightly larger 2015 Mustang with the new independent rear suspension setup would gain some weight, but a comment from the Mustang tuning experts at Steeda suggested that it might weigh as much as 300 pounds more than the outgoing model. That sent the performance community into a frenzy that lasted well beyond the point when Steeda clarified that the weight gain numbers were not at all official.
Fortunately, not only were those 2015 Ford Mustang weight estimates by Steeda not official – but they were not even remotely close. In fact, even if you compare the heaviest 2015 Mustang fastback to the lightest 2014 Mustang coupe, there isn't a 300 pound difference.
The EcoBoost is the Lightest 2015 Mustang
First off, the lightest 2015 Ford Mustang fastback comes with the new 2.3L EcoBoost and the 6-speed automatic transmission at 3,524 pounds. The lightest 2014 Ford Mustang coupe was the base V6 with the 6-speed manual transmission at 3,496 pounds so in terms of the lightest possible S550 Mustang – the difference is only 28 pounds. Interestingly, the EcoBoost manual fastback is actually 8 pounds heavier than the automatic models, which the manual transmission is the lighter of the two options for both the Mustang GT and the base V6.
Since there was no 4-cylinder option for the 2014 Mustang, there is no equivalent model for comparison so the best option is the 2014 base V6, as is shown below. As you can see, the EcoBoost manual fastback is just 36 pounds heavier than the 2014 V6 manual while the comparison between the V6 and EcoBoost with the automatic transmission reveals a difference of just 6 pounds.
2014 Ford Mustang V6 Manual Transmission Coupe – 3,496
2015 Ford Mustang EcoBoost Manual Transmission Fastback – 3,532
2014 Ford Mustang V6 Automatic Transmission Coupe – 3,518
2015 Ford Mustang EcoBoost Automatic Transmission Fastback – 3,524
So not only will the 2015 Ford Mustang EcoBoost offer more horsepower and more torque, it will also improve both performance and fuel economy through a nice, low curb weight.
The V6 Weight Increase is Minor
The 2014 Ford Mustang coupe with the base V6 and the manual transmission weighs 3,496 pounds and for the 2015 model, that number jumps to 3,526 pounds – marking an increase of just 30 pounds. When you compare the 2014 and 2015 Mustang V6 with the automatic transmission, the new models have gained just 12 pounds. The base model V6 saw the fewest engine-specific changes so the comparison across the two V6 models is the truest look at how much weight the chassis and body changes added.
Pages
Please
SHARE
with friends and include TorqueNews in
Google Alerts
for tomorrow's interesting stories.