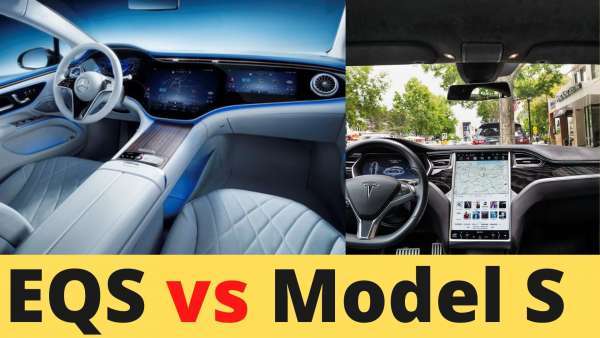 Who Will Sell More Cars Based on Screen Size: Mercedes EQS or Tesla Model S?
Will Mercedes EQS sell more cars than Tesla because of the 56-inch screen of EQS over Tesla's 17-inch? Today Mercedes-Benz finally allowed a full look at its 2022 EQS electric sedan with a huge 56-inch screen, and people are asking if EQS will sell more than Tesla because of the screen size.
So when it comes to Mercedes EQS vs Tesla Model S sales, I certainly hope a screen isn't what people base their decision on buying an EV. I'd be more concerned with range, efficiency, availability of chargers, features and quality over a screen.
While I like the design of the Mercedes EQS a lot, I think Tesla Model S is superior in many ways. However, I admit that the EQS also has its own advantages over Tesla.
Also, choosing between the Mercedes EQS and Tesla Model S is a matter of taste. The buying decision is not based solely on screen size.
Today Mercedes-Benz launched its large electric sedan EQS. With the EQS range, Mercedes-Benz is trying to reproduce an electric S-Class.
Built on the automaker's new EQ architecture, which is dedicated exclusively to developing electric models, the EQS 580 4Matic is powered by two motors, one for each train in the car, delivering a combined power of 385 kilowatts (509 hp). Peak torque is 855 newton meters, which works out to 631 pound-feet, and gets this large sedan to go 0-60 mph in 4.3 seconds, despite its heavy weight.
Such performance is possible thanks to a battery with a usable capacity of 107.8 kilowatt hours, which ensures a maximum range of 700 kilometers according to the projections of the WLTP. A range of around 478 miles could therefore be expected once the EQS has been subjected to EPA assessments. An internal charger with a capacity of 200 kilowatts will restore the battery to a 300-kilometer charge in just 15 minutes, provided a compatible charging station is used.
While the Mercedes-Benz S-Class has long been a pioneer in new technology on the automaker's side, the EQS will continue the tradition by incorporating a host of new cutting-edge features. One of the most innovative will be its range calculation which will incorporate both artificial intelligence and data from the navigation system to predict actual range. The system will go so far as to analyze the topography, the slopes, the outside temperature and even take into account traffic jams in order to predict the energy required to get to your destination.
Armen Hareyan is the founder and the Editor in Chief of Torque News. He founded TorqueNews.com in 2010, which since then has been publishing expert news and analysis about the automotive industry. He can be reached at Torque News Twitter, Facebok, Linkedin and Youtube.