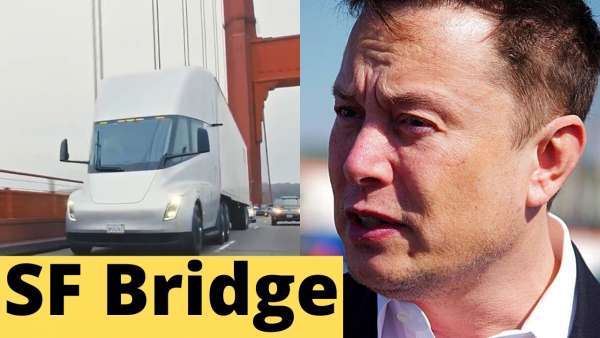 Tesla Semi Driving on San Francisco Bridge
Tesla Semi is seen driving on San Francisco bridge. As I reported yesterday, production has started.
Gail Alfar tweeted a video segment of Tesla Semi driving on the SF Bridge, writing, "The Tesla Semi is so beautiful, quiet, and fast. Can't wait to see these on the road."
See how quiet is the Semi on the road.
This is the first time we see a Tesla Semi in San Francisco bridge. The the fob, we see Tesla's electric truck moving quickly, quietly and odorless. You will notice that the design of the Tesla Semi has not changed at bit. And that it may be the same Semi model seen a few months ago in the same streets of San Francisco.
What does this tell us? It tells us that the Tesla Semi is on track for production as Torque News reported yesterday. The big news these days is related to Giga Berlin and Giga Texas, but there is also the Gigafactory Nevada, and that is for the Tesla Semi and Tesla's Panasonic batteries. it is very reassuring for this amazing program, which will allow Tesla to open up a new market and supply Tesla Semi trucks to companies like PepsiCo and Walmart.
Armen Hareyan is the founder and the Editor in Chief of Torque News. He founded TorqueNews.com in 2010, which since then has been publishing expert news and analysis about the automotive industry. He can be reached at Torque News Twitter, Facebok, Linkedin and Youtube.