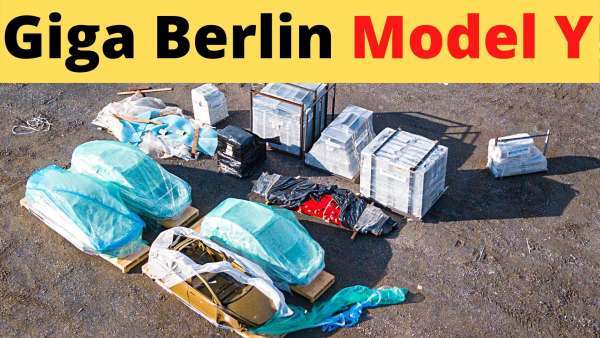 Tesla May Have Started Giga Berlin Model Y Trial Run
We have a very big news update from Tesla Gigafactory Berlin. Based on the unwrapped model Y bodies, seen at Giga Berlin, some in the industry think that Tesla may have already started the production Testing of Model Y. I stress again the production testing. In this report I am going to make two arguments about these unwrapped Model Y bodies seen at Giga Berlin.
A friend of Torque News from Grunheide, Albrecht, who tweets at Gigafactory_4 and Tesla's Berlin progress shared a picture of multiple Model Y castings sitting outside the factory.
The picture on his Twitter shows eight vehicle bodies wrapped in plastic, with the plastic seemingly blown off of one, revealing the Model Y. You saw the picture as the thumb nail for this video and I will also post the picture in the Community tab of our Youtube Channel, so please take a look at that.
Unwrapped Model Y body at #GigaBerlin. pic.twitter.com/TbCHaft1fn

— Giga Berlin / Gigafactory 4 (@gigafactory_4) March 12, 2021
Also visible in the picture are wrapped pallets from Geico Taikisha, a company involved in paint shop solutions, which supplies paint shop materials to Tesla Giga Berlin.
Benzinga publication thinks "These bodies may have been produced at Gigafactory Berlin as initial general assembly testing of newly installed equipment." The parts could have also been shipped from the Fremont factory in California to use as a reference.
"They could also be there to test the new painting equipment, which Technoking Elon Musk said will have an entirely new paint system," concludes Benzinga. In other words, these Model Y body castings may have been shipped to Giga Berlin from the Fremont factory to study them, test them and to train workers.
Also, it could be that Tesla shipped few Model Y unpainted bodies to try out the paint shop and for training purposes.
Once Tesla starts the production of Model Y at Giga Berlin, it should help to position the company very strongly in the European Market. Here is an interesting opinion on that topic from Torque News Youtube subscriber Norm Van Duker. Norm says "Tesla is not losing market share in Europe because other manufacturers make better cars. The real problem is that Tesla faces 21% import duties, and 8% shipping costs transporting cars from China and North America. And there is also has such a shortage of model Y that Tesla doesn't have any available to ship to Europe. But those problems will disappear when Giga Berlin ramps up. It will be an exact repeat of what happened in China when Giga Shanghai opened. China is a much more competitive EV market than Europe. If Tesla can dominate in China, it should have no trouble dominating in Europe."
What do you think friends? Do you think Tesla has already started some initial test production at Giga Berlin or not yet?
Torque News Youtube Channel commenter, named Acoustonaut says "At least 4 of those vehicle bodies arrived from Fremont around 3 months ago. That colour looks like primer to me (e-coat). No stamping, assembly or paint processes will be ready yet. That second batch could now be from either Fremont or Shanghai. Most likely use is for early paint shop tests I would say. Unlikely to be used for assembly line testing as I wouldn't think they would be built on structural pack floor. Just standard bodies or they would be very expensive to produce and sensitive and therefore would be properly boxed up. All in my opinion."
Armen Hareyan is the founder and the Editor in Chief of Torque News. He founded TorqueNews.com in 2010, which since then has been publishing expert news and analysis about the automotive industry. He can be reached at Torque News Twitter, Facebok, Linkedin and Youtube.