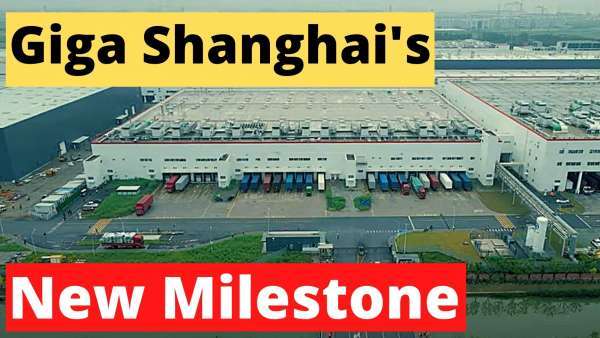 Tesla China's New Huge Milestone of Production Rate
Did you notice Tesla Giga Shanghai's recent production rate achievement? It kind of went unnoticed, but will have huge impact on Tesla's annual numbers.
Tesla's Giga Shanghai reached a milestone earlier this month. It now has an annualized vehicle production rate of 450,000 Models Y and 3 vehicles.
Providing an update on Tesla Giga Shanghai's production rate, a well-known Twitterer @Ray4Tesla wrote several days ago "the annualized production rate for MIC Model 3/Y has reached 450k units so far. In light of production being ramped up, it's reasonable to assume the rate may soon reach 500k. Having a robust workforce w/ average age of 26, this plant has lots of potential."
In September of last year, CleanTechnica's Zach Shahan writing about Tesla Giga Shanghai's production rate pointed out that Giga Shanghai itself could produce 1 million vehicles a year at some point. He recapped Tesla's 2020 Annual Shareholder Meeting and one big comment that snagged his attention was that Elon Musk pointed out that Giga Shanghai could eventually produce 1 million vehicles a year. We are almost halfway there. However, being halfway there will enable Tesla as a whole to produce approximately 1 million vehicles annually across the globe. With Giga Texas and Giga Berlin coming online this year, Tesla may actually reach that goal quite soon.
Tesla enthusiasts on Twitter comment and say things like "China is the golden goose for Tesla and the Chinese customers deserve the best ev in the world."
Or, "I bet we will see similar numbers from Austin, and maybe Berlin. Freemont is just an old factory."
By the way, it looks like there is a Phase II shut down for maintenance for 4 days at Giga Shanghai, reports Wu Wa, who provided the background for this video.
He writes in his video description "I came to the factory for aerial photography early in the morning. It was different from usual. There was no bus shuttle in the busy scene of the factory. It looked very quiet. I didn't know what happened in the factory for a while. Later I learned that the second phase of the factory was suspended for 4 days."