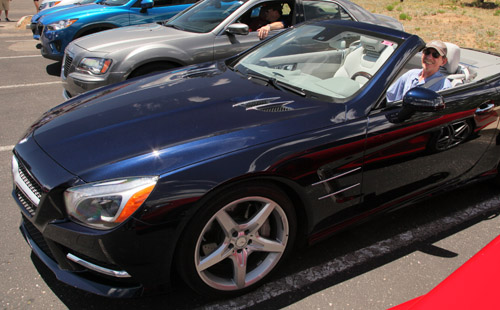 The Rocky Mountain Driving Experience continued
Please
SHARE
with friends and include TorqueNews in
Google Alerts
for tomorrow's interesting stories.
During the 2011 RMDE, the Nissan Juke was a favorite vehicle on the offroad rally course and got a good write up when it came around as a media loaner. So it was no hardship to drive it on to Estes Park along with Nissan rep Steve Parrett.
We discussed the viability of the little hatchback and how well it fit into the lives of the young, active urbanite who works and plays hard but does it all with eye on the bottom line. It also stands out in the parking lot with its unique features that will become even more striking when the 2013 model comes out later this year.
Driving through the green of the Colorado foothills, a couple of ridges away rose the plume of smoke from the High Park Fire that has consumed 54,232 acres, 112 homes and one poor soul over the last week.
However, the effects of lightning on forests ravaged by voracious hordes of pine beetle are well known and were completely out of sight when we arrived at the beautiful and historic Stanley Hotel for lunch provided courtesy of Chrysler.
Chrysler representative Wendy Orthman presided over the presentation of "Dart" boards on a commercial model called "Viper" by the manufacturer to six to eight of those attending by way of a business card drawing.
Then the RMDE assembly followed representatives from Dodge out the patio before the Stanley Hotel where the 2013 Dodge Dart and Dodge Dart RT were staged for another presentation.
The Dodge Dart is notably the first Chrysler product truly benefiting from the alliance with Fiat, and is based on elements of the award-winning Alfa Romeo Giulietta. The compact sedan is sleek, roomy and well equipped at an attractive price point.
It was a disappointment never finding one unoccupied during the event to experience its performance first hand – such was the interest generated by this all-new offering from the brand. Notably this is the first small car from the line since the Dodge Neon, last sold in the U.S. during 2005.
Interestingly, the lobby of the Stanley Hotel contains a 1906 Stanley Steemer. In its day, electric cars were replacing the steam engine as combustion engines were producing greater range, taking the place of early EVs as the roadways demanded greater range.
Today, diesel and high-mileage vehicles like the Dodge Dart are replacing traditional gas-guzzling V8s while battery technology is working to provide extended range for EVs.
After a delightful hour layover at the Stanley, we began the return to Denver by selecting the exquisitely designed and sophisticated 2013 Mercedes-Benz SL 550c for a bit of "dream time" along the next leg of our journey.
Pages
Please
SHARE
with friends and include TorqueNews in
Google Alerts
for tomorrow's interesting stories.