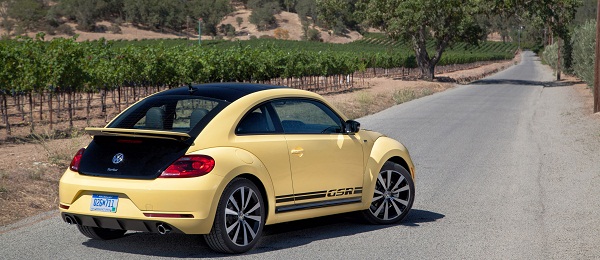 VW Balances Truly High Performance 2014 Models with New Medium Grade R-Line Trims
Please
SHARE
with friends and include TorqueNews in
Google Alerts
for tomorrow's interesting stories.
Well, they have not only expanded the number of bespoke high performance models that they sell but they have also taken some previously un-sporty models like the Tiguan and Touareg and added the R-line trim made up of suspension, wheel, tire and appearance upgrades.
With the R-Line trim which is available on 2014 Beetle, Beetle Convertible, CC sedan, Tiguan and Touareg SUV models buyers can now give these somewhat plebian models much needed visual attitude as well as handling improvements over lesser variants. For example, the Beetle R-Line is only available with a 2.0 liter 210 horsepower turbocharged and direct injected 4-cylinder and is available with sport seats, a sport R-Line dash as well as Bi-Xenon headlamps for sporty driving maneuvers on dark roads.
Please include TorqueNews in
Google Alerts
to receive tomorrow's stories and
SHARE
this with friends if it was interesting.
The CC sedan R-Line and Tiguan R-Line both boast a 2.0 liter turbocharged 4-cylinder as well good for 200 horsepower but they also feature handsomely styled, thick rimmed R-Line steering wheels that look amazing. The CC R-Line sedan is possibly the most successful interpretation of German sport sedan pretense thanks to its handsome alloy wheels and enhanced bodykit that gives the rakish four door coupe an even more aggressive appearance. We also appreciate that the CC R-Line can be purchased with a manual transmission.
The 2014 Touareg R-Line is perhaps the least sport focused model here as it comes with either a 280 horsepower V6 gas powered engine or a 3.0 liter V6 turbodiesel with 240 horsepower and a whopping 406 lb. feet of torque that is delivered in a somewhat lazy manner that fits with using this SUV to tow a boat or pull a tree stump out of the ground—we can't really see many Touareg TDI owners taking their R-Line SUV on their favorite back road. Still, thanks to the visual toughness of the beefier wheels, tires and body spoilers the Touareg R-Line does look almost as cool as smaller sibling Tiguan R-Line.
For 2014 the traditional GTI and Jetta GLI Volkswagen sport models are joined by the truly awesome Golf R with full time 4-Motion all-wheel drive and a 256 horsepower turbocharged 4-cylinder engine as well as by the all-new and very, very yellow Beetle GSR. The GSR is a limited edition sport model of which about 2,000 individual units are earmarked for sale in North America. The GSR has a sport suspension, a black sport stripe going down its center, a huge rear spoiler, yellow stitching and accents in the interior as well as a sweet revving 2.0 liter 210 horsepower turbocharged 4-cylinder that can give a Mini Cooper S fits when equipped with the six-speed manual gearbox.
Pages
Please
SHARE
with friends and include TorqueNews in
Google Alerts
for tomorrow's interesting stories.