The recently-revealed Volkswagen ID. Buzz seems to be a hit with everyone who claps eyes on it. Styled to look like the classic camper vans with the tried-and-tested MEB platform underneath it, the EV bus gives Volkswagen an incredibly valuable offering: a standout electric vehicle bursting with character. Whether buyers bond with it as they have with VW's other buses remains to be seen, but it certainly looks like they will.
Volkswagen ID. Buzz Variants
Both versions of the ID. Buzz that VW showed off at the launch won't be coming to North America, but they do let us see what the thing will look like and start to yearn for the panel van version. We won't get the ID. Buzz Cargo here thanks to the 25% "Chicken Tax" import tariff on light trucks, which all-too-often makes it unprofitable for automakers to sell commercial vehicles made elsewhere in the world to American buyers. Anyway, it can fit two euro-sized skids in the back, and it comes with a 77 kWh battery pack and electric motor driving the rear wheels. Like the passenger versions, it makes use of small overhangs to maximize its interior space.
The other flavour shown at launch is the short-wheelbase passenger version, which has seating for five people plus a good amount of luggage space where once lived a flat-four engine in summers of love gone by. This one gets a 117.1-inch wheelbase, while the LWB version coming to North America in 2024 will be longer but no numbers are confirmed as of yet. It's rumored that the LWB US version will have an optional larger 111 kWh battery capable of peak charging speeds of 170 kW, which Volkswagen says is good for a 5% to 80% charge in half an hour. The long-wheelbase version goes on sale in North America in 2024, with preorders opening some time in 2023 through VW's VolksKlick online reservation portal. Official range figures have not yet been released.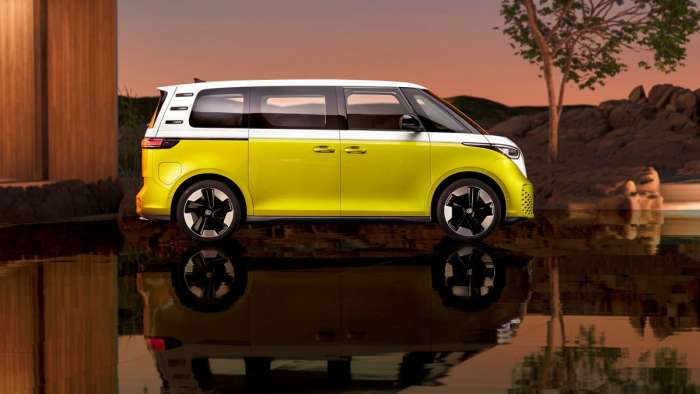 Seating is set up to handle seven or eight passengers, and the US ID. Buzz will be available with rear- or all-wheel drive. It'll feature bi-directional charging to supply surplus power back to the owners' house, and Volkswagen say that both "manufacturing and shipping have a carbon-neutral footprint." The ID. Buzz features an interior made from synthetic leather and recycled plastics, and comes standard with Volkswagens Car2X system which talks to other vehicles and traffic infrastructure to spot and avoid hazards.
An EV To Get Excited About
Design-wise the ID. Buzz is a home run for Volkswagen, and gives the brand an EV to really draw people in. Yes, the eGolf is a great car and the ID.4 is good at what it does, but when the design brief is to be as imperceptibly similar to run-of-the-mill gas-powered SUVs as possible you're not exactly building bedroom wall poster material. The ID. Buzz changes all that, resurrecting a beloved Volkswagen icon in a form that makes sense, and cashing in on the huge amount of nostalgia surrounding the Type 2 bus and its descendants. This thing is pure Instagram Van Life gold, and I can't see it being anything other than a smash hit for Volkswagen.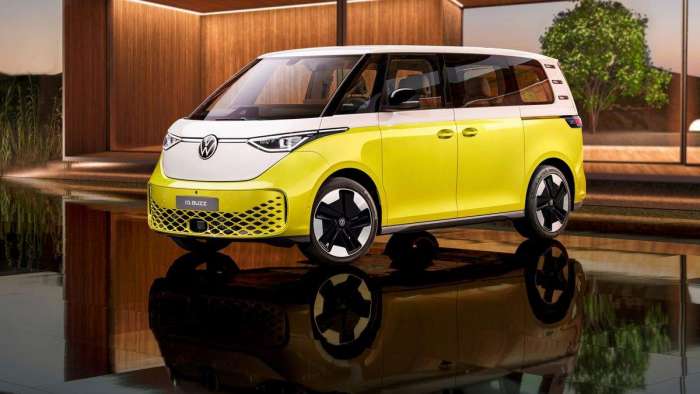 Images by Volkswagen licensed by CC BY 2.0.
James Walker is an Automotive Journalist at Torque News focusing on Lucid Motors. If it's got wheels he's interested, and he's looking forward to seeing what kind of cars the EV revolution brings us. Whether it's fast, slow, new, or old, James wants to have a look around it and share it in print and on video, ideally with some twisty roads involved. You can connect with James on Twitter, Instagram, and LinkedIn.