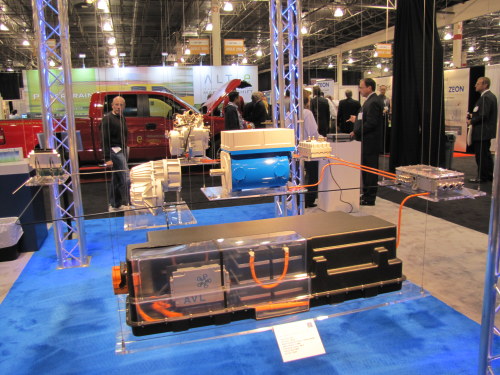 Will zinc-air batteries ever replace lithium-ion for long-range EVs?
Please
SHARE
with friends and include TorqueNews in
Google Alerts
for tomorrow's interesting stories.
No matter how proud the owners of a $400-500 per month leased Chevy Volt may boast, the cost of electrification for automobile is too high for the masses. And all this talk that it will come down when the production volume rises lacks economic common sense. It's not the production volume that will bring the cost down for the masses this time, but technology advances and a cheaper EV fuel storage; and one with sufficient energy density that avails the same driving range as a IC engine but without a $90K price tag.
One area of the electrification of the automobile under research for many years now has been the early commercialization of the zinc-air battery for energy storage. For the record, zinc is far cheaper and far more plentiful than lithium; and due to its lower cost, avails greater energy density within the same package size for an automotive application which demands 400-500 miles of range plus fast recharging.
When I attempted a recent web search, Fluidic Energy, a for-profit corporation based in Scottsdale, Arizona showed up. It focused on the development of energy storage devices, and specifically on metal-air cell technology. Founded in 2007, as a spin-off technology company from research done at Arizona State University, it received funding from both private sources and an energy development grant from the United States Department of Energy. I emailed the firm requesting an update, but still waiting for reply. [Jan. 30, 2012 Note: see comments below for update]
I also wrote in 2010 on this subject and noted Zinc Air Inc. based in Kalispell, Montana, Their website seems more active now, but not by much with regard to advancements. Zinc Air Inc. has since developed the Zinc Redox flow battery, designed to achieve rapid payback periods while also being the greenest battery technology on the market. This competitive storage solution allows a wind farm to store and shift wind power for flexible use by utility operators.
So, where are we now for EVs?
I affirm I did not see or hear any mention of Zinc-air battery technology at the The Battery Show 2011 in Novi. Michigan this past Fall. That means we have the EV industry still steeped in lithium-ion cell technology. My visits in 2011 to just about every tech seminar, including the SAE World Congress in Detroit, revealed the same.
Although fully functional, the cost of getting an affordable, long-range vehicle using that lithium cell technology seems on the surface far more remote than ever. The general public simply cannot afford it, though, which explains why sales of Ford's EcoBoost IC engines and GM's Ecotec Eco models have been much, much higher.
Fact is, the lithium technology is the culprit behind an EV's high cost, along with the lack of economic vision by the automakers, in my opinion. The most cost-effective driving range the OEMs can achieve using lithium-ion technology is between 20-40 miles, as noted by the Toyota Prius and the Chevy Volt which are hybrids, requiring an IC engine to extend the driving range.
Pages
Please
SHARE
with friends and include TorqueNews in
Google Alerts
for tomorrow's interesting stories.