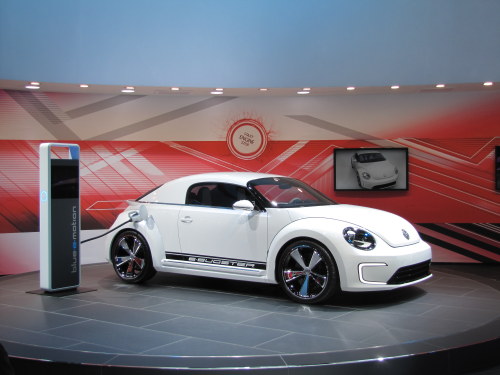 Halo cars and politics still holding back real change in auto industry
I liked that VW E-Bugster at 2012 NAIAS. So I'm not picking on VW at all. Like other entries, it was a show car with true capability, but with limited production intent and a high cost whenever it becomes available. And that is the point. To say there is no change in the auto industry would be unfair. Nonetheless, most of the changes in the auto industry which attain the headlines favors the few who might purchase, not the many who need the efficiencies for pure economic reasons; and certainly not in the immediate.
After 39-plus years in the auto industry, I can say without reservation, and with all respect to all show cars, that many halo cars that do make production are a ruse of the auto industry, and always supported by politics both in and outside of the industry. In my view, halo cars are used merely to show capability, not real intention to mass produce in the near future. And those few that made it into production came about due to some outside pressure, mostly of the political variety.
If you put an automotive bean-counter hat on, then maybe you would get the full drift: Show and tell but do not build; and if you build at all due to political pressure, then put an extreme price tag on it so as to drive customers to the other less-green or less efficient products on the floor. Why? So the industry does not have to expend any more money for development and changes in manufacturing processes. Hence, change comes slowly; and those on the lower economic rungs of the society ladder pay higher costs in products and fuel.
Point is, status-quo manufacturing shall remain as long as the auto industry can retain it; and as long as we allow them to retain it. They are biding time until forced to act; that is, by 2016 and 2025 mandates. Of course, politics will pressure companies to put on halo manufacturing plants, too. Strange though how the industry needs to build lightweight auto bodies now, for example, because they serve both fossil fuel and electric vehicles; yet there are no major plants especially in America being built to do so.
Fact is, the auto industry needs a manufacturing makeover to accommodate lighter auto bodies; and the engineering mind may be willing, but the bean counter heads are still in control; and they are not only weak, but short sighted, and possibly selfish.
Another fact is, the auto industry needs to build cars that people, the masses, can truly afford in every way; meaning, the full cost of ownership, not just counting fuel. Industry executives have high salaries, so they do not really care or have much empathy for total cost of ownership. Why not? They seldom own the cars they drive.
Right now there is no single new tech car out there that the public is not paying dearly just to own. Look at the Chevy Volt. It is a wonder of technology, a fine vehicle built by a most capable team. Unfortunately the cost is beyond average drivers; likewise with other cars, such as the new Ford Focus EV. Is Ford expecting a run on that car at such a high price?
Even the Toyota Prius Plug-In is out of the range of sensibility relative to its size. And that new Toyota RAV4 EV at $49,800 will surely not change anything except make some affluent person feel greener while the government subsidy(read taxpayer) affords them a price break.
Yes, of course I get the intentions of the industry and the green agenda. New technology products especially of the green variety always carry a premium so as to pay for the next level of development. This is not my first day.
Then again, is new technology supposed to serve the many or just the few? If so, then why are the few getting most of the tax breaks? Patience may come to mind, but that's difficult when so many are complaining that our men and women in uniform are risking their lives in areas mostly where oil is involved.
So, we have alternative fuels in America like natural gas, but that has been scuttled the past 5 years for a reason. Politics have simply overcome better judgment; hence, no national energy policy. No, the present Administration has opted for the pie-in-the-sky tech that will take decades to mature. Fact is we need energy maturity now, not later; and a congressional policy to support it
On the other hand, we do have maturity as far as the natural gas industry goes. We have supply; we even have infrastructure in many homes, not to mention supply for big rigs on the interstate; granted, we need more. Yet, we opt to show, build and sell cars with high price tags just to fulfill someone's political wet dream.
Engine technology is making a great strides, but we need more than strides. At least Ford Motor Company (NYSE: F) has had the good sense to develop a unique line of IC engines called EcoBoost. Why? Because that's where the production volume is. Good business thinking, I say. If we really want to make a green difference, though, then let it start there, with efficient IC engines, because that's where the affordability and volume are. Then make it dual fuel so we have options; and make it so affordable that our imports of crude oil declines.
Pages
Please
SHARE
with friends and include TorqueNews in
Google Alerts
for tomorrow's interesting stories.