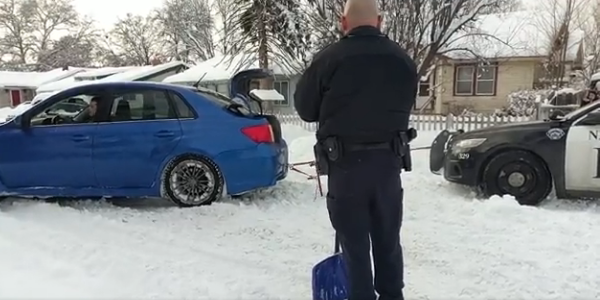 Watch Subaru WRX pull Nampa Police Cruiser Stuck in the Idaho Snowstorm [Video]
It's a good thing Ryan Gerzin moved to Nampa Idaho recently with his Subaru WRX, because their police cruiser might still be stuck in the snow. Last week, Ryan was exploring the town in his blue WRX, and began helping stuck motorists after a recent heavy snowfall. Gerzin ran across a Nampa police cruiser in need of help, and used is all-wheel-drive Subaru WRX to pull the vehicle out.
Gerzin is familiar with winter driving and snow because he's lived in Denver, Colorado and North Dakota. The 27-year-old, just moved to Nampa on January 2, with his WRX sports sedan and knew he could help. His WRX is shod with Bridgestone Blizzak winter tires, ideal for the performance car in the snow.
The Nampa Police posted the video on their Facebook page
The Police were thankful and posted this comment with the video below on their Facebook page. "Police Officers are often called to the rescue, but every now and then we need someone to come to our rescue. That has been the story more than once this week in some of the less-traveled areas of Nampa. Thank you to Ryan for coming to our rescue in this instance. We really appreciated your support and willingness to give us a hand."
In an article by the Idaho Statesman, Ryan says "I figured people could use someone with my expertise in the snow, and I wanted to get to know the town and acclimate myself."
A bystander captured the rescue on video below. Watch Ryan's WRX pull out the Ford Taurus police cruiser. It wasn't Gerzin's only rescue in his Subaru WRX. He estimated he helped close to 50 people in the several days he spent "playing in the snow."
Photo credit: Idaho Statesman
Please
SHARE
with friends and include TorqueNews in
Google Alerts
for tomorrow's interesting stories.