Subaru Chief Says No to Mid-Engine Sports Car Yes to New BRZ
Subaru won't be building a new mid-engine sports car, but they will be bringing out a next-generation BRZ sports coupe. This is according to an interview Motoring conducted with Subaru's COO Tom Doll at the New York International Auto Show recently.
No new projects for Subaru
He squelched the rumors that a new mid-engine sports car was being developed and undergoing testing at their secret test facility in Japan. Doll said in the interview with Motoring, "I've not heard that, I don't know what that is."
He says it's just too expensive and doesn't make sense for the small automaker to bring out a vehicle like this. Doll says, "For Subaru to develop an all-new sports car with a mid-mounted engine would be prohibitively expensive." Subaru had to share development and production costs with Toyota in order to launch the BRZ/86 sports coupe in 2012.
"I don't know where they're getting their information from. I would like to know their source. Anybody can say anything, right?" he said, squelching the rumors about the mid-engine sports car by a prominent auto magazine. http://www.torquenews.com/1084/rumor-mill-mid-engine-sports-coupe-secretly-being-tested-subaru
Next-Generation BRZ is coming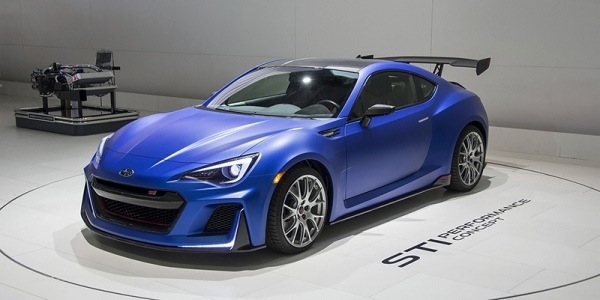 BRZ STI Concept
As previously reported, President of Fuji Heavy Industries (FHI) Yasuyuki Yoshinaga, confirmed a new-generation Subaru BRZ/Toyota 86 is coming, but he said there's no new projects on the drawing board. He said, "The full-model change of the BRZ will happen, but we have not decided about other new projects."
He also said Toyota will be Subaru's partner for the next generation. Yoshinaga went on to say, "Yes, of course. We cannot produce or develop the BRZ without the support of Toyota. That is our hope and intent, but we haven't made a contract or such yet. The BRZ is an important model for Subaru, so we will continue to develop the BRZ with Toyota."
Don't look for any new mid-engine sports cars from Subaru. A new-gen BRZ sports coupe is coming. The report says the next-generation Subaru BRZ/Toyota 86 is still a few years away and it could launch by 2019. Stay tuned.
Source: Motoring
Photos used with permission from Subaru