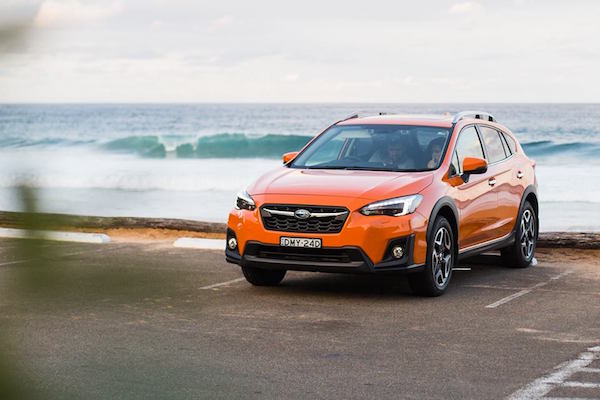 2018 Subaru Crosstrek Pricing Announced; 3 New Features and Fuel Mileage is Revealed
Torque News has written about the new 2018 Subaru Crosstrek's Global Platform, new 2.0-liter engine with Direct-Injection, enhanced safety and extra comfort inside, but more information has been revealed. Subaru of America has just announced pricing, a few new features and gas mileage for the new 2018 Crosstrek crossover. Here's what's coming soon.
2018 Subaru Crostrek pricing
The 2018 Subaru Crosstrek will be still be offered in three trim levels, 2.0i base, Premium and Limited. The 2.0i base trim pricing begins at just $100 over the last generation model at $21,795 when equipped with a 6-speed manual transmission. For the first time, the Lineartronic Continuously Variable Transmission (CVT) is available on the 2.0i base trim ($22,795). This new model lowers the entry price for a CVT model compared to the previous generation.
Premium trim Crosstreks are priced from $22,595, also a $100 increase from last year. The 2018 Crosstrek 2.0i Limited is priced from $26,295. This is a big jump of $1,100 from last year. Pricing does not include Destination & Delivery of $915.
3 new features are coming
A new 6-speed manual gearbox is offered for the very first time on the 2018 Crosstrek. The close-ratio manual rower gets an extra gear and replaces the 5-speed manual transmission on the last generation models. The manual gearbox is offered on the base 2.0i and 2.0i Premium trims.
All trims of the new Crosstrek will also come standard with a new raised Stablex suspension. It still offers the same 8.7-in of ground clearance for versatility in both off-road and city driving, but the new 17-inch wheels changes the stance of the crossover. Crosstrek also gets new Torque Vectoring from the WRX/STI performance models for improved driving dynamics.
The outside appearance of the Crosstrek gets sportier with the addition of a new standard gloss black rear roof spoiler. This will be offered now on all trim levels as standard.
Fuel economy goes up and down
With the addition of the new 6-speed manual gearbox on 2.0i base and 2.0i Premium trims, the new manual transmission models have fuel economy of 23/29 city/highway mpg. That's a one mpg city fuel economy drop over the last generation 5-speed rower that had 23/30 city/highway mpg. Fuel economy for CVT models improves one mpg over the outgoing CVT models with a 27/33 city/highway and 29 combined miles per gallon.
All 2018 Crosstreks get the new-generation 2.0-liter 4-cylinder Boxer engine with direct fuel injection and other enhancements to boost both performance (now 152-hp vs. 148 before) and drivability.
The new Crosstrek gets a small bump in price ($100) for the base and Premium trims and a larger jump for the Limited model ($1,100). We've reported on all the other details of the new Crosstrek, but it also gets a new 6-speed manual rower, a new raised Stablex suspension, and a standard rear roof spoiler. Gas mileage goes up on the CVT models and down one mpg on the 6-speed manual gearbox. The all-new 2018 Subaru Crosstrek will be arriving in showrooms this month.
Photo credit: Subaru AU
Please
SHARE
with friends and include TorqueNews in
Google Alerts
for tomorrow's interesting stories.