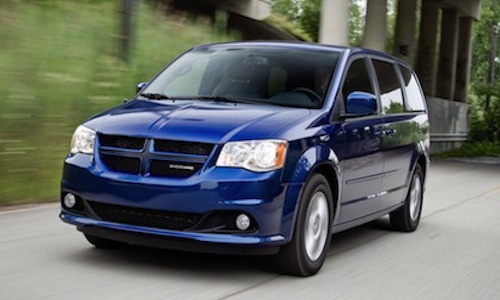 2012 Chrysler Town and Country and Dodge Grand Caravan vehicles recalled for wheel separation
Please
SHARE
with friends and include TorqueNews in
Google Alerts
for tomorrow's interesting stories.
Chrysler has announced the recall of 289 2012 Chrysler Town and Country and Dodge Grand Caravan vehicles for possible wheel separation issues. The affected minivans may contain right rear hub and bearing assemblies that are not fully machined. The consequence of this faulty assembly is a decrease in durability, which may lead to wheel separation, increasing the risk of a crash. The vehicles in question were manufactured from November 15, 2011 through November 21, 2011.
Chrysler will being notifying customers later this month according to the National Highway Traffic Safety Administration. Owners of affected vehicles will receive a new right rear hub and bearing assembly, free of charge. Concerned customers can contact Chrysler Customer Service at 1-800-853-1403. Chrysler owners may also want to contact the NHTSA at 1-888-327-4236 or online at www.safercar.gov. The NHTSA Campaign ID Number is 12V141000.
The news comes on the heels of Chrysler's recall of 1,689 2012 Jeep Patriot and Compass vehicles, which were manufactured from December 17, 2011 through January 2, 2012. Chrysler issued the safety recall because some 2012 Patriot and Compass SUVs suffered from a faulty fuel tank assembly. Unlike the Town and Country and Grand Caravan recall, Chrysler's SUV recall begins in June 2012.
The 2012 Chrysler Town and Country ranks 5 out of 8 on U.S. News' list on top Minivans. The minivan earned an overall score of 7.8 based on 42 published reviews, test drives, and U.S. News' analysis of reliability and safety records. Although the Town and Country received praise for its family-friendly interior, reviewers concluded that competitor minivans offered superior performance. The Town and Country's overall score was particularly tarnished by its 5.0 out of 10 Predicted Reliability score, which comes from J.D. Power and Associates. J.D. Power's score is based on recent quality and dependability data calculated in the past three years.
On the other hand, the 2012 Dodge Grand Caravan ranks 6 out of 8 on U.S. News' Minivan list. U.S. News gave the Grand Caravan an overall score of 7.6 based on 38 published reviews, test drives and a study of reliability and safety information. Despite ranking 6 out of 8, the 2012 Grand Caravan received recognition for its affordable price and family-friendly features. On the down side, the Grand Caravan received poor reliability scores. The Grand Carvan's reliability scores are based on the same J.D. Power and Associates testing as was the Town and Country.
Photo: Chrysler
Please
SHARE
with friends and include TorqueNews in
Google Alerts
for tomorrow's interesting stories.