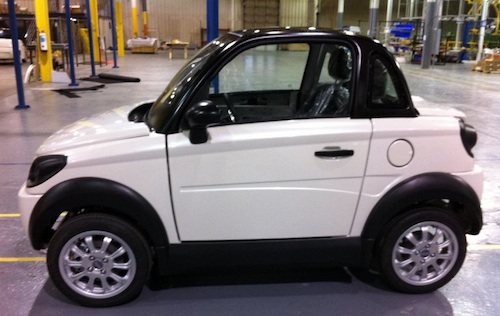 GreenTech Automotive launches tiny electric car with help of Bill Clinton and Haley Barbour
Please
SHARE
with friends and include TorqueNews in
Google Alerts
for tomorrow's interesting stories.
Startup automotive manufacturer, GreenTech Automotive, today launched its first product, the MyCar, a small two-seater electric car. The car brings with it a complex story of global automotive manufacturing, that is claimed will create thousands of American jobs, but along the way the company is building a gigantic factory in China. The American side of the company bought a Chinese electric vehicle manufacturer, moving the whole company to America, with a business plan constructed by senior Democratic Party political leaders, full of political talking points, that sounds like a political debate rather than normal business-as-usual in the age of globalism.
GreenTech Automotive is a politically connected company, founded by former DNC Chairman Terry McAuliffe, and counts President Bill Clinton in some kind of advisory role. Today's ceremony to launch the MyCar was attended not just by Bill Clinton, and of course Terry McAuliffe, Chairman of Green Tech Automotive, and also former Mississippi Gov. Haley Barbour who is also former Chair of the Republican National Committee. Whatever the value of the products the company looks to manufacture, it is well-enough connected to tap on high stakes political clout. McAuliffe founded the company in 2006, and since his failed gubernatorial campaign in Virginia turned his full attention to GreenTech Automotive. The company bought Hong Kong-based EuAuto in 2010, moving operations and manufacturing to the United States. In part the strategy is to "have a positive impact on a local economy in need of revitalization." The company is leasing a small factory in Horn Lake, MS, where they are making a small manufacturing run of the electric MyCar NEV. At the same time they are building a 300,000-square-foot facility in Tunica, Miss. and an even larger 1.5 million square foot factory in China. Supposedly the company's plans will it will create 426 direct jobs by 2014, and would create more than 7,400 direct, indirect and induced jobs by 2014.
"Thanks are due to Governor Barbour for being so receptive to our strategy to create manufacturing jobs in the United States," said McAuliffe. "This unlikely partnership illustrates the kind of jobs-before-politics attitude that will get America back on track by restoring manufacturing to its rightful place at the core of our economy. We're looking forward to continuing that relationship with Governor Bryant's new administration." McAuliffe previously served as the chairman of the Democratic National Committee; Barbour served as chairman of the Republican National Committee.
A tag-line on the corporate website reads "No green technology is truly green until it is Affordably Green." In light of luxury electric cars like the Tesla Model S, we can certainly appreciate that attitude. However the pragmatist recognizes that while the MyCar has an affordable expected base price of $15,500, it is also a Neighborhood Electric Vehicle (NEV), a class of electric vehicle which straight-up does injustice to the whole concept of electric vehicles, and only serves to reinforce negative stereotypes. In the current state of electric vehicle manufacturing and sales, it's pragmatic reality that the cost of the battery pack required to support a 300 mile driving range, at highway speed, means an outrageous vehicle base price that forces the manufacturer into the luxury market.
Pages
Please
SHARE
with friends and include TorqueNews in
Google Alerts
for tomorrow's interesting stories.