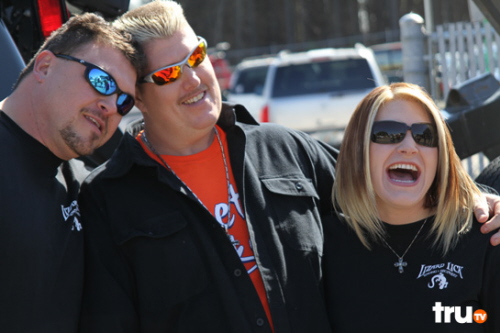 'Operation Repo,' 'Lizard Lick Towing' drive reality TV
"Operation Repo," whose tagline is "it ain't no joke, if you don't pay that note," airs at 9 p.m. Wednesdays and at many other times also. Op Repo is a hard-core reality program that chronicles the repossession of deadbeats' cars, trucks, motorcycles, dirt bikes and boats in southern California. We get to go along for the ride as the crew banters back and forth in the repo truck about everything from office gossip to what kind of girls the repo guys like to why some people should be fired. Oh, and they also talk about how annoying it is to have to work with Lou's mouthy 20-year-old daughter, Lyndah.
Op Repo is entertaining because it is real. There's no way this is scripted. Its dialogue is too toxic to believe that is true. When they repossess somebody's car, people are livid. Desperate. Profane. When you watch this stuff, you say to yourself, "I don't want to be this guy." It is the ultimate indignity.
I have seen deadbeats on the show punch, wrestle with and shoot at Matt and Froy and threaten Lou, the 300-pound marine who's the boss, with chains, pistols and sticks.
In one OMG moment, a hooked-up car came loose at it was being towed away as two chubby deadbeats, one of them with a weapon, ran after them. The loose car rammed grille-first into a parked car on the street because the boss' daughter messed up the hook-up. This was after Matt refused to help her because he wanted to prove a point that she had no business doing the job in the field because she was not at the time properly trained for it. He takes no responsibility for the fact that his boss, Lou, had asked him to train her better.
Once when Lou tried to repo a car from a puny construction worker, the "R.O.," or "registered owner," told his idiot friend to pick up the car with a claw, ruining the car. At one repo, Matt and Froy were in a sports car that they were trying to drive away when the brother of an R.O. drove right over the top of them with a piece of heavy machinery. Hey, people could die doing this.
Registered owners stammer, yell, beg, plead, cry and threaten when they are told what is happening. Rarely is someone composed. Someone almost always says, rapidly, "No, no, no, no, no," "what are you doing?" or "this must be a mistake." But it never is. If you're a deadbeat who's late on a car payment, you know who you are.
When a deadbeat is resigned to giving up the car, keys are thrown in disgust onto the pavement, in the dirt or in bushes. Nobody ever has class. Froy, Sonia and Lou just pick them up and drive off, but not without a snarky comment. Lou shakes his head and mutters "idiots" as he drives away from a repo.
Deadbeats on Op Repo are men and women; rich and poor; wealthy and working class; employed, unemployed and homeless; intelligent and stupid; big and small; young and old; few think the fact that they didn't pay their own bill is the problem. It's always someone else's fault and "why are you doing this to me?" Every deadbeat is at least two months behind on payments.
The show flits between field footage (there are camera people who videotape their exchanges and cameras mounted inside the truck to record conversations), many times of Matt laughing at little men who threaten him, and candid in-studio interviews with all of the repo people. When things get hot, the repo people yell: "Turn off the cameras." Sometimes they do, sometimes they don't. It has given me a laugh for months every time I watch it because they have no filter; these people say things before they think, which makes for some pretty great TV.
Another must-see show is "All Worked Up," which airs at 10 p.m. Mondays on truTV. It features a meter maid from Cali, a process server from New York City and a repo crew from Lizard Lick, N.C. It's fun to watch if the target of the professionals isn't you.
A spinoff show, "Lizard Lick Towing," has emerged from the "All Worked Up" mix and now has its own time slot at 9 p.m. Mondays on the same channel. New episodes begin in August.
Until August, the reruns of "Lizard Lick" are totally worth watching, if not for the entertainment value of watching two southern gentlemen repossess cars and trucks and having fun doing it then for the owner's use of southern phrases to describe a sticky situation. It's Gomer Pyle with license.
The Lizard Lick crew (pictured) of Amy (the wife), Ron (the owner) and Bobby (Ron's best friend and the big guy who holds you down when you mouth off) do things differently than Lou and Matt and Froy. Because Lizard Lick is in Confederate country, the men (and the women) have more heft and are bolder and heavier and mouthier and more fearless than the much more civilized Californian R.O.s the Op Repo people encounter.
Pages
Please
SHARE
with friends and include TorqueNews in
Google Alerts
for tomorrow's interesting stories.