This is the time of year when automakers reveal what is upcoming for the next model year – updates, changes, and all things new.
Some vehicles are scheduled to be completely redesigned, while others will have mild refreshes. Several models will get additional features, technology, and safety systems.
But some will remain unchanged in what is referred to as a carryover.
Take Toyota 4Runner, for example. Nobody really knows what to expect with this puzzling legacy.
Well, we now know what to expect for 2024 Toyota 4Runner.
2024 Toyota 4Runner Changes
Many 4Runner owners, fans, and enthusiasts are getting an itchy trigger finger about a redesign. It certainly feels like the time for a new 4Runner body style is near.
However, do not expect this to happen for the 2024 model year. Yes, it is not quite time for a next-gen Toyota 4Runner.
But we will see a few small changes this time around.
2024 Toyota 4Runner TRD Pro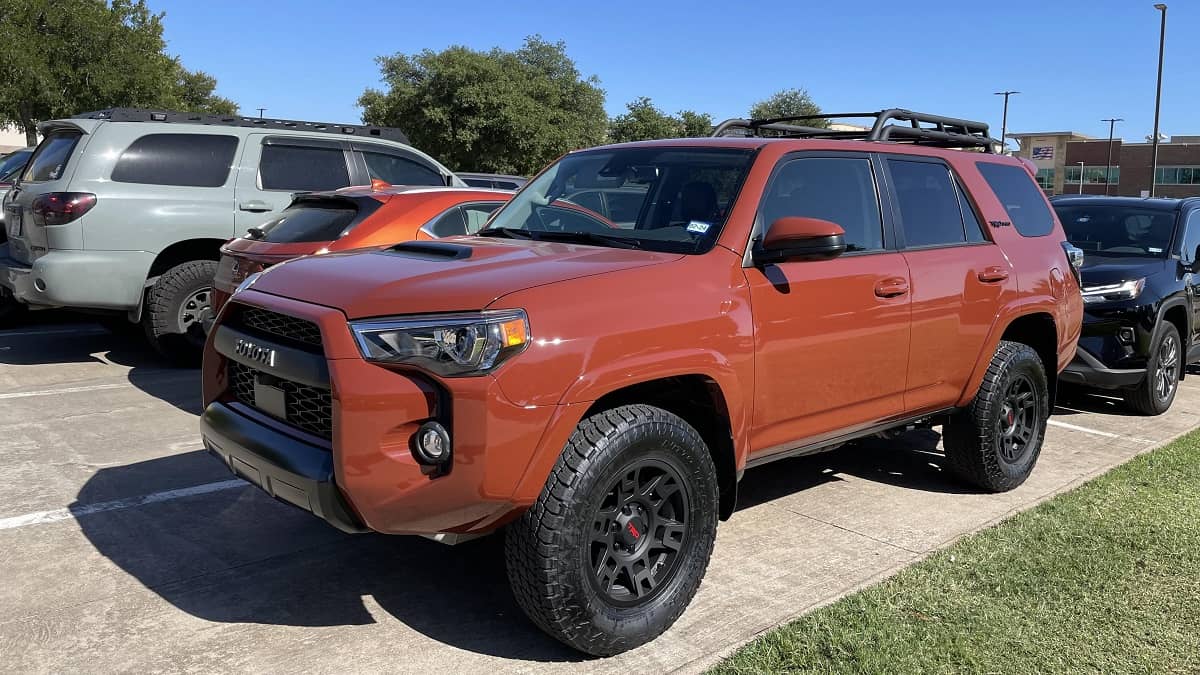 First, Terra will be the exclusive TRD Pro color for 2024 4Runner. This burnt orange, earthy, reddish, brownish shade will be a choice for potential buyers looking for 4Runner TRD Pro.
You can also find Terra with 2024 Tundra TRD Pro, Tacoma TRD Pro, and Sequoia TRD Pro.
4Runner 40th No More
Toyota is discontinuing the 4Runner 40th Anniversary Edition in 2024. And it makes sense, as this was released to celebrate one specific and special anniversary.
I guess they could have produced the "41st Anniversary Edition" next. But no.
Video: See what makes 4Runner 40th Anniversary Edition so cool
I would have liked to see this grade continue, but only if it was based on a current trim level like TRD Off-Road so it could be used more as a true off-roader. The 40th Anniversary Edition was, instead, made from SR5 Premium trim.
2024 Toyota 4Runner Colors
Look for two 4Runner color options to disappear this upcoming year. Lime Rush and Lunar Rock are no longer choices for buyers.
In my opinion, Lunar Rock is one of the most popular and appealing Toyota paint colors from the last ten years. I will be sorry to see this one go away.
Next-Gen Toyota 4Runner
I truly do not know when we will see the next generation 4Runner. I do, though, feel like it is getting closer.
Maybe for the 2025 model year. Or perhaps 2026.
I suppose we will find out when Toyota is ready for us to find out.
Time for Your Toyota 4Runner Comments
I feel like this upcoming 4Runner new generation will be one of the most anticipated redesigns of all time. Whenever it arrives.
People cannot wait for it to get here.
Are you excited for the new 4Runner? What are you hoping to see most?
Thanks for reading everyone. See you next story.
Jeff Teague - I have been involved in the auto industry for just about 20 years. I enjoy learning and sharing the most up-to-date news and information.
My other talent is creating informative and entertaining automotive videos. I've been building and growing my Toyota YouTube channel "ToyotaJeff Reviews" for the last 8 years. I take pride in delivering informative automotive news, how-to information, and reviews.
My background serves me well with my writing. I hope you enjoy the news I bring you. Follow me on YouTube at "ToyotaJeff Reviews" and "AutoJeff Reviews", Instagram at "ToyotaJeff Reviews" and "AutoJeff Reviews", and TikTok at "ToyotaJeff Reviews" and "AutoJeff Reviews".