The Drive For Design contest was created to get young people interested in vehicle design and draw creative students into the professional automotive field. This year Stellantis asked high school students to design a Chrysler vehicle for the future. Chrysler has already announced that it is going all electric. Here are the winners!
Drive For Design First Place

First Place in this year's Drive For Design contest was awarded to Rocco Morales, an 11th grade student at Northville High School in Northville, Michigan. Morales' futuristic design is called the Helios. It features a solar stripe in the glass roof and a sliding door into the back seat.
Last year, Morales won second place in the contest for an electric Jeep design that he called Crazy Horse. The electric Jeep included massive tires and incorporated glass on the lower part of the vehicle. Morales had a fascinating suggestion with his design, that the batteries should be able to shift in the lower chassis of the Jeep to balance the vehicle. Morales' Jeep also had a windshield that can open.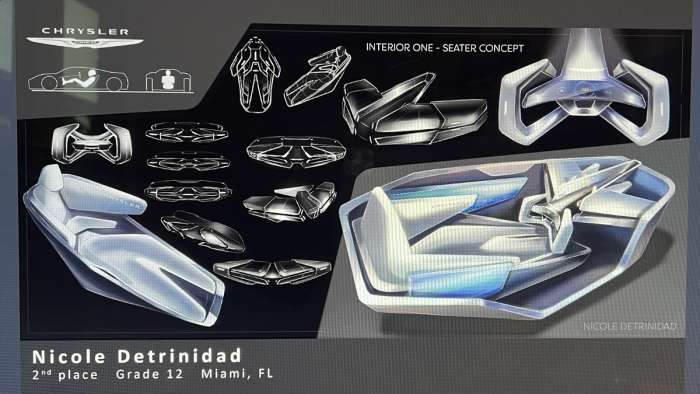 Drive For Design Second Place
The Second Place prize was awarded to Nicole Detrinidad, who is in the 12th grade in Miami, Florida. Her innovative design called for a Chrysler one-seater. Her futuristic sketch likens the vehicle to a Star Wars fighter-type of aircraft. The instrument panel suggests that the vehicle is traveling 132 mph.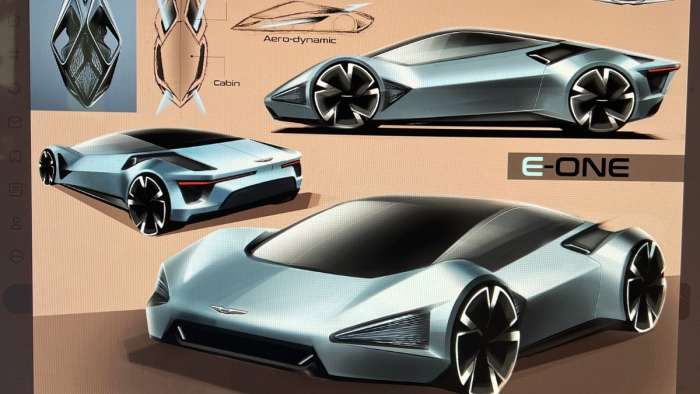 Drive For Design Third Place
The Third Place award goes to James Yi, a 10th grade student from Boyds, Maryland. Yi's design is called the E-One. Yi illustrates why the E-One is aero-dynamic and even outlines where the air intake should be.
Drive For Design Tenth Anniversary
Stellantis Design is celebrating 10 Years of its Drive for Design Contest. This year, the automaker is offering prizes for the top ten designs. Chrysler started the contest a decade ago to get young people interested in the field of automotive design. Every year, the prizes have gotten more expensive and advanced, providing the students the tools they need to further their craft.
The contest is open to U.S. high school students in grades 10-12. They are asked to sketch a vehicle, in this case, a future electric vehicle for the Chrysler brand. Previous contests had the students designing a Jeep, a Ram 1500 and a Dodge.
For the first time, all top 10 winners will be invited to participate in a virtual networking session with Head of Ram Truck and Mopar Design Mark Trostle and professional Stellantis designers who have created some of the most popular vehicles on the road today.
Recruiting Young Designers

The modern Drive For Design contest has been Mark Trostle's pet project. He revived the contest he won as a high school student. Trostle has worked with students and their parents educating them on potential careers in automotive design. Some of those former contestants have landed internships and jobs working inside the Stellantis design studios.
Drive for Design Top Prizes
The three winning artists will receive a virtual day of design with leading designers at Stellantis, Wacom and Apple and a scholarship to attend a four-week summer program at the College for Creative Studies (CCS) in Detroit. The first place winner will also receive a Wacom MobileStudio Pro 16. The second and third place winners will also receive an Apple iPad Pro and Apple Pencil.
Chrysler Photos
Follow Mary Conway at @maryconwaymedia and send her car news tips for future stories.