One creative student sees a future Ram EV as a gathering place for friends. Rocco Morales has won the 11th Annual Drive for Design contest by drawing a vehicle that can be easily transformed into a place with stadium seating and its own deployable canopy. Morales calls his design the Ram Stadion and it creates a new segment of pickup trucks. The Stadion is even designed to carry its own deployable seats for the converted truck bed. Students were asked to design the next-generation EV truck. Ram's first Ram REV BEV is due out in late 2024 as a 2025 model.
Ram Stadion EV Pickup is Grand Prize Winner

Rocco Morales, of Northville, MI, is in 12th grade. Morales' grand prize includes a summer design internship at the Ram Truck Exterior Design Studio and a Wacom MobileStudio Pro 16 tablet. Morales is no stranger to the Drive for Design competition. Morales was also the top prize winner last year and he placed second in the contest two years ago. His Stadion design would be a fully capable off-road machine that could easily transform into a relaxing place to hang out.
"Rocco is clearly a passionate designer with a bright future ahead of him," said Mark Trostle, head of Ram Truck and Mopar exterior design for Stellantis. "It will be great having someone eager to learn and experience a professional design studio."
This year's contest challenged students in grades 10-12 to sketch the next-generation Ram EV truck. The creative submissions revealed brand-new concepts and a glimpse into the minds of up-and-coming designers. Trostle is the guiding force behind the Drive for Design contest. Trostle decided to pursue automotive design after winning a similar contest years ago.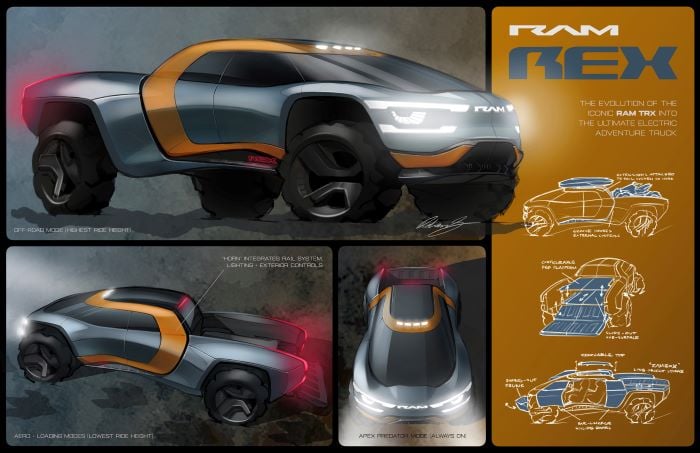 Second Prize Winner Envisions the Ultimate Go-Anywhere Truck
Rohan Seiber, a 10th grader from Portola Valley, California, takes home second place. Seiber's Ram Rex EV truck "reimagines the TRX to be the ultimate go-anywhere, do-anything full-size electric pickup truck," including a configurable bed platform and unique exterior lighting and external rail system. According to Seiber's drawing, the Ram Rex could raise or lower its suspension depending on whether the driver was off-roading or loading the truck bed. The truck's roof would be removable and the frunk would swing out for easier loading.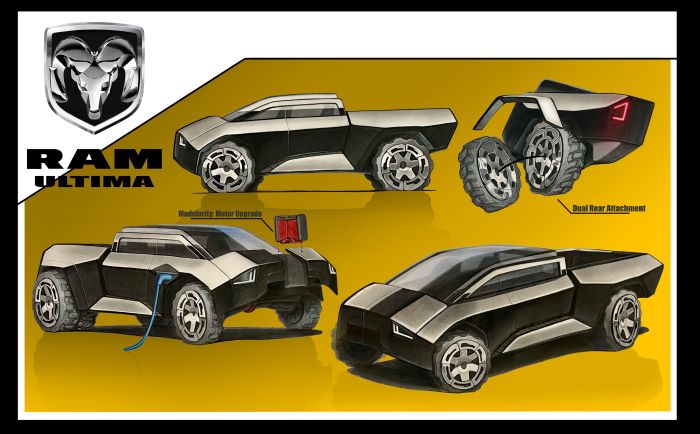 Third Prize Winner Creates a Futuristic Modular Design
Benjamin Miller, an 11th grader from Birmingham, Michigan, rounded out the top-three in this year's contest. Miller's Ram Ultima EV is built around a modular design that would allow the owner to add more power and traction as needed. Miller's drawing even includes the possibility of adding a different motor for more power and adding dual rear tires.
Stellantis Encouraging Future Designers
This is the 11th time that Stellantis, or its previous companies, have sponsored the Drive for Design contest. It encourages high school students to consider or pursue a career in automotive design.
Both Seiber and Miller will be awarded an Apple iPad Pro and Apple Pencil, a Virtual Day of Design portfolio review with members of the Stellantis Design Team and a scholarship to College for Creative Studies' four-week summer program. The College for Creative Studies, in Detroit, is one of the foremost design schools in the country.
"Every year, I am blown away by the creativity and enthusiasm of these students," said Trostle, whose win in a similar high school contest guided his own career path. "It's really difficult to choose a winner because each design is so unique and thoughtful. Our whole team is excited to work with these students, and I'm already looking forward to next year's contest."
To see the top submissions in this year's contest, visit www.StellantisDriveForDesign.com.
Ram Photos
Mary Conway is a professional automotive journalist and has decades of experience specializing in automotive news analysis. She covered the Detroit Three for more than twenty years for the ABC affiliate, in Detroit. Her affection for the Motor City comes naturally. Her father ran a gas station while Mary was growing up, in Wisconsin.
Follow Mary Conway at @maryconwaymedia and send her car news tips for future stories.