This futuristic egg is the result of a collaboration between Airstream and Studio F. A. Porsche, a design firm founded by Ferdinand Porsche in 1972. It's designed from the ground up to be towed behind electric vehicles and aimed at a younger generation of Airstream customers, hence its debut at Austin's South by Southwest (SXSW) festival.
Slammed, Yo
A result of this nod towards a more sprightly buyer; the trailer has the ability to lower its suspension allowing it to fit into the garages of city-dwelling youngsters. I'm not sure how many young city dwellers live in houses with garages, but that's what the press release says. The suspension can also be raised for better off-road abilities, while a pop-up carbon fibre roof increases headroom by a foot and keeps range-sapping weight down.
"Innovation is the art of discovering the possible. Our collaboration with Studio F. A. Porsche brought talented new eyes and minds to our never-ending process of improving the Airstream experience. It's a fresh design approach aimed at reaching a broader, more diverse base of potential customers." - Bob Wheeler, Airstream President and CEO
Porsche Design
Airstream's iconic aluminum siding is front and center, though Porsche has nixed the usual visible rivets to keep drag down. Likewise, units that usually extend outside the trailer and into the wind have been cleverly relocated into the trailer's chassis and interior allowing for a flat and aerodynamic underbelly. Hot water tanks, heating equipment, spare tire and a lithium battery all find homes in a ten-inch high space under the trailer's floor.
Related Story: Camping Off The Grid? Why Subaru Is The Hot SUV Brand This Summer
The trailer's rear wall, flat rather than following the usual Airstream curve for a lower drag coefficient, hinges at the top and bottom to provide a cavernous opening through which caravanners can get closer to their surroundings. Like any good RV the trailer's interior is highly flexible, wearing dining, working and sleeping hats as needed.
The Concept Travel Trailer is just that, a concept, for now, though Airstream says it may make it to production if interest and demand are high enough, or it may simply inform future designs. Either way, it's a cool looking space egg and definitely worth a gander on a Friday afternoon.
Related Story: The Lightship L1 Is A Self-Propelled EV Camper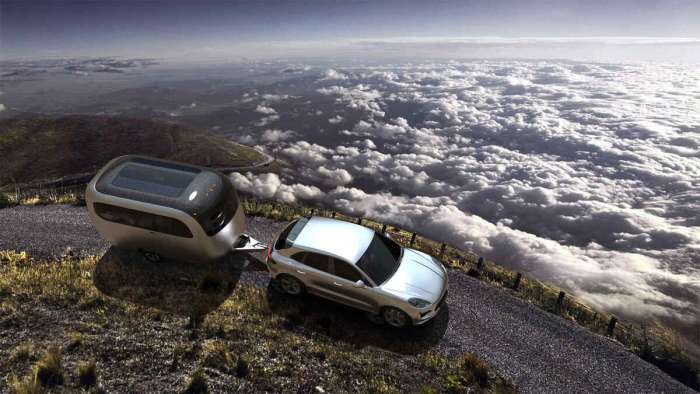 Images by Airstream licensed by CC BY 4.0.
James Walker is an Automotive Journalist at Torque News focusing on Lucid Motors. If it's got wheels he's interested, and he's looking forward to seeing what kind of cars the EV revolution brings us. Whether it's fast, slow, new, or old, James wants to have a look around it and share it in print and on video, ideally with some twisty roads involved. You can connect with James on Twitter, Instagram, and LinkedIn.