Maserati has announced a new track-only special based on the MC20 and free from the rules of both road cars and racing regulations. It's codenamed Project24 and while the MC20's carbon monocoque and twin-turbo V6 remain it's an altogether different beast than the road-going version.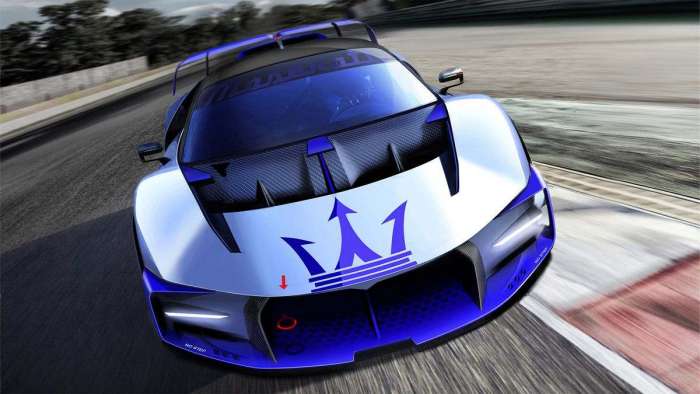 Without needing to worry about tedious things like noise laws and pedestrian safety the MC20's really been let off the leash with an entire catalogue's worth of racing parts and angry new bodywork featuring adjustable wings front and rear. The MC20's Nettuno V6 (Italian for Neptune, cool) finds itself wearing a new pair of turbochargers boosting it from 630 horsepower in road dress to 740 in Project24. Then we get into the racecar bits.
Go-Fast Parts
Starting from the ground up there's the slick racing rubber wrapped around a set of forged 18" aluminum wheels. Inside those center-lock wheels are a set of carbon-ceramic racing brakes made by Brembo. Bespoke suspension suspends it while the Nettuno is mated to a racing clutch and 6-speed sequential gearbox sending power to the rear wheels.
Other racing accoutrements include Lexan front and side windows, on-board air jacks and an FIA-approved rain light out back.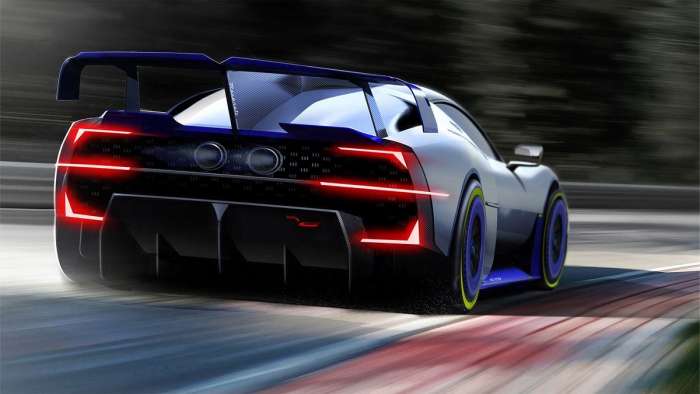 Inside Project24
The interior features a fixed driver's seat with 6-point harness and a moveable pedal box/steering column. The steering wheel, as you might imagine, is all carbon and features a built-in screen to show you useful numbers and tell you whether the racing ABS and traction control is on or off. Optional extras include a passenger seat, telemetry gear, in-car camera, rear-view camera, and "driving performance optimization display."
Crucially (and a major contributor to us already liking the sound of this thing) Project24 comes with air conditioning as standard. Throw all the stiff and uncomfortable racing parts you like at it, but air conditioning remains as a sweet concession to comfort in this angry, laser-focused racing car. It's not for competition (yet) after all, and there's no need to overheat as you hammer in the laps in your million-dollar-plus track toy.
Official pricing hasn't been released yet but that's probably a safe guess as Maserati only plans to build 62 examples of Project24 with each owner treated to "a unique range of services, including track-specific experiences and state-of-the-art support." We can't wait to see this thing hit the track.
Related Story: Maserati Returns To Sports Car Racing With The MC20 GT2
Images by Maserati licensed by CC BY 2.0.
James Walker is an Automotive Journalist at Torque News focusing on Lucid Motors. If it's got wheels he's interested, and he's looking forward to seeing what kind of cars the EV revolution brings us. Whether it's fast, slow, new, or old, James wants to have a look around it and share it in print and on video, ideally with some twisty roads involved. You can connect with James on Twitter, Instagram, and LinkedIn.