The all-new Acura Integra arrives this summer. We just spent a week testing it in the real world and came away convinced it now leads its segment. One of the Integra's many plusses is its price tag. It starts at just $32K. The best one costs just $37K. We decided to contrast the new gas-powered Integra with a battery-driven car its same size, the Tesla Model 3 RWD to see how the two match up cost-wise. We will also run through some of the features of both. Readers may be interested to know that the Integra offers a lot of content you just can't get in the Model 3. Not because Tesla couldn't do it, but because the company simply chose not to. Likely because the car would then be more expensive than its target cost to owners.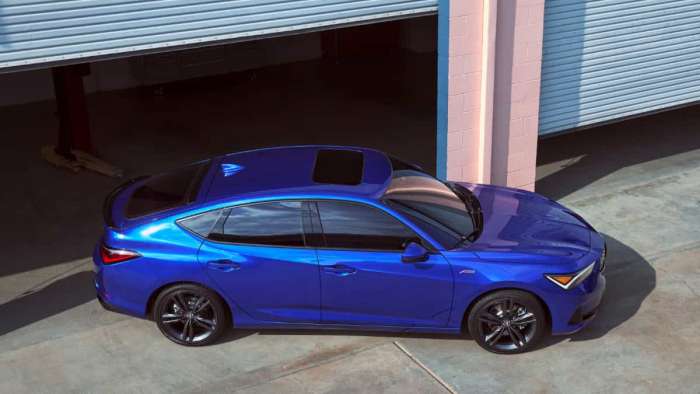 We will do the math for the least and also most expensive trims of the Acura Integra, its Base and its A-Spec with Technology Package. We will stick to the least expensive Model 3, the "RWD." More on that in our pricing section.
The Integra and Model 3 are nearly identical inside in terms of usable space. The Integra has more cargo space. 22 cubic feet compared to the Model 3's 20 cu ft - and that is with its rear seats up. With the Integra's rear seats folded it can accommodate long objects like a bike. Ah, but the Model 3 has a frunk.
Performance-wise, the Model 3 RWD is quicker. It can run from 0-60 MPH in under 6 seconds. The Integra does it in under 7. Neither is what is considered fast by modern standards. Both offer plenty of real-world torque. Like many modern cars, the Integra has its peak torque at just over idle, and the Model 3 as soon as you toe the power pedal. Both are great cars that are very satisfying to drive.
Related Story: Review: 2023 Acura Integra A-Spec - Awesome and Attainable
Tesla Model 3 vs. 2023 Acura Integra - Prices
A base Integra without all of the nifty features has a cost of $31,895. The priciest Integra maxes out at $36,895 with its A-Spec and Technology Packages. Those prices include destination charges but not any dealer markup. We didn't add special paint to the price, but this is the most expensive trim.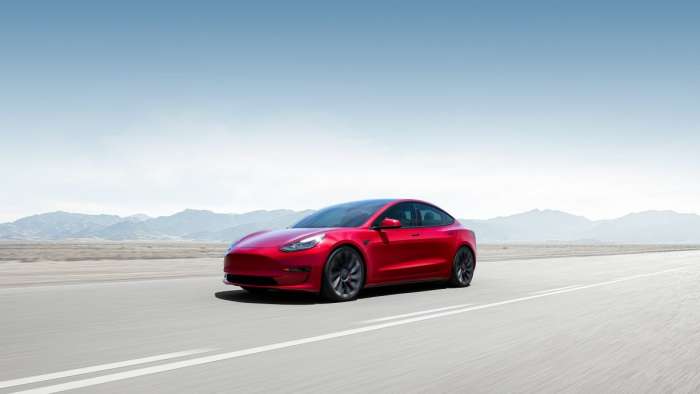 The base Tesla Model 3 RWD has a price including destination and Doc fee plus an ordering fee of $48,440. We deducted the cool wheels to save $1,500 and used the included white color price. To this price, we would add $400 for the wall charger since Tesla no longer includes any charger in the vehicle price. Deduct it if you wish, but without some kind of plug, you can only charge in public, and the cost to do so is higher than our price model will use. So the price of the least expensive Model 3 in our example is $48,840, or $11,945 higher than the top-trim Integra.
Tesla Model 3 vs. 2023 Acura Integra - Maintenance Costs
The Tesla Model 3 requires inexpensive tire rotations about twice per year. It has some other costs as the car ages, but they are minimal. Let's call it $175 per year on average. The Integra will have a higher cost of maintenance, but only after the car is about 30 months old. That's because, like all Honda/Acura products, the Integra includes two years of maintenance in its initial cost.
Tesla Model 3 vs. 2023 Acura Integra - Warranty
The Integra has a bumper-to-bumper warranty lasting four years. Its powertrain warranty last six years or 70K miles. The Model 3 has a superior warranty package of the same bumper-to-bumper coverage, but a powertrain warranty that lasts eight years or 100K miles.
Tesla Model 3 vs. 2023 Acura Integra - Features Contrast
Tesla cars have a long list of novel features. The owners know them well. Sentry Mode is one of them. You get that with the Model 3 RWD in our contrast here. However, you won't get Full Self-Driving (FSD). It costs an added $12K. The Model 3 also has keyless operation and the nifty frunk we pointed out above.
The Integra A-Spec with the Tech Package has a lot of stuff you don't get in a Model 3 RWD. For example, microfiber suede seat material, wireless Android Auto and Apple CarPlay, a head-up display, and the ELS Studio sound system. The Integra also has a volume knob the passenger can reach. Neither car has a spare tire. Both offer lane-keeping driver assist technology combined with adaptive cruise control.
One really big difference between the Integra and the Model 3 is the way their powertrains operate. The Integra offers an automatic, but also offers a stick shift. Many shoppers still like to shift a car.
So, how does the cost matchup look? We created two charts to give readers an understanding of the costs at two points in time. Three years, and 10 years. The EPA provided the energy cost data, we estimated the maintenance costs using $87.50 each for the Model 3's tire rotations at 6,250 miles, and we used $175 for the oil change and tire rotation the Integra would need each half-year. Remember, the Integra includes the first 24 months of maintenance.

As you can see, the Tesla Model 3 RWD has the advantage in this contrast example. The least trim of the Integra is more costly over the first three years than the Model 3 RWD in its most affordable configuration.
Here is the 10-year comparison. We will use a 70% depreciation rate for the example. We will guestimate the Integra's maintenance cost and add $1,200 to each model for one set of tires:

In our ten-year contrast, you can see that the battery-electric vehicle's lower cost of energy really has a huge impact on the total cost of ownership. The Model 3 RWD beats both the Integra Base and Integra A-Spec Technology Package in total cost of ownership. We have not included insurance costs, but even if the Model 3 was 10% higher, we still think the outcome would be about the same.
Conclusion: The Spread Surprised Us
The only surprise here is that the Model 3 beat the base Integra. We had guessed the lower entry price of the Integra would give it an edge in the three-year cost of ownership calculation. It did not. When we first heard that the new Integra was coming to market, we wrote an opinion piece saying that we hoped it would come with a plug-in hybrid-electric powertrain. This cost overview explains why we had that wish.
What do you think of our contrast story matching the BEV Model 3 RWD against a new ICE Integra? Tell us in the comments below.
Cost chart contrasting Acura Integra to Tesla Model 3 by John Goreham. Image of money by John Goreham. Integra image courtesy of Acura.Tesla image courtesy of Tesla, Inc.'s media page.
John Goreham is a long-time New England Motor Press Association member and recovering engineer. John's interest in EVs goes back to 1990 when he designed the thermal control system for an EV battery as part of an academic team. After earning his mechanical engineering degree, John completed a marketing program at Northeastern University and worked with automotive component manufacturers, in the semiconductor industry, and in biotech. In addition to Torque News, John's work has appeared in print in dozens of American news outlets and he provides reviews to many vehicle shopping sites. You can follow John on TikTok @ToknCars, on Twitter, and view his credentials at Linkedin
Re-Publication. If you wish to re-use this content, please contact Torque News for terms and conditions.