A new study conducted by iSeeCars.com has found that although the average new car is still selling at above MSRP, some vehicles are seeing discounts. We need to emphasize that these are national averages. In areas where green vehicles are now the de facto first choice, these averages may not be meaningful. There are still dealers marking up green vehicles.
The average new car is selling for about 8.5% above its sticker price. Manufacturers bailed out during the 2010 crisis don't have the power to control their franchised dealers, and dealers who received forgiven PPO loans just a year or two ago don't seem to feel any pressure to do the right thing by the buyers who saved their companies from bankruptcy.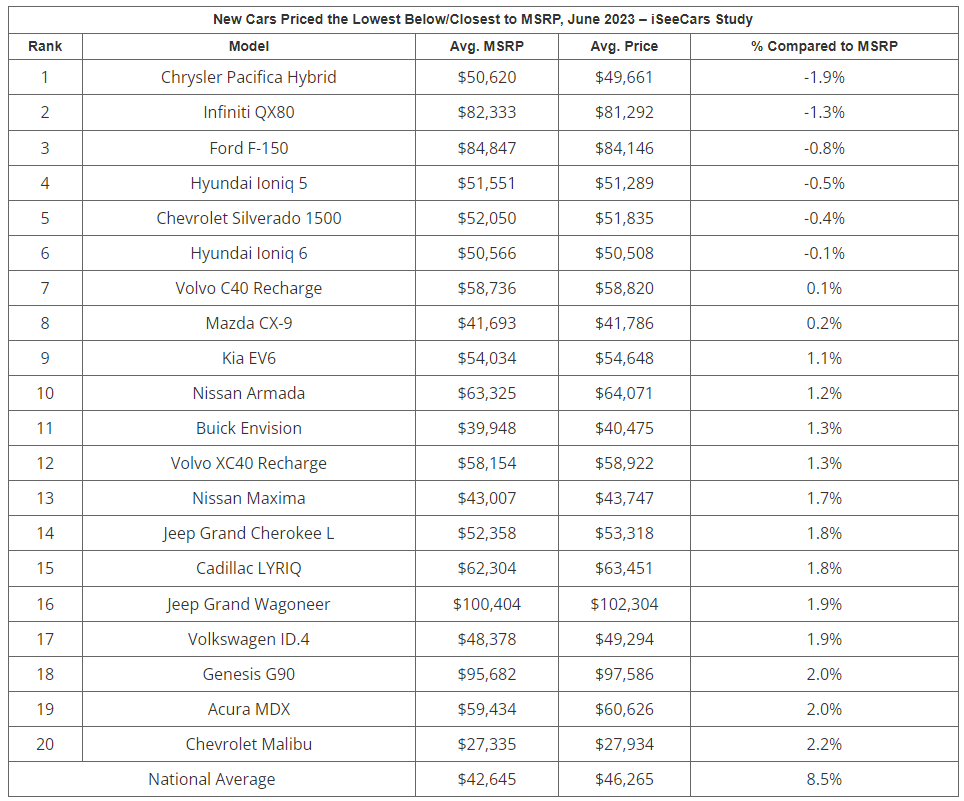 "New car prices are holding up surprisingly well given the overriding economic factors impacting consumers today," said iSeeCars Executive Analyst Karl Brauer. "We're seeing some slight moderation, but the average new car asking price is still more than 8 percent above MSRP, confirming strong ongoing demand for new vehicles."
What Torque News found most interesting in the study is that there are now green vehicles, including plug-in hybrids, hybrids, and battery-electric vehicles, that are selling below MSRP (on average). These include the Ford F-150 Hybrid, Chrysler Pacifica Hybrid (PHEV), Hyundai Ioniq 5 (BEV), and the Hyundai Ioniq 6 (BEV). Volvo's C40 Recharge nearly made the list as well, with its price being just about spot on MSRP.
"It's telling that four of the six vehicles priced below MSRP are hybrids or electrics," said Brauer. "We know the Inflation Reduction Act removed the $7,500 credit for the Ioniq 5 and Ioniq 6 because they aren't built in the US. This dramatically impacted their sales and, apparently, forced dealers to price them aggressively. And relatively stable gas prices over the past several months has reduced interest and demand for hybrids like the Pacifica and F-150. We've seen similar pricing shifts on the used side, with our last used car pricing study showing electric vehicles dropping by 30 percent in value."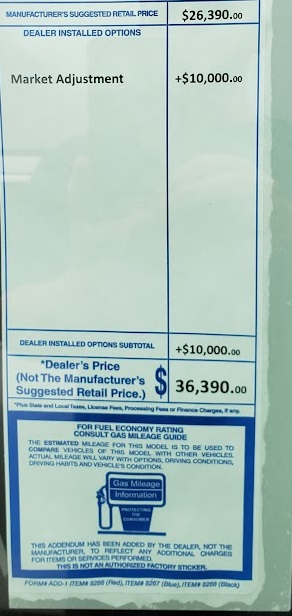 Torque News took to the road to see how Metro Boston green vehicles were fairing. We found some markups on green vehicles. For example, both the Ford Mustang Mach-E and Ford Maverick Hybrid continue to have five-digit markups over MSRP by dealers in this green state. 
Those looking for a deal on a car, crossover, or truck may find it in the used vehicle market, which is softening much more rapidly than the new vehicle market. A recent study found that many used vehicles, including popular Tesla models, have dropped in price dramatically. 
You can view the full study here. 
John Goreham is an experienced New England Motor Press Association member and expert vehicle tester. John completed an engineering program with a focus on electric vehicles, followed by two decades of work in high-tech, biopharma, and the automotive supply chain before becoming a news contributor. In addition to his eleven years of work at Torque News, John has published thousands of articles and reviews at American news outlets. He is known for offering unfiltered opinions on vehicle topics. You can follow John on Twitter, and connect with him at Linkedin.
Image of 2023 Hyundai Ioniq 5 by John Goreham. Chart of new vehicle prices courtesy of iSeeCars. Image of dealer markup price by John Goreham.