If you are shopping for a Mazda, no doubt you have noticed that one of its very best color offerings is Soul Red Crystal. This color is so brilliant and offers such depth of color you may expect to find it on one the world's most expensive automobiles, but in fact, you can get it on a new 2023 Mazda3, CX-30, CX-5, CX-50, or Miata starting at around $30K. We think the color is Mazda's best. However, we wish to offer Mazda shoppers some advice based on our experience and also our research. 
Related Story: Every New Vehicle Owner Convinced Their Model Has Defective Windshield and Roof Glass
Your author's personal household fleet includes a 2018 Mazda CX-5 with Soul Red Crystal paint. The vehicle has 60,000 miles on it, and our opinion is that it is normal in terms of stone chip damage. This vehicle has been used as a commuter car during the work week, with a commute of over 30 minutes on the highway for five years. Here in Metro Boston, we sand and salt the roads with gusto nine months of the year. Our vehicle has held up well in this extreme environment (for paint). We have only waxed the car one time. Here is a recent image of our five-year-old 2018 CX-5 next to a brand new CX-50 both with Soul Red Crystal paint. Where is the horrible paint damage on the five-year-old CX-5?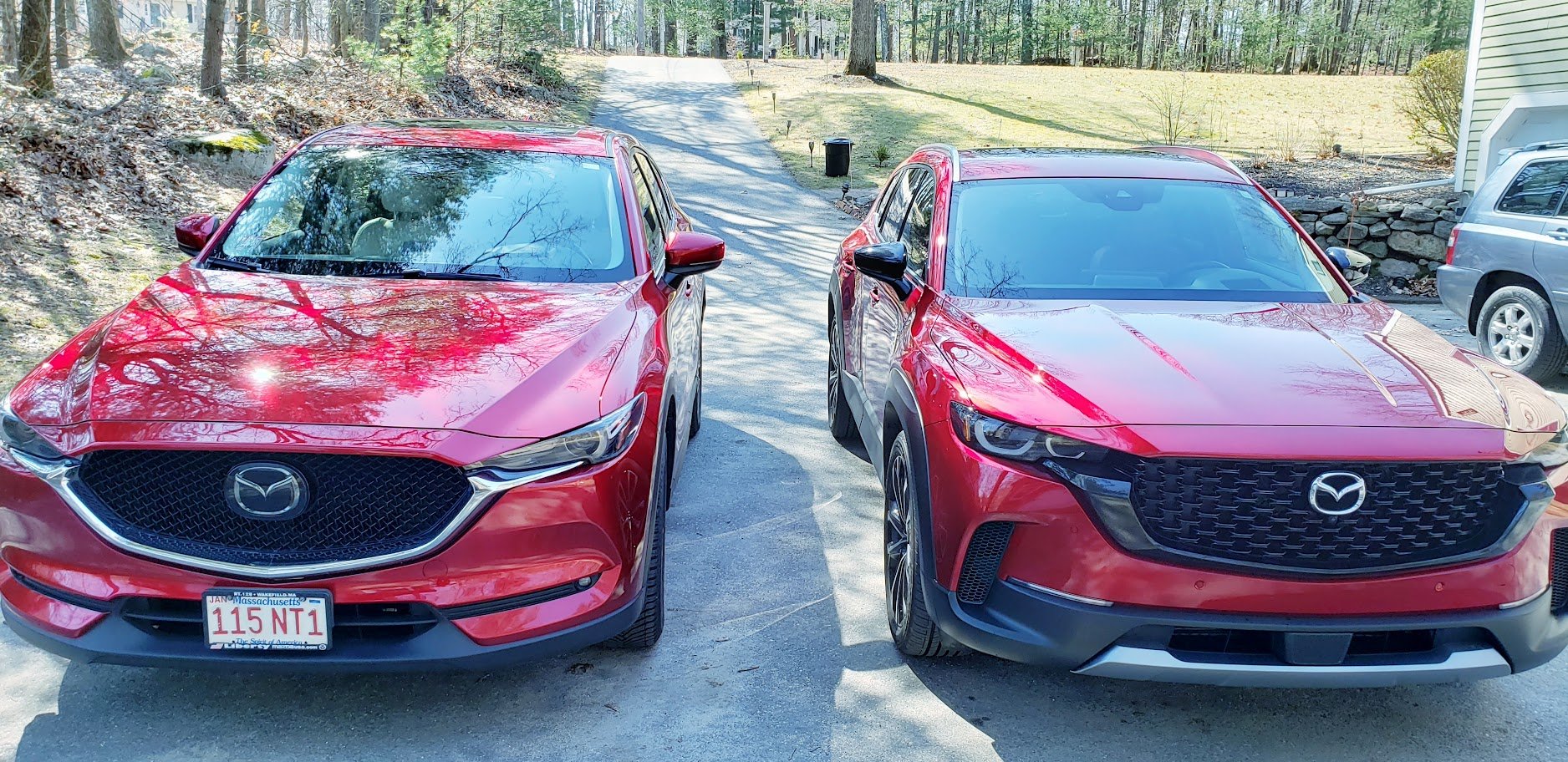 Mazda Soul Red Crystal - That  Scary Image
Circulating on the interweb is an image of a Mazda crossover with Mazda Soul Red Crystal paint. All over the front and sides are white circles, apparently indicating locations of damage. Our view of the image shows no stone chips visible. We don't doubt if you stand close in perfect light and look at the car when it is clean, there are many chips. So what? That is true of every car in every parking lot in New England. How do dozens of small circles with a grease pen illustrate anything? Our advice is to be wary of any such intentionally scary images. They are intended to make the car seem terribly paint damaged, and it may not be. 
Mazda Soul Red Crystal - Durability
If you visit any Mazda vehicle club online, you will no doubt run into some unhappy owners of Mazda vehicles with Soul Red Crystal paint. The general complaint is that the paint suffers from chips and dings. Angry owners wish to give you the impression that the paint is unusually thin, weak, brittle, defective, or in some other way less than perfect. While we think their opinions are as valid as anyone else's, we do not agree with the premise. We have not seen any convincing facts that show this paint to be universally defective. On the contrary, we see Mazdas with Soul Red Crystal in public all the time, which look splendid. 
Cars with dark colors and also red, if you consider red a dark color or not, show their paint chips more than cars that are lighter in color. The reason for this is that the underlying primer over the bare paint is normally light in color. Sort of white, off-white, beige, or silver in appearance. When the dark color suffers a chip due to a stone impact or some other reason, the underlying paint shows up much more than on a white, silver, champagne, or beige car. 
Enthusiasts know this, and it has nothing to do with Mazda in particular. Black is a color most shoppers will avoid who wish to preserve the look of their daily-driven car. Anyone with any ownership experience knows that stone chips show up more noticeably on cars with dark paint. 
Mazda Soul Red Crystal - Winter Road Grime
Colors like red, black, and dark shades of brown, green, and blue show the salt and dirt from roads more than cars painted silver or white. If you live in an area with winter salting, perhaps a dark red is not for you? If you are bothered by a car looking dirty for months at a time, we suggest another lighter color than Mazda Soul Red Crystal. Buy one that is the color of dirt and stone chips.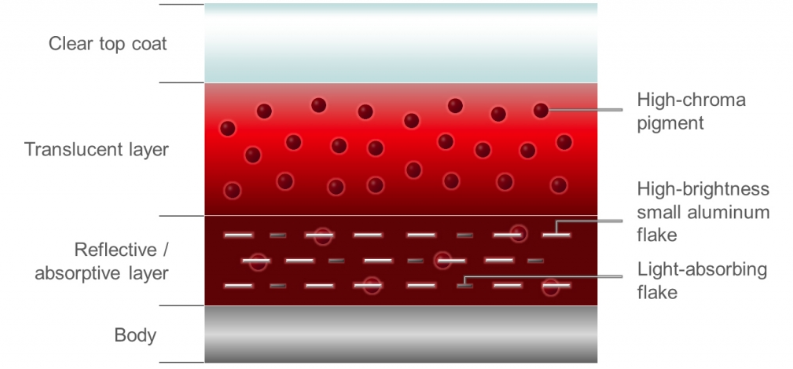 Mazda Soul Red Crystal - How Is It Different From Other Paint Colors
Mazda says that during the development of Soul Red Crystal, the company "reinvented the painting process." In a newly developed process called, Takuminuri, which translates to English as "artisan coloring," robots were effectively taught to replicate the techniques of Mazda's best painting craftsmen. The paint is applied in three layers. The first layer is the reflective/absorptive red layer. This layer includes both high-reflectivity alumina and light-absorbing flakes. Next is the translucent red layer. It contains high-chroma pigment. Over top of these two layers is a clearcoat like that found on any other Mazda color, which is not meaningfully different from the clearcoat on most modern vehicles.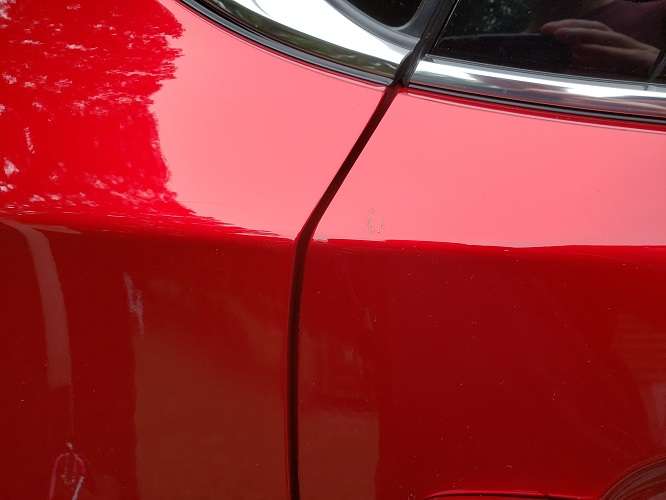 Mazda Soul Red Crystal - How Does One Touch It Up?
The typical way that owners deal with stone chips is to use a bottle of touch-up paint. A chip is prepared, daubed with a mono-color of the matching paint, and it looks decent from a distance. This doesn't work well for Mazda Soul Red Crystal. The company has a special touch-up kit with multiple steps. We have tried it with mixed results. Can you see the deep scratch in the image above taken after our DIY repair? The honest assessment is that Mazda Soul Red Crystal does touch up as well as plain colors like blue, silver, and black we have touched up. Read our story below for details and a video.
Touch Up Mazda's Special Soul Red Crystal Metallic Paint - Here's How
Mazda Soul Red Crystal - Will Ceramic Coating Keep It From Chipping?
Ceramic coating has many benefits. Among them is the ability to help keep your car clean and make it easier to wash. Ceramic coatings can help prevent etching due to bird droppings and chemicals. Not among the benefits of ceramic coatings is protection from paint chips due to stone impacts. Also, swirls and scratches from automatic car washes are not prevented by ceramic coatings. Sorry to be the bearer of bad news. 
Mazda Soul Red Crystal - How Can You Protect It?
One way to help prevent stone chips and dings is to use a clear film over the leading edge of the front of your car. Clear bras have been in use for decades. They work. However, they also reduce the attractiveness of your car, and despite claims to the contrary, taking films off after ten years or so is all but impractical. In some areas, they end up heat damaged and look lousy after many years of usage. This is based on our experience with multiple brands of films in Massachusetts and Florida. 
A coat of carnauba wax is always a good idea. There are many "nano this and that" car polishes and waxes on the market today. All of them promise the moon and more. We've had better luck with carnauba waxes properly hand-applied. The downside to wax is it lasts about six to 12 months and needs re-application. No wax will stop a stone chip. Wax does help prevent minor scratches and etching.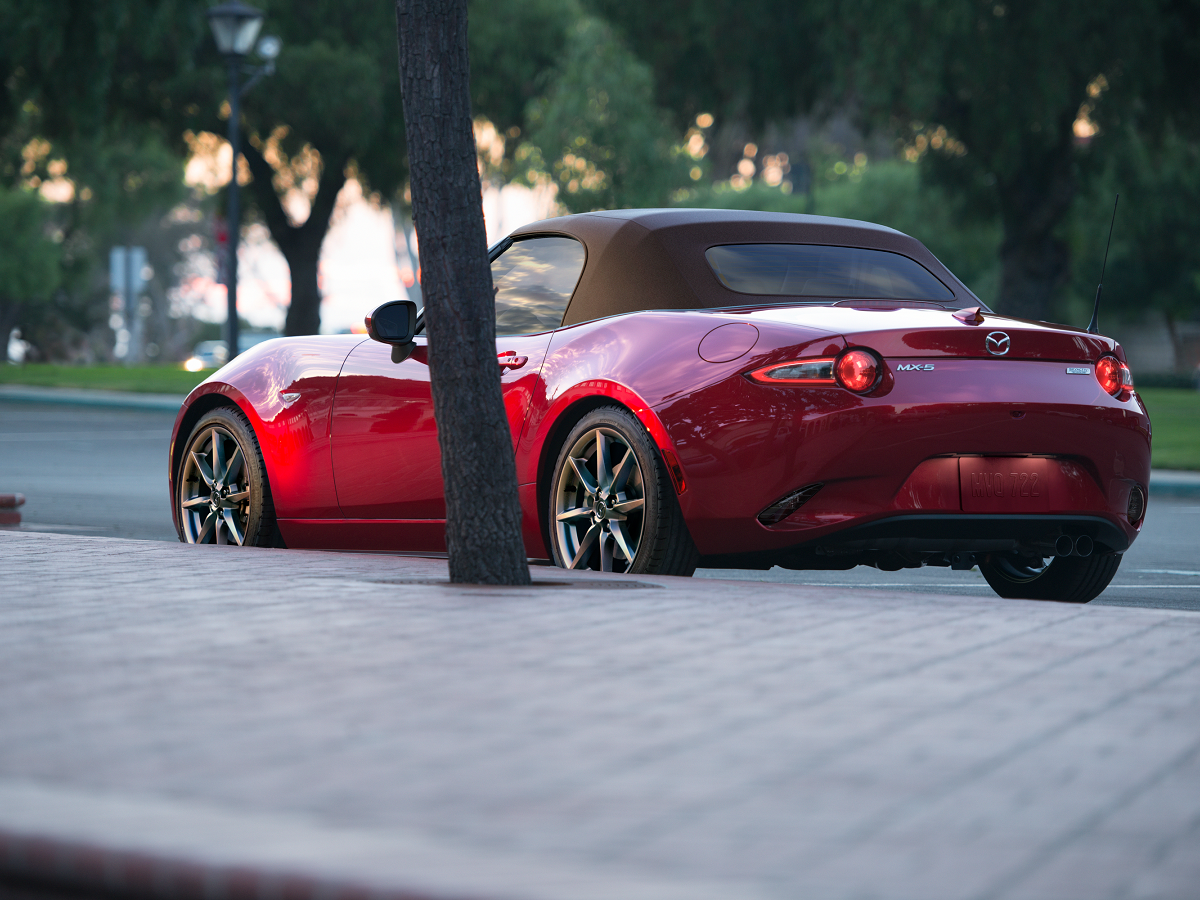 Mazda Soul Red Crystal - Conclusion
If you are buying a Miata for weekend use in nice weather, Mazda Soul Red Crystal is a no-brainer. If you are buying a Mazda crossover for winter commuting where salt and sand are liberally applied to roads, think twice. If you are a perfectionist who plans to try to keep a car looking showroom-perfect for its entire life, we offer our condolences. Daily drivers suffer paint damage, and nothing can be done to prevent it effectively. Perhaps a silver color may suit you better?  
Author note: If any of our plain-spoken opinions here cause our readers distress, we apologize. That is not our intent. We realize that there are unhappy Mazda customers who feel that the paint on their car is defective, and that may be true. We just have not seen any evidence to convince us it is a widespread or ongoing issue. 
More Paint Stories:
Toyota Extends Warranty On Peeling White Blizzard Pearl Camry, 4Runner, Corolla, Avalon, Scion, Lexus GX - Details Here
Honda Dealer Gives Great Customer Service By Fixing Accord Paint Peeling Problem
John Goreham is an experienced New England Motor Press Association member and expert vehicle tester. John completed an engineering program with a focus on electric vehicles, followed by two decades of work in high-tech, biopharma, and the automotive supply chain before becoming a news contributor. In addition to his eleven years of work at Torque News, John has published thousands of articles and reviews at American news outlets. He is known for offering unfiltered opinions on vehicle topics. You can follow John on Twitter, and connect with him at Linkedin.
Graphic of Soul Red Crystal paint courtesy of Mazda. Images of CX-5, CX-50 and CX-30 by John Goreham. Miata image courtesy of Mazda. Image of Mazda Soul Red Crystal paint touch up by John Goreham.