Battery-electric vehicles with five seats and a long-wheelbase skateboard platform are all the rage. You can now purchase one from Jaguar, Ford, BMW, Mercedes-Benz, VW, Tesla, Subaru, Toyota, Kia, Hyundai, Nissan, and some other brands. The die has been cast for this segment now, and many aspects of these vehicles are the same. Massive torque. Available all-wheel drive. Novel screens. Open concept interiors due to the flat floor. No spare (with the exception of Jaguar). Big price tags. What are the differences? Well, many as we are finding out.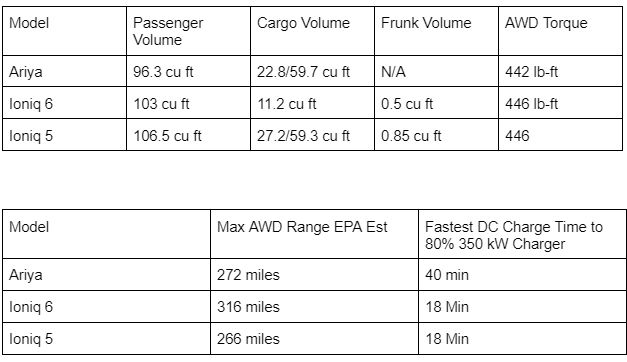 Nissan Ariya vs. Hyundai Ioniq 6 - What Are They?
Both Nissan Ariya and Hyundai Ioniq 6 are battery-electric vehicles with high-torque electric monsters. We tested the AWD versions with the larger battery option in both cases. Although they have similarities, the Ariya is a crossover with a four-door hatchback body. The Ioniq 6, by contrast, is a sedan. If you want a hatchback, Hyundai also makes the Ioniq 5, a very similar vehicle to the Ioniq 6 in that body style.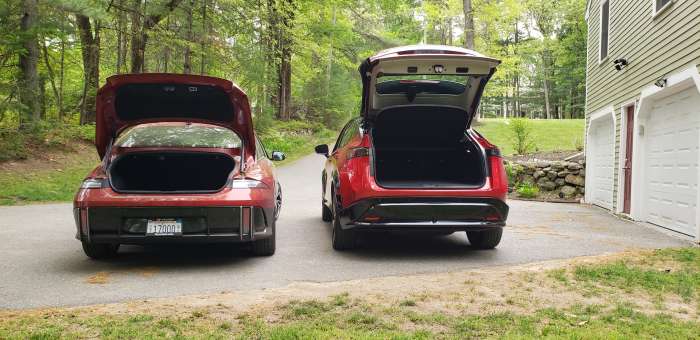 Nissan Ariya vs. Hyundai Ioniq 6 - How Do They Feel When Driven?
The Ioniq 6 loves to play. If feels peppy all the time. Even in Eco mode, the power delivery is adequate. Being a sedan and relatively low to the ground, the Ioniq 6 also feels fun in turns. We drove the Ioniq 6 every minute we could when we tested it. Long country drives in the Ioniq 6 are a joy.
The Ariya is more of a worker bee. It has the hatch, so it's got gobs more cargo capacity. It's higher up, so its handling is not that of a sporty sedan. Rather it feels sort of…solid. It is not a vehicle that you want to drive just for the sake of it, but it is quite nice on errands and commutes.
When we needed to make a transfer station run with some bulky items, we were glad we had the Ariya. If you are taking the family away for a weekend, you will want the added cargo capacity or sure. Sedans just don't have the utility crossovers with hatches do.

Nissan Ariya vs. Hyundai Ioniq 6 Infotainment
When we first tested the Ioniq 5 a year ago, we were impressed with its long rectangular screens. The Ioniq 6 has the same ones, as does the Kia EV6, as does the Genesis GV60. And shockingly, the Nissan Ariya appears to have an almost identical setup! Was someone peeking over the Hyundai designer's shoulder?
All of the models mentioned above have a good infotainment setup, but not great. None of them offer wireless Android Auto, something you can get in a $22K Hyundai Elantra.
Living Electric
The Hyundai can charge about 20% faster when connected to a 48-amp home level 2 charger. Its internal onboard battery charger is more robust. At a 350kW DC fast charger the Hyundai is also a lot faster. Like twice a fast to charge from about 10% to about 80% state of charge. Does it matter to you how fast your EV charges? We never had any trouble with either in this regard.
Nissan Ariya vs. Hyundai Ioniq 6 - Prices and Warranty
Speaking of prices, you had better sit down. The fully-equipped Ariya we tested had a sticker of $62,770. The Ioniq 6 came in at $57,425. These prices are before dealer doc fees, dealer-added content, and dealer markups. Both brands offer three years of included maintenance and a 100K battery warranty.

So Which Would You Choose?
We find both to have their merits. The Ariya offers more flexibility as a utility vehicle. The Ioniq 6 is more fun to be behind the wheel of on a lonely open road. Tell us which you would opt for at the $60K price point.
John Goreham is an experienced New England Motor Press Association member and expert vehicle tester. John completed an engineering program with a focus on electric vehicles, followed by two decades of work in high-tech, biopharma, and the automotive supply chain before becoming a news contributor. In addition to his eleven years of work at Torque News, John has published thousands of articles and reviews at American news outlets. He is known for offering unfiltered opinions on vehicle topics. You can follow John on Twitter, and TikTok @ToknCars, and view his credentials at Linkedin
Image of 2023 Hyundai Ioniq 6 and Nissan Ariya by John Goreham