Back in May of this year, Torque News began a long-term test of Michelin's newest touring tire, the Defender2. This all-season tire is ideal for sedans, coupes, and crossovers. We mounted the tires to a beloved 2006 Honda Accord EX-L V6 sedan. It has turned out to be an ideal pairing for many reasons. We won't delay our update summary: The tires are perfect for this type of vehicle. Here is a breakdown of three aspects of the tire experience we have been tracking closely.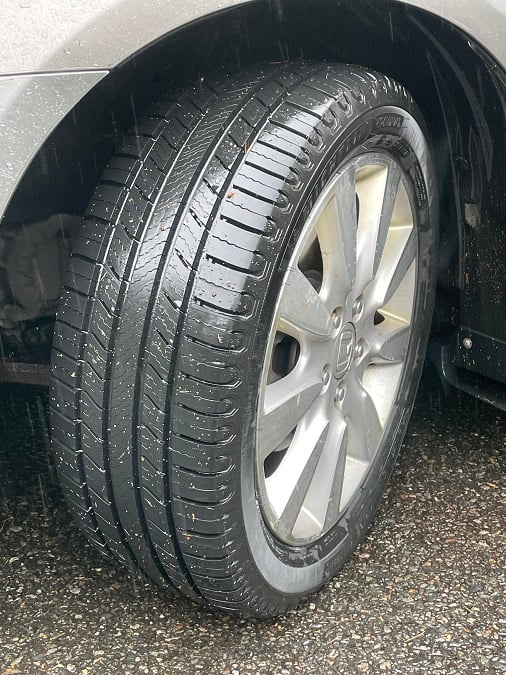 Michelin Defender2 Tires - Non-stop Rain Performance
In New England, wet weather is normal for May. However, since we began our test, it has rained almost non-stop in New England. Here in Boston, where our tires call home, the rain has been relentless and heavy. We lucked out having the opportunity to test this new tire model, but in particular, the tire may well have saved us from disaster.
Related Story: Michelin CrossClimate2 Tire Review Conclusion - The New 4-Season Standard
The Defender2 is an outstanding wet-weather tire. The Accord V6 is a very quick car, and it has ample torque. The Defernder2 tires have provided excellent wet-weather acceleration grip. Past tires we have had on the vehicle would often spin a bit when we'd start off, say in a quick traffic merge. Not the Defeder2s. They have a good hold on wet roadways. 
The tires are new but broken in now, and on flooded highways and secondary roads, we have had no issues with hydroplaning. We will credit the ample circumferential tread grooves and significant lateral notches for this tire's great wet-weather capabilities. 
Michelin Defender2 Tires - Mileage
Over the past three months, the Accord has covered over 3,000 miles in a combination of Boston traffic and long road trips. We've kept track of our mileage and have seen no departure from the car's past mileage. The Accord has always exceeded its EPA estimates by a smidge and, with the new tires, has continued to do so. 
Michelin Defender2 Tires - Quiet Ride
Touring tires should be quiet, and we had a pretty high bar set for the Michelin Defender2s to reach. We can confidently say the tires are as quiet as any this vehicle has worn. On long highway road trips out of state, the tires are easy to take for granted as we listen to the audio system or just chill. There is no detectible tire noise from the tires at all. 
Michelin Defender2 Tires - Three-Month Update Summary
In our initial report, we covered a lot of the facts and figures related to this test. If you want pricing and tire specs, check out our prior story. At this stage in the test, we are now happy to report no bad habits and a lot of good signs. The Defender2s offer the comfort and handling one would expect from a touring all-season tire, and they seem to be better than one might expect in wet weather. It is not uncommon for mileage to dip a bit when old, worn tires are removed and slightly heavier full-tread tires are put on, but we have not seen a measurable change in our mileage. Best of all, the Defender2 tires offer a very quiet ride, which we appreciated on multiple road trips. Watch Torque News for a fall update on snowy weather performance. 
Test Notes: The tires used in this long-term test were provided by Michelin. The author paid out of pocket to have them mounted and balanced. As is our standard practice with all of our automotive product tests, we have offered to return them when testing is concluded.
Images of Michelin Defender2 tire by John Goreham
John Goreham is an experienced New England Motor Press Association member and expert vehicle tester. John completed an engineering program with a focus on electric vehicles, followed by two decades of work in high-tech, biopharma, and the automotive supply chain before becoming a news contributor. In addition to his eleven years of work at Torque News, John has published thousands of articles and reviews at American news outlets. He is known for offering unfiltered opinions on vehicle topics. You can follow John on Twitter, and connect with him at Linkedin.