Mercedes-Benz is well underway in its rollout of the new EQ line of battery-electric vehicles. Most are built on a new roller-skate platform, just like every brand's new EV line is. One that isn't is the five to seven-passenger EQB350 SUV. It shares its platform with an existing vehicle. SUV buyers who may actually purchase an attainable Mercedes-Benz BEV in the near future or who are considering a Tesla Model Y may want to read what we have to say about this new vehicle.
What Is an EQB350 4Matic SUV?
The EQB350 is an AWD SUV that uses only electricity, so it's a battery-electric vehicle (BEV). It is about the size of a Tesla Model Y. Since it isn't huge and isn't priced out of reach for premium vehicle shoppers, the EQB350 is ideally-sized for a large volume of sales. As opposed to six-figure ginormous EV sedans, which barely sell in America.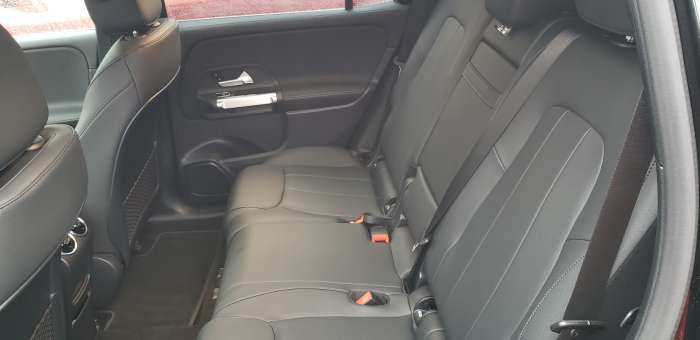 What Does a 2022 Mercedes EQB350 4Matic Cost?
Our biggest surprise was the price tag. The top-trim 2022 EQB350 4Matic we drove had an as-build price of $59,350, including destination and delivery, but excluding any added dealer charges (which can be substantial). That price makes the EQB350 less expensive and better equipped than a base Tesla Model Y, the highest-volume premium-priced fully-electric crossover in America today.
Related Story: We Drive and Compare the Tesla Model Y vs. Ford Mustang Mach-E - You Pick A Winner
How Does the 2022 Mercedes EQB350 4Matic drive?
The EQB350 4Matic is fast. With 384 lb-ft of torque, it pulls like a muscle car off the line, and with almost 300 hp, it is able to maintain a rapid pace if you wish.
It is also very nimble. We drove it in city and suburban situations and found it a blast to be behind the wheel of. We sampled three other EQ cars from the brand that day, and this was by far our favorite, despite having a price tag of about half that of the others. The ride quality felt superior to how we remember the (too-stiff) Tesla Model Y feeling.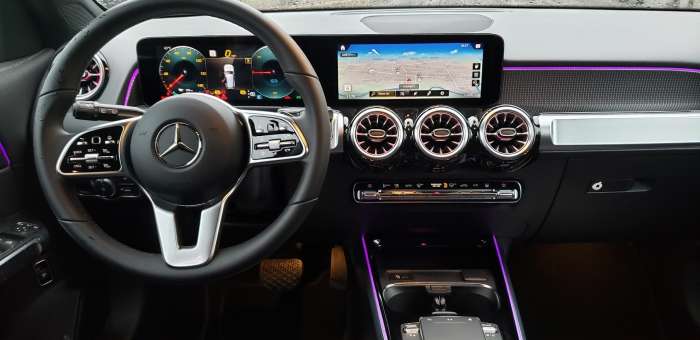 2022 Mercedes EQB350 4Matic - Perceived Quality and Luxury
Inside, the EQB350 is luxurious and well-appointed. It feels like a luxury vehicle. The infotainment system isn't the whiz-bang 56-inch display some other $100K+ EQ cars get, but it seemed good nonetheless. Android Auto and Apple Car Play are there, which you can't get in a Tesla.
2022 Mercedes EQB350 4Matic - EV Numbers
The EQB350 4Matic SUV has an EPA-estimated range of 227 miles (keep reading for more on range). DC Fast Charging capability is standard, and driver-adjustable regenerative braking is included. We looked up its annual energy cost and found that it is within $150 of Tesla's AWD Model Y annual cost. Mercedes includes 2 years of routine service in the price, and the battery warranty is 8 years or 100K miles. All the numbers add up to success.
2022 Mercedes EQB350 4Matic - No Spare Tire, But…
We asked a representative from Mercedes-Benz if any EV they built has a spare tire, and the answer was "no, but…" Run-flat tires are a customer choice if preferred. So, at least there's that. Tesla doesn't offer spare tires or run flat tires.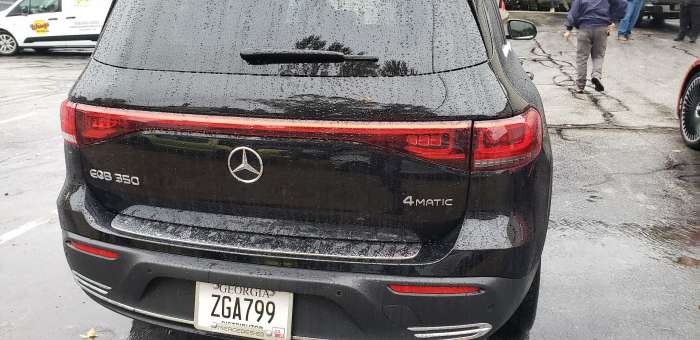 EQB Line - Seating, Powertrains, and Range
According to Mercedes-Benz, the EQB can be optioned up to be a 7-passenger vehicle (just like the Model Y). The added two rear seats are for children (just like the Model Y). The EQB line will be offered with two powertrains, one being less expensive than the vehicle we tested, and a longer-range version is also coming, but specs have not yet been announced.
Mercedes-Benz EQB350 4MATIC Battery-Electric SUV Conclusion
Based on our limited exposure, the EQB350 4MATIC seems like a great SUV with the potential to satisfy a wide audience. If Mercedes had this line right now, it could be shipping as many out the door as it wished, just like Tesla does its Model Y. There seems to be no end to consumer demand for attainable luxury BEVs in the under-$60K price segment. Watch Torque News for a more complete review of this exciting new BEV.
Images of 2022 Mercedes Benz EQB350 4MATIC by John Goreham.
John Goreham is a long-time New England Motor Press Association member and recovering engineer. John's interest in EVs goes back to 1990 when he designed the thermal control system for an EV battery as part of an academic team. After earning his mechanical engineering degree, John completed a marketing program at Northeastern University and worked with automotive component manufacturers, in the semiconductor industry, and in biotech. In addition to Torque News, John's work has appeared in print in dozens of American news outlets and he provides reviews to many vehicle shopping sites. You can follow John on TikTok @ToknCars, on Twitter, and view his credentials at Linkedin
Re-Publication. If you wish to re-use this content, please contact Torque News for terms and conditions.