Genesis GV60 Performance - What Is It?
The Genesis GV60 is a compact crossover or midsized five-door hatchback car depending on how you define the terms. Either way, it's awesome. Fewer and fewer of our favorite vehicles fit squarely into old definitions anymore, and we think it's great that Genesis is bending the rules. Yes, the GV60 is an electric vehicle, as all the world's best vehicles are today.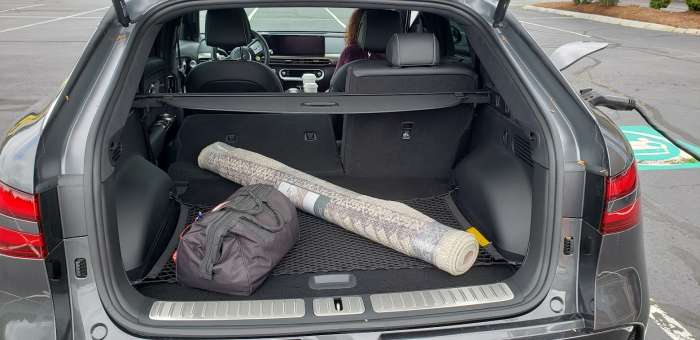 The GV60 is roomy for five and has a generous cargo area that can expand to fit large items when the rear seats are folded. It is a luxury vehicle with the amenities one should expect, and with novel tech features we've never seen on any other model.
Genesis GV60 Performance - What Is Its Price, Warranty, and Included Maintenance
Every person who we showed the GV60 to guessed it would be priced around $100K, but in fact, the GV60 starts at about $60K. We tested the up-powered Performance trim which had a price including the special paint and Genesis' freight charge of $69,560. The GV60 line qualifies for a federal income tax incentive of $7,500 and may also qualify for state and local EV incentives depending on your location. Once the tax incentive is applied, Tesla doesn't have any crossover model priced at the GV60's low price point. Which we find interesting.
No brand has a better package of warranty and included maintenance than Genesis. The vehicle comes with a three-year included maintenance plan complete with valet service. In addition, its warranty spans ten years or 100,000 miles. Coupled with the reliability ratings that Genesis has recently earned, it is easy to call Genesis the top "quality" brand in the world today.
Genesis GV60 Performance - What Powers It?
The GV60 Performance features two 160kW motors that deliver over 500 lb-ft of torque and up to 483 hp. A Boost button augments the Sport mode by giving the GV60 a firm kick in the pants when you want to play Speed Racer.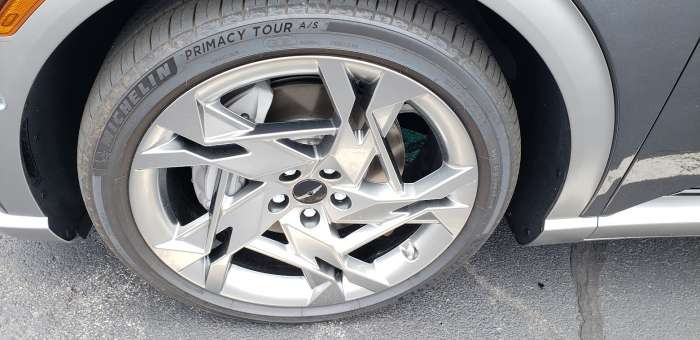 Genesis GV60 Performance - How Does It Drive?
The GV60 Performance has more real-world power, speed, and torque than anyone will ever be able to put to use on public roads. It is a scorchingly-fast car when in Sport Mode or when the Boost button is pushed. It simply flies off the line, and when underway can push a passenger back in their seat to the point that it may actually make them scared. The AWD system is needed just to put the power down.
The GV60 is set up to be an on-road luxury performance car. It feels great in traffic, in turns, or on the highway. Like all EVs, it is not a track car due to its weight, but on public roads, it can either be smooth and silky or feel like a spaceship hitting lightspeed. Regardless of how you are enjoying the GV60 it always feels very special.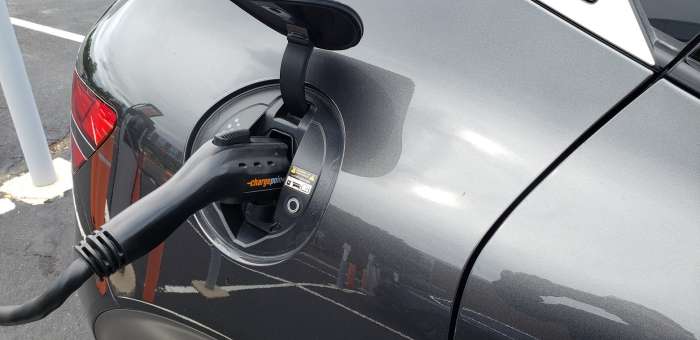 Genesis GV60 Performance - Living Electric
The GV60 Performance's 77.4 kWh battery provides an EPA-Estimated range of 235 miles. The battery is able to accept a charge from 10% to 80% via a 250 kW DCFC in under 20 minutes. An at-home Level 2 AC charger can charge the car from about empty to 100% overnight. All of this translates to "the GV60 is an electric vehicle that charges quite quickly compared to some of its peers."
We found charging very easy at home and on the road at Level 2 public chargers. The charging door is easy to operate with one hand and the audible "Charging Started" chime is helpful.
Those who are fans of one-pedal driving will find it in the GV60 and yes, the paddle shifters allow you to vary the regen braking force.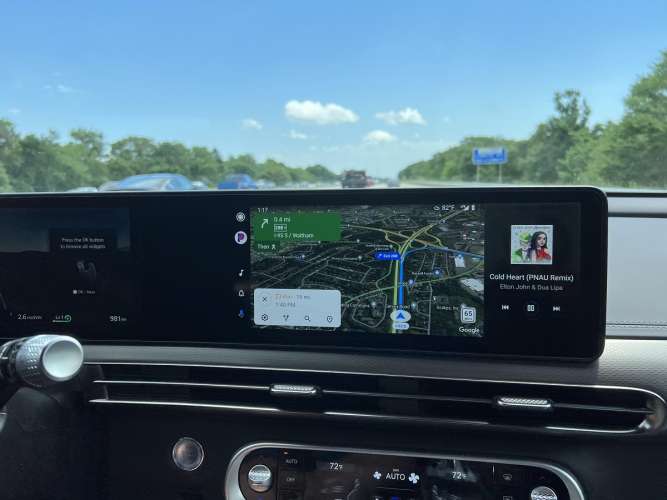 Genesis GV60 Performance - Infotainment, Interior, and Features
The GV60 offers perforated Nappa Leather seating surfaces and microfiber suede trim all over the cabin. It feels and looks superb. Genesis struck the perfect balance of clean and Spartan along with rich and tasteful.
The infotainment system is mostly the same as Hyundai's IONIQ 5 And Kia's EV6. The now-familiar, wide wrap-around infotainment display is still very cool. Oddly, the GV60 requires a cord to operate Android Auto and Apple CarPlay. The Bang and Olufsen audio system is about as good as it gets, very different in its quality than the IONIQ 5's system.
The new nifty feature offered in the GV60 is the orb. Someone is a Guardians of the Galaxy fan. The orb, officially called the Crystal Sphere, occupies the spot where the rotary gear selector is. Everyone who was in the car thought it was very interesting.
Many of the Genesis family's usual great features like switches on the top side of the passenger seat facing the driver are included. The cargo area is very practical and feels large. Long items fit fine.
New high-tech features include facial recognition to unlock the car and you can start the car with just a touch of your finger, no phone or fob is needed.

Genesis GV60 Performance - What's Missing?
Like so many new EV models (but not all), the GV60 lacks any kind of spare tire or reasonable tire damage plan. The GV60 also requires a cord to use Android Auto and Apple CarPlay, which is crazy when you consider a Hyundai Elantra has wireless versions of this now mature technology. Our GV60 Performance didn't have massage seats like many Genesis vehicles we have tested did. Finally, the head-up display is great, but we remember the Hyundai IONIQ5's being a bit better. One thing we feel may hold the GV60 back by comparison to some of its peers is the low range. 300 miles is now the benchmark in this segment.
Genesis GV60 Performance - Conclusion
The Genesis GV60 now qualifies as the world's best vehicle of this size and cost. It has what would be called supercar performance a generation ago. It is truly a luxury car, in the sense that it has a premium interior and a fantastic level of perceived quality. The looks are great inside and out. The brand is among the most highly rated for reliability. The warranty and maintenance it comes with top the industry.
We can't think of any added superlatives to heap on the GV60. It's a step up from the Hyundai and Kia versions of this same platform, and not by a little. The Mustang Mach-E has an entirely different vibe, and as much as we love the Jaguar I-PACE, it feels like less car for the money.
Until we test another vehicle in this size and cost point that beats the GV60, it is easy to call it the best of its type.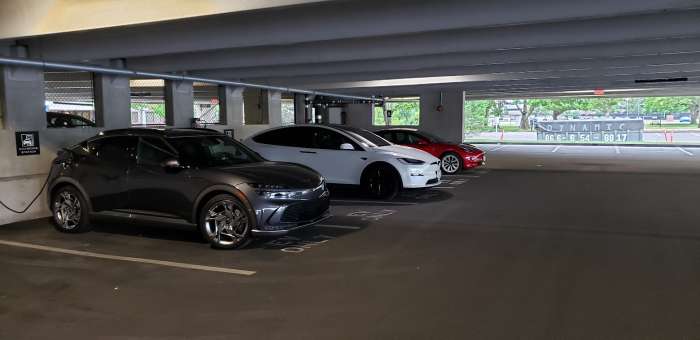 Genesis GV60 Performance - Wait, Wait, What About Tesla?
Tesla didn't start the segment that the GV60 resides in, Jaguar did with its I-PACE. Tesla makes a larger and more expensive vehicle called the Model Y that is not a luxury vehicle. Tesla's a great brand and has transformed the industry, but it doesn't make a vehicle quite like the GV60, nor is Tesla expected to do so. If you want plastic seats, no windshield wiper stalks, and a "high-tech" car without Apple CarPlay, you know where to find it.
Genesis GV60 Performance - Wait, Wait, What About the Kia EV6 and the Hyundai IONIQ5?
I've been fortunate enough to have tested the IONIQ 5 and EV6 on multiple occasions. Each is a great vehicle in so many ways they are hard to list. Having tested the top trim of the IONIQ 5, I can say honestly that it is easy to feel the similarity to the GV60, but the GV60 is better inside in terms of materials and styling. Having tested the RWD mid-trim EV6, it is easy to say the Kia is a great value and has a lot going for it. However, the GV60 feels like and looks like the parent company's best possible effort.
John Goreham is a long-time New England Motor Press Association member and recovering engineer. John's interest in EVs goes back to 1990 when he designed the thermal control system for an EV battery as part of an academic team. After earning his mechanical engineering degree, John completed a marketing program at Northeastern University and worked with automotive component manufacturers, in the semiconductor industry, and in biotech. In addition to Torque News, John's work has appeared in print in dozens of American news outlets and he provides reviews to many vehicle shopping sites. You can follow John on TikTok @ToknCars, on Twitter, and view his credentials at Linkedin
Re-Publication. If you wish to re-use this content, please contact Torque News for terms and conditions.
Images of GV60 plugged in, infotainment screen showing Google Maps, rims, and cargo area by John Goreham. Top of page image and interior image courtesy of Genesis media support.