The Cooper brand of the Goodyear Tire and Rubber Company has just announced that the ProControl All-Season touring tire is now available for immediate delivery. Before covering this new tire, we checked out Tire Rack and found that popular sizes are ready for same-day shipment.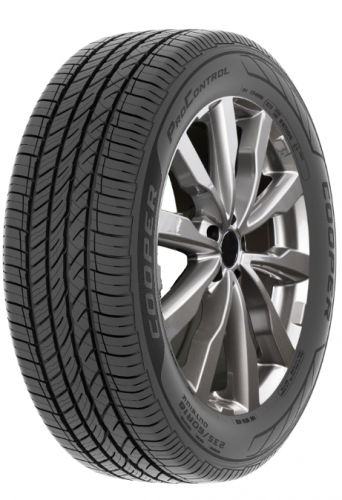 The ProControl is a tire designed for daily use, road-tripping, commuting, and on-road weekend adventures. Often called a grand touring tire, this type of tire offers a smooth ride, long life, secure handling, and safety in all four seasons.
"With every commute comes uncertainties, sometimes as unpredictable as the weather," said Michiel Kramer, director, Product Marketing at Goodyear. "That's why we engineered the all-season Cooper ProControl to help take the 'what ifs' out of your journey with optimized handling and traction, delivering a confident experience wherever the road takes you."
Cooper's ProControl design pays particular attention to wet-weather performance. The ProControl's tread design has water evacuation grooves that help clear water from the tread for improved wet traction. Three other features of the tire's design include Even Wear Arc Technology for balanced pressure at the tire-to-road contact area, sipes that widen as the tire wears to clear tread and maintain an outstanding grip on the road, and Cooper's Armor Belt Technology which helps provide stiffness and strength needed for a crisp steering response.
Cooper's wear-extending technology includes large polymers in the tire compound, which increase the durability and longevity of the tire. The ProControl comes with an unusually-long 70,000-mile limited treadwear warranty.
The Goodyear Cooper ProControl is offered in a whopping 60 sizes out of the gate. We searched the sizes online and found that many popular sizes, such as those used on top-selling Acura and Honda sedans are among those available right now. Prices seem to be mid-range. In our comparison, we found the Cooper ProControl to be a bit more affordable than other premium brands' offerings in this segment.
It is too soon to speak about owner reviews at this point. Torque News has reached out to Goodyear Cooper to arrange a test and review. Check back for more information in the coming weeks on the all-season Goodyear Cooper ProControl grand touring all-season tire.
Author Note: This story is not an advertisement.
John Goreham is an experienced New England Motor Press Association member and expert vehicle tester. John completed an engineering program with a focus on electric vehicles, followed by two decades of work in high-tech, biopharma, and the automotive supply chain before becoming a news contributor. In addition to his ten years of work at Torque News, John has published thousands of articles and reviews at American news outlets. He is known for offering unfiltered opinions on vehicle topics. You can follow John on Twitter, and TikTok @ToknCars, and view his credentials at Linkedin
Images courtesy of Goodyear media support.