Manufacturers equipping SUVs with all-terrain tires is a thing now. Almost every respectable SUV, and quite a handful of crossovers now offer a special trim the manufacturer puts together for those who want to head off-pavement or off-road. This week, we experienced the Toyo Open Country A/T III tire on a 2023 Nissan Pathfinder Rock Creek trim.
This is not a full test report since we only spent a week with the tire. The tires were mounted to a media test vehicle. This report is intended to offer additional information to anyone considering the tire as an aftermarket purchase or considering buying a new vehicle to which they are fitted. For more reviews and more facts and figures, we suggest checking out Tire Rack.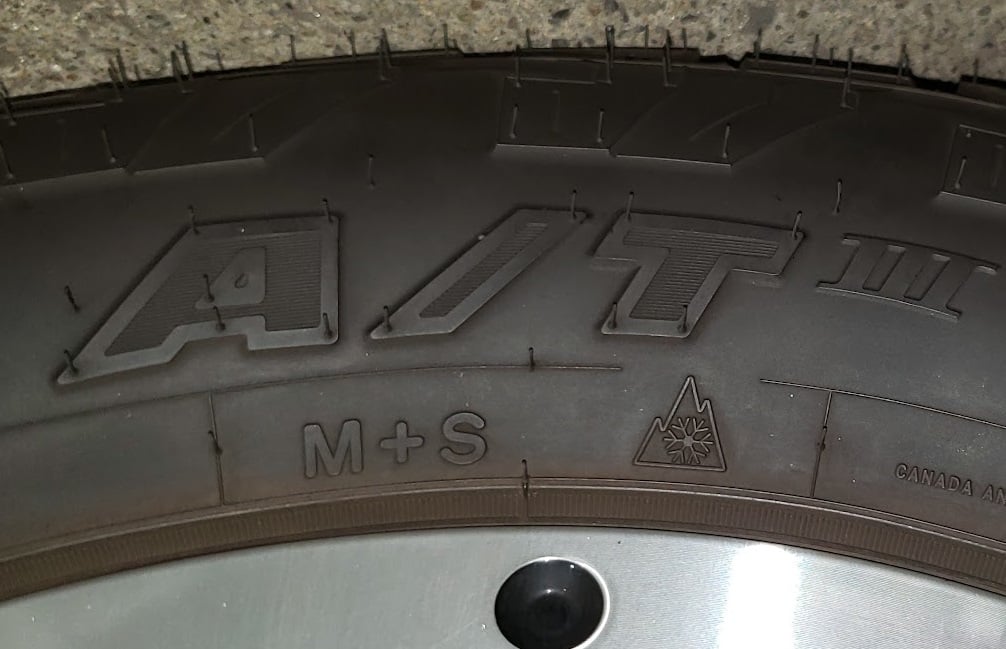 About the Toyo Open Country A/T III Tire
Toyo's Open Country A/T III is an all-terrain tire. One of its most notable features is that it sports the three-peak mountain snowflake symbol, denoting that it is rated for severe snow duty. This does not mean the tire is a substitute on ice for a dedicated winter tire, much less one with studs, but it should handle deep snow without issues as long as the snow is not over a sheet of ice. 
Toyo says that the tire was designed with a strong focus on wet performance, durability, and treadwear life. The treadwear warranty is 65,000 miles. Here are some features the manufacturer lists:
INCREASED LATERAL GROOVES
Enhance traction on all surfaces, including snow.
3D MULTI-WAVE SIPES
Enhance wet and snow traction.
Reduce irregular wear.
STONE-EJECTING BLOCKS
Eject stones from grooves.
STAGGERED SHOULDER LUGS
Enhance off-road traction with biting edges.
NEW TREAD COMPOUND AND DESIGN
Provides confident wet braking and handling.
Provides cut-and-chip resistance.
Provides excellent off-road grip.
Delivers a quiet and comfortable ride.
MORE EVENLY DISTRIBUTED VOID AREA
Enhances on and off-road traction.
Increases tread block rigidity for excellent handling stability.
Provides better worn appearance.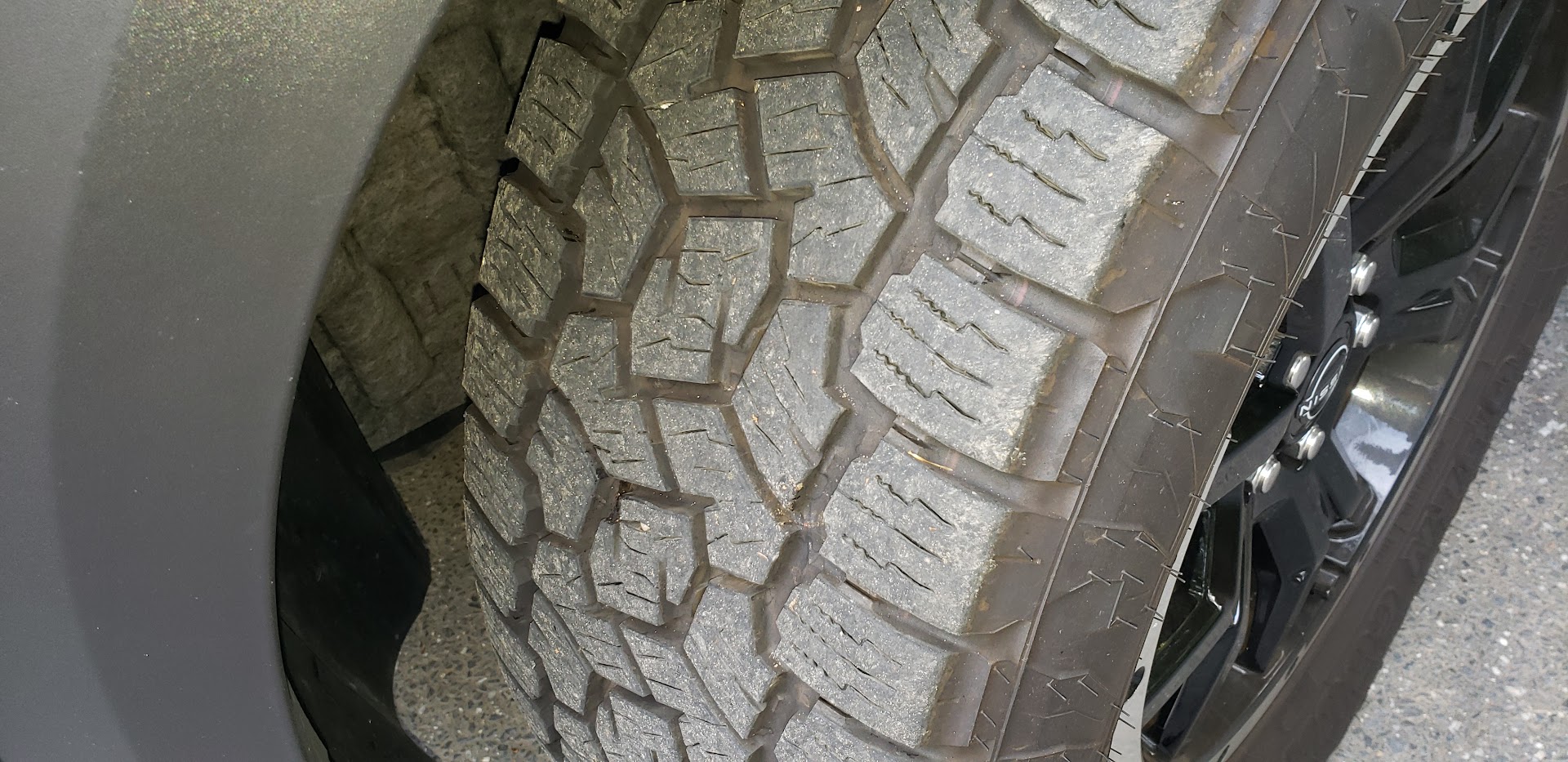 Our Experience With the Toyo Open Country A/T III Tire
Our test vehicle had nearly 10,000 miles on the odometer, and thus, the tire was fully worn in. We measured the tread depth at over 8 mm. We also noted that the tires were wearing very evenly. No cupping, and the tread was uniformly worn across all four tires. That means the tire was properly selected by Nissan and that they have likely been rotated.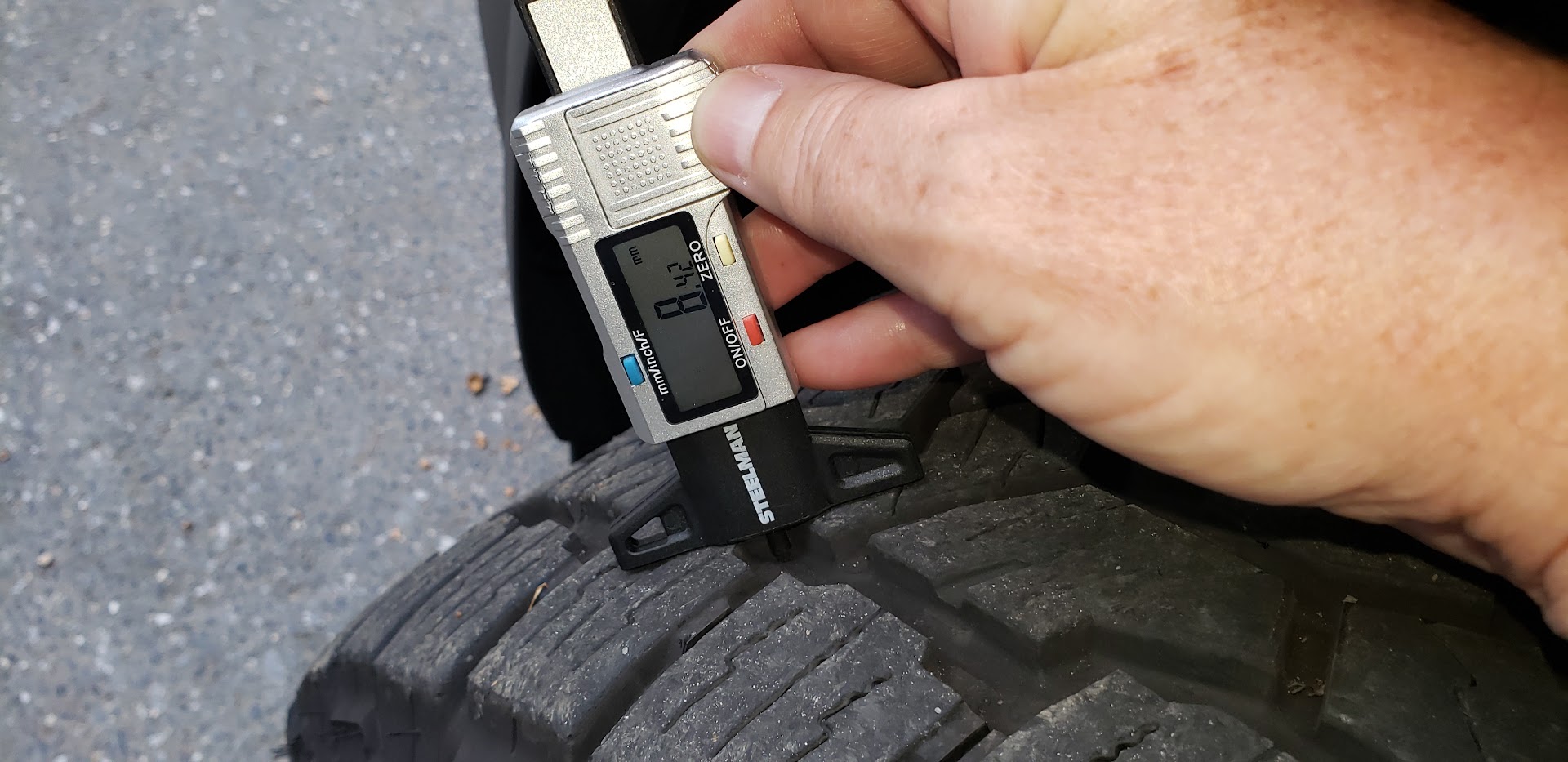 On paved roads, the "predictable handling" was true. We found the tires offered good steering control, and there was almost no tread squirm or sloppiness noted. Pretty impressive for a tire sized 265/60/18. More proof that the stupid trend toward ever-smaller sidewalls and ever-larger rim diameters is entirely for aesthetics. 
The one negative we can report is tire hum. These A/T tires sing when they are on the highway. Even at slower speeds, you hear these tires all-the-time. It's not terrible. We recently tested a midsize pickup with A/T tires that were much louder, but it was an extreme off-road trim. This is a family SUV. The noise was manageable, but when we had a long road trip to take, we opted for a Ford Bronco Sport wearing quieter Falken WildPeak A/T 3W tires, and we were glad we did. Jumping back into the Pathfinder, we immediately noticed the tire noise again. It would not be a deal breaker for us, but we have experienced much quieter A/T tires on many other vehicles. As a counterpoint, we will say that Tire Rack gives the Toyo Open Country A/T III a decent 8.4 noise rating. Perhaps the tires Tire Rack tested didn't have 10K miles on them, or perhaps the new Pathfinder is a very quiet vehicle otherwise, thus enhancing the perceived tire noise.
What We Like Most About the Toyo Open Country A/T III Tire
Here in New England, normal all-season tires are not enough for our needs. My wife and I are in snowy and icy conditions a lot, and we drive over dirt roads that are degraded in spring. The Toyo Open Country A/T III Tire seems like a good way to avoid needing a set of dedicated winter tires. The tire earns an 8.7 rating for winter performance overall. 
Pricing and Value of the Toyo Open Country A/T III Tire
The tires we tested are priced at $304 at Tire Rack. The treadwear warranty is 65,000 miles, and Toyo offers a 500-mile buy-and-try period, after which you can return the tires if you are not completely satisfied. 
Toyo Open Country A/T III - Summary
We are happy to see more and more SUVs and crossovers being offered with all-terrain rubber right from the factory. While we lean toward the Falken WildPeak series as our aftermarket choice of such tire types, the Toyo Open Country A/T III is a tire that has many of the same positives. 
Image of Toyo Open Country A/T III tire by John Goreham
Link to Toyo Product Page Here
Link to Tire Rack Product Page Here
John Goreham is an experienced New England Motor Press Association member and expert vehicle tester. John completed an engineering program with a focus on electric vehicles, followed by two decades of work in high-tech, biopharma, and the automotive supply chain before becoming a news contributor. In addition to his eleven years of work at Torque News, John has published thousands of articles and reviews at American news outlets. He is known for offering unfiltered opinions on vehicle topics. You can follow John on Twitter, and connect with him at Linkedin.