Genesis continues to impress us with their electric vehicle offerings. The GV60 remains one of our overall favorite vehicles, and the new GV70 has many of its same plusses. The GV70 is a bit larger and has a different infotainment package we liked better.
Related Story: Genesis Expands Its Standalone Dealer Foot Print With New Georgia Dealership
The GV70 is a five-passenger crossover with ample space inside for both occupants and cargo. It is roughly the same size as the Tesla Model Y. Perhaps a bit roomier. The hatchback design is very convenient, and we don't know why anyone would opt for a sedan instead of this wagon-ish body style. Like all Genesis vehicles, the styling is outstanding inside and out. Like Tesla's vehicles, the GV70 is built in the United States.
"We are pleased to announce that our first U.S.-assembled model has begun to arrive at retailers in 15 states," said Claudia Marquez, chief operating officer of Genesis Motor North America. "The launch of the Electrified GV70 is a significant moment for the brand as we continue to grow our EV lineup for American customers."
The GV70 has a fantastic electric drive system offering 429 hp. The torque is delicious. The GV70 also offers standard Boost Mode, allowing the driver to experience exhilarating performance with 483 HP of output for 10 seconds, making the driving experience more dynamic. From a standstill, the GV70 accelerates briskly. The ride quality is perfect. Crisp steering coupled with a suspension that is comfortable in every scenario. If the stiff ride of the Tesla Model Y does not suit you, this is the solution.
The infotainment system is a bit more conventional than most EVs today, an attribute we felt was a plus. We used Android Auto and Apple Car Play during our time in the vehicle and it was gitch-free. Does Tesla offer Android Auto yet? We have stopped looking for Tesla to catch up in that regard. The 14.5-inch HD screen is more than large enough, and it features both touch and rotary mouse inputs.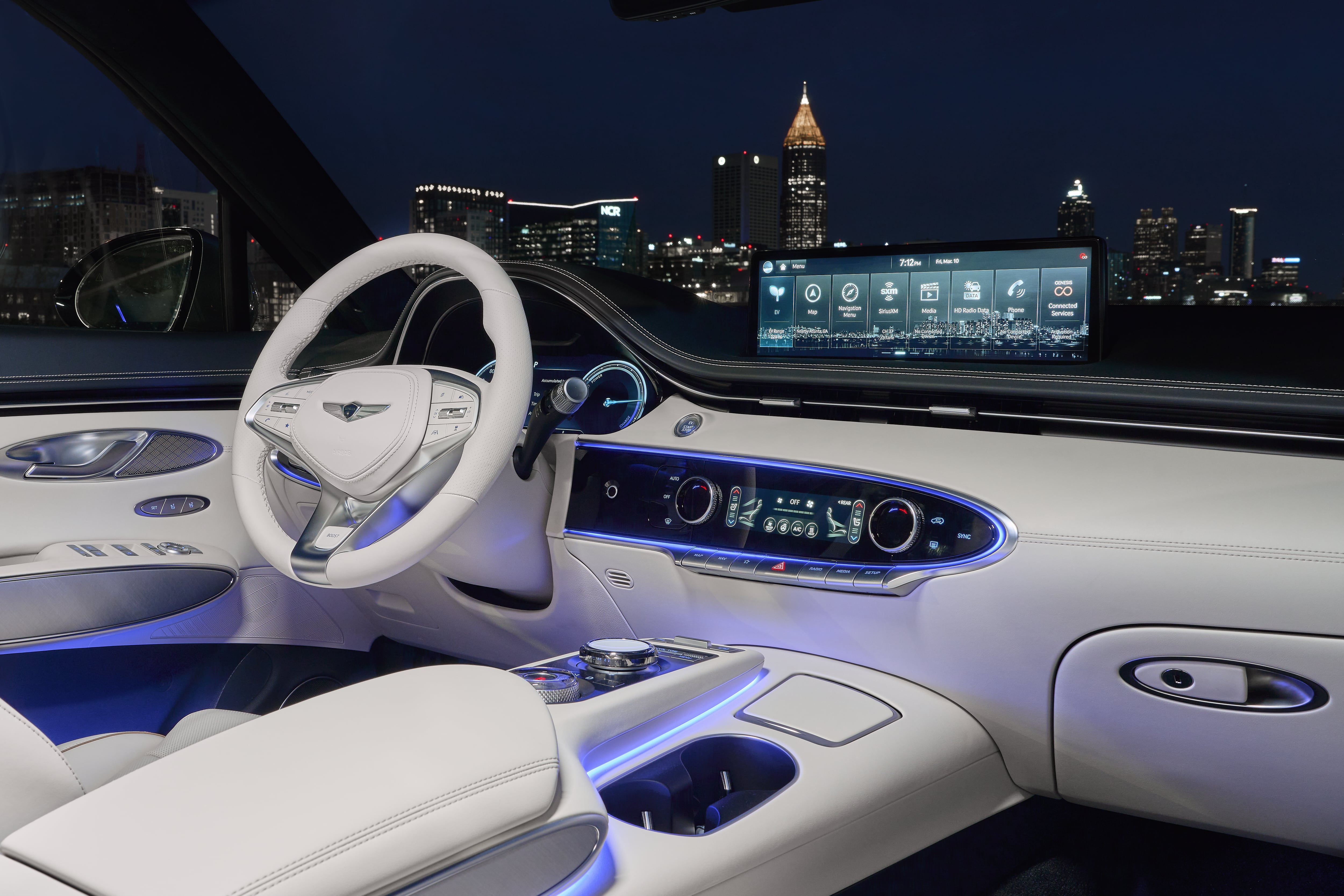 The interior is superbly plush, and also very user-friendly. We love the added seat controls for the passenger seat, which face the driver. Quilted Nappa leather seating surfaces in Glacier White or Obsidian simply put Tesla's plastic seats to shame. 
The range of the GV70 is about 236 miles, according to the EPA. However, in our long days of warm-weather driving, we observed a range of about 265 miles on the highway using the AC full-time. One feature we love is that GV70 can charge from 10% to 80% in approximately 18 minutes on a modern DC fast charger. Another option would be to add about 60 miles in just five minutes under optimal conditions.
The GV70 Electric starts at about $67K, but it would be wise to budget about $75K for one with some goody packages. The powertrain warranty is 10 years or 100,000 miles in duration, with added time for the electric bits. Genesis offers three years of included maintenance in its pricing as well. Those looking for a Tesla Model Y alternative would be wise to consider the GV70 electric. 
John Goreham is an experienced New England Motor Press Association member and expert vehicle tester. John completed an engineering program with a focus on electric vehicles, followed by two decades of work in high-tech, biopharma, and the automotive supply chain before becoming a news contributor. In addition to his eleven years of work at Torque News, John has published thousands of articles and reviews at American news outlets. He is known for offering unfiltered opinions on vehicle topics. You can follow John on Twitter, and connect with him at Linkedin.
Top of page image by John Goreham. 2023 Genesis GV70 interior image courtesy of Genesis.