The Mazda CX-90 is new for 2024. Mazda has totally redesigned the vehicle from top to bottom, and even the powertrains are all-new. We have had a chance to check out the 3.3 Turbo S, arguably the top trim of the CX-90. Here are the things that stood out during our week with the vehicle.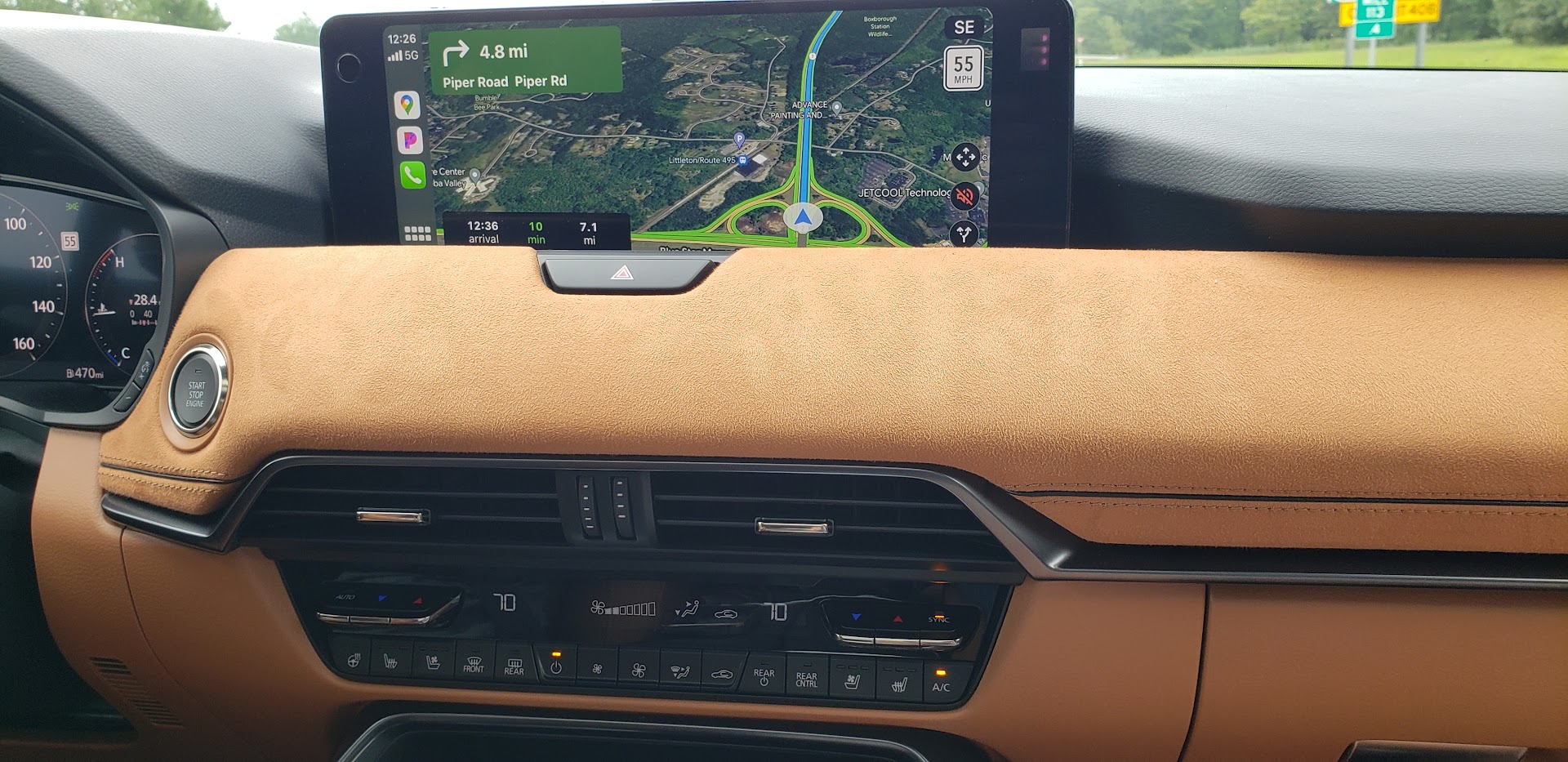 2024 Mazda CX-90 Likes
Infotainment
One of our top likes was the evolved Mazda infotainment system. It responds to touch (sometimes), and the screen has grown to a size we feel is acceptable. The menus are still a bit confounding compared to other brands', but this is a big step up for Mazda from where the company was a few years ago. We used both Android Auto and Apple CarPlay without any glitches.  
Fuel Economy & Hybrid Assist
Our fuel economy displayed by the Mazda infotainment screen was 28 MPG after a week of urban, suburban, and rural use. That included a lot of stop-and-go traffic during about 25% of our time with the vehicle. Consider us convinced that the "All Hybrid" powertrain offerings are a smart move. Our own much smaller and much less powerful personal Mazda CX-5 (2.5 non-turbo) gets just under this rating. Please note that the one we tested was not the plug-in hybrid. 
Highway Ride & Falken Tires
The CX-90 was superb on the highway. Smooth, quiet, and refined. We credit the Falken Ziex CT60 a A/S all-season tires for a portion of this like. 
Areas For Improvement
Powertrain & Stop-Start
The inline six-cylinder turbo with hybrid assist gets the job done, but it wasn't a plus in our opinion. There were some odd sounds at times that felt unrefined, and the stop-start is one of the few systems that bothered us. Normally we never shut it off when we test vehicles, but we did disable it during our testing. It inhibited quick starts necessitated by traffic conditions and made us feel less safe when it was active. 
Cabin Center Console
The clamshell center clamshell cover seems like it was designed and never actually tested. It's a hassle that is not as good as the standard rear-hinged design most vehicles have. 
Price
The price of our vehicle before dealer-added costs was $61,920, including the $1,375 Delivery Processing and Handling fee. Any dealer doc fee will push that price to over $62K. While federal financial mismanagement and inflation are part of the culprit here, the CX-90 seems a bit overpriced, given that a Honda Pilot Elite or Toyota Highlander Hybrid Platinum comes in about $8,000 to $10,000 less. 
2024 Mazda CX-90 Summary
The outgoing (too small) CX-9 had its faults, but it was fun to drive in a way we didn't experience with the new, much larger feeling CX-90. The old turbocharged four-banger also had a playful spirit the new hybrid six does not have. There is no bigger fan of the Mazda brand than this Mazda owner and vehicle reviewer, but the new three-row 2024 CX-90 left me wondering if shoppers are going to fall in love with Mazda's new flagship. 
 
John Goreham is an experienced New England Motor Press Association member and expert vehicle tester. John completed an engineering program with a focus on electric vehicles, followed by two decades of work in high-tech, biopharma, and the automotive supply chain before becoming a news contributor. In addition to his eleven years of work at Torque News, John has published thousands of articles and reviews at American news outlets. He is known for offering unfiltered opinions on vehicle topics. You can follow John on Twitter, and connect with him at Linkedin.
Images of 2024 Mazda CX-90 by John Goreham.