The Mazda3 Hatchback, equipped with its optional turbocharged engine, is the darling of the automotive media. We love this vehicle for many reasons, but the enjoyment behind the wheel it offers is its primary highlight. The Toyota Prius has been known as a fuel-sipper and an ultra-reliable vehicle with an extraordinarily low cost of ownership. So what do they have in common? Well, for 2023, Toyota made the Prius fun, and both of these vehicles are of similar size, are priced the same, and both offer all-wheel drive.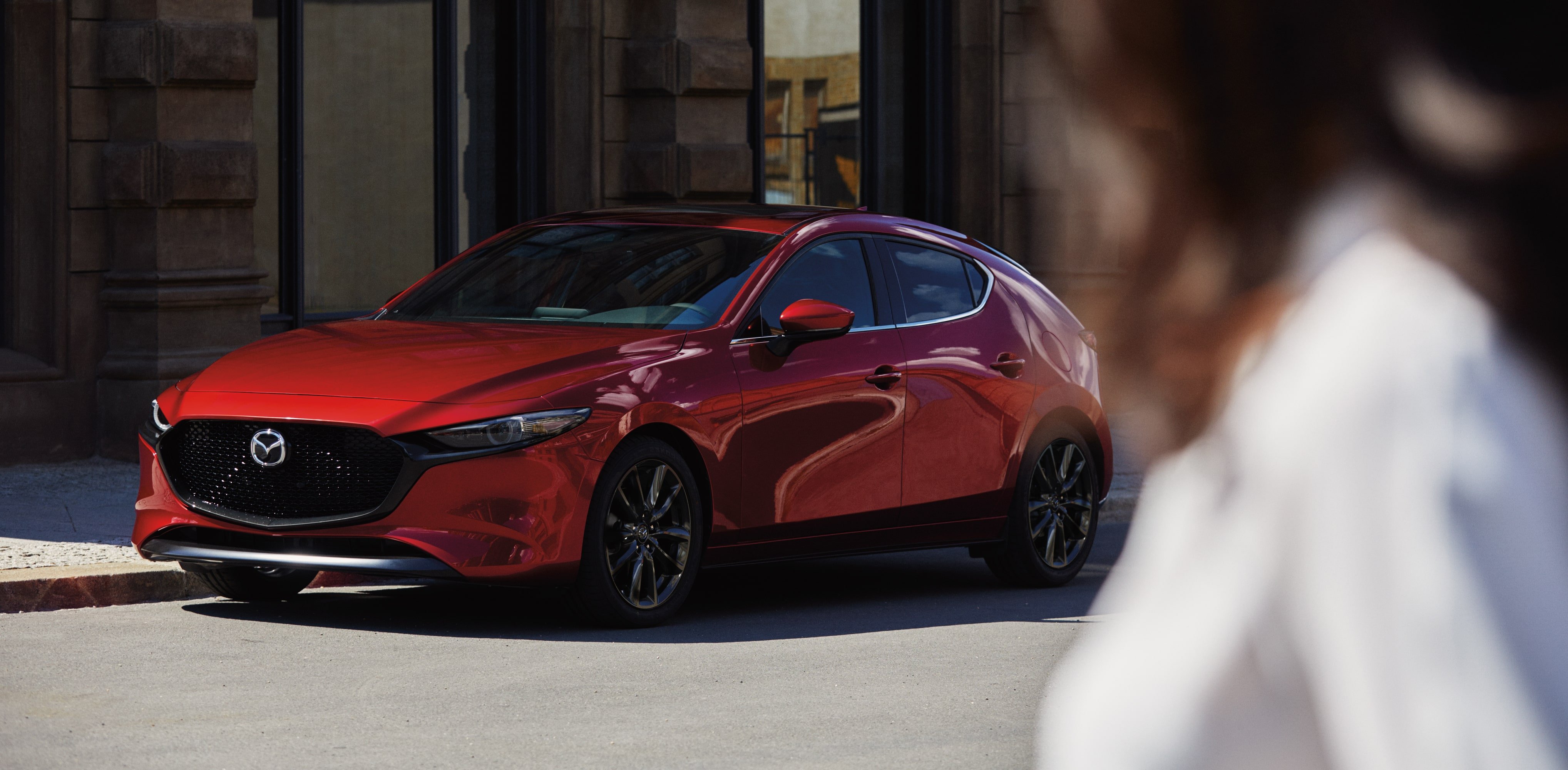 We won't pick an overall winner in our comparison. However, we will tell you which is the better vehicle in certain ways. You can decide which might suit you best. One thing is for sure. There is no loser in this matchup. 
Mazda3 Hatchback Turbo vs. Toyota Prius - The Tale of the Tape
The first interesting thing about the Prius and Mazda3 Hatchback is that they are almost identical in exterior and interior dimensions. As you can see, they have virtually identical interior passenger space and cargo volumes. They are the same height and width, and the Prius is about six inches longer. The Prius, even the AWD version, is lighter by about 100 pounds than the Mazda3. 
Both are comfortable vehicles, and both offer expanded cargo space when the seats are dropped down.  In terms of which has a "better" size, there is no winner or advantage here. This section is a tie.

Mazda3 Hatchback Turbo vs. Toyota Prius - Power and Torque
What sets the Mazda3 Turbo apart from its peers is its turbocharged 2.5-liter engine. On regular gas, this engine produces a very respectable 227 hp and a whopping 310 lb-ft of torque at just 2,000 RPMs. The Mazda3 Turbo can do a smidge better if you feed it with 93-octane fuel. The Mazda3 pulls strongly in almost every situation. On back-country roads, the engine doesn't even work hard to make the experience thrilling. Its transmission doesn't need more than six gears since it has immense torque even at low RPMs. Fewer shifts mean better enjoyment from our perspective. 
The Prius has a new powertrain for 2023. What it produces is hard to explain because it has a gas engine and also electric motors. Toyota says the car has "up to 196 hp." That seems about right based on our weeklong test. The torque is also great in the Prius. We have not tested the top trim Prime yet, but its added electric capability makes it even quicker. We won't pick a winner for this category. Both vehicles have more than enough power and torque for a fun drive.
Mazda3 Hatchback Turbo vs. Toyota Prius - Driving Enjoyment
The Mazda3 Turbo is more fun in every situation except stop-and-go traffic commuting. So if you are buying mainly for commuting, the Prius is the more enjoyable vehicle. If you are more interested in blasting down a country road, the Mazda3 is the clear winner. That said, the Prius was very satisfying over the country roads on which we took it. The 2023 Prius is legitimately a fun car to drive when the road conditions permit a bit of fun. 
The Mazda3 handles better. It is AWD-only when you opt for the turbo. The Prius is front-wheel drive unless you opt for AWD. We have not tested the 2023 AWD Prius yet, but in our prior testing, past AWD Prius cars have done quite well in snowy and slippery conditions. Add winter tires to either of these vehicles, and winter traction will never be a concern (but ground clearance might be).
The Mazda3 reminds its driver that it is made by the same folks who make the Miata. We don't feel like the Prius reminds us in any way of the GR86. However, we need to say one more time that Prius is a fun car to drive. 
Mazda3 Hatchback Turbo vs. Toyota Prius - Looks and Styling
The new 2023 Prius is a real looker. It is one of those vehicles that looks much better in person, and looks much better coated in certain paint. It looks fantastic in Wind Chill Pearl. Are we ready to trust white paint from Toyota again? The new low-slung design has kicked the old split rear window to the curb. Many passersby asked us what it was when we tested it. Everyone said it looked good to their eye.
The Mazda3 is also a good-looking car, but only if you like round-butt hatchbacks. Its best color is Soul Red Crystal. Honestly, the similar CX-30 looks better, but the Mazda3 is cool in its own unique way. There is nothing that we would say it looks like. No winner here. Your eyes can decide what you like best. 
Mazda3 Hatchback Turbo vs. Toyota Prius - Price and Cost of Ownership
We tested a front-wheel drive Prius Limited with a sticker price of $37,494, including destination charges. Adding AWD would bump that price up by about $1,000. The top-trim Mazda3 Hatchback Premium AWD has a sticker price, including destination charges, of $ 38,410. These vehicles are basically priced identically. 
The AWD Prius has an EPA-Estimated annual fuel cost of $1,100, and the Mazda3 Turbo's cost is $2,050. That means that over ten years of ownership, the Prius will have a cost-of-ownership advantage of $9,500. In our testing, the Prius returned 59 MPG, much higher than its EPA rating. That is double the fuel economy we recorded when we tested the Mazda3 Turbo.
The Prius comes with two years of included maintenance. We guesstimate this to have a value of about $300 to the owner. Mazda offers no included maintenance. 
Throwing in a lower cost for brakes, since the Prius has electric brake regeneration, we predict the Prius would save its owner about $12K in ownership cost in its first ten years on the road by comparison to the conventional Mazda3. Putting it nicely, the Prius has a vastly lower cost of ownership in comparison to the Mazda3 Turbo. That does not include any unexpected repairs to the Mazda, which has a less impressive record of reliability.  
Mazda3 Hatchback Turbo vs. Toyota Prius  - Our Favorite Nifty Features
Every Mazda3 comes with a spare tire, and no trim of the 2023 Prius does. For your author, the discussion would end right there. A spare tire is a feature I cannot pass up.  The Prius offers a nifty dual-pane glass roof with simple-to-use sunshades, an optional solar roof on some trims, and cooled front seats. You can decide which features matter most to you. The single feature that we liked most about the Prius was its innovative Proactive Drivig Assist, which means you rarely use the brake pedal in normal driving. 
Mazda3 Hatchback Turbo vs. Toyota Prius - Safety
The Mazda3 is an IIHS Top Safety Pick Plus. The 2023 Prius has yet to be tested, but we expect a similar or identical rating. Both brands are among the world's best in terms of active safety systems. 
Mazda3 Hatchback Turbo vs. Toyota Prius Reliability
Consumer Reports predicts the Mazda3 will have a ⅗ Reliability rating. Its prior years were not exemplary. The Prius, by contrast, has a predicted reliability rating of ⅘ and an insane 13-year straight record of perfect 5/5 reliability scores. In its 2023 Durability Study, Toyota was in the top quarter of brands, and Mazda scored about average. The Toyota Prius is, simply put, the most reliable car in recorded history. Advantage Toyota Prius. 
There is another consideration whenever a turbocharged Mazda's reliability is discussed. In its current generation, the Mazda 2.5 Turbo had some weird oil consumption issues that resulted in all of the oil being consumed in the span of an oil change period. The issue was fuzzy in that Mazda acknowledged it, issued a TSB, and supported customers affected by this problem but never would clearly tell anyone what caused it, if it was permanently resolved, or why it happened. We followed up numerous times with Mazda hoping to put the issue to bed with a clear explanation of the cause and how Mazda fixed it, but we could not since Mazda won't say. 
Mazda3 Hatchback Turbo vs. Toyota Prius - Infotainment
The Prius has an all-new infotainment system for 2023, and it blows the Mazda's offering out of the water. The Prius' touch-screen interface is superior to Mazda's goofy wheeled-mouse setup, and the new Prius driver information display is better than Mazda's head-up display. We should also note that the wireless Android Auto system in the Prius worked flawlessly in our testing, while the last few Mazdas we tested all struggled to remain connected. Advantage Prius by a country mile.
Mazda3 Hatchback Turbo vs. Toyota Prius - Conclusion and Scoring
The Mazda3 and Prius have virtually identical dimensional and capacity specs. As you can see from our category sections, the Mazda3 is the better car for spirited driving, and the Prius is better as a commuter. The Prius wins the infotainment, predicted reliability, and affordability sections hands-down. Each offers unique features that the other does not. Which of these two great small hatchbacks is the best is up to you. 
John Goreham is an experienced New England Motor Press Association member and expert vehicle tester. John completed an engineering program with a focus on electric vehicles, followed by two decades of work in high-tech, biopharma, and the automotive supply chain before becoming a news contributor. In addition to his eleven years of work at Torque News, John has published thousands of articles and reviews at American news outlets. He is known for offering unfiltered opinions on vehicle topics. You can follow John on Twitter, and connect with him at Linkedin.
Image of Mazda3 courtesy of Mazda. Image of Prius by John Goreham.